'A Permanent Image'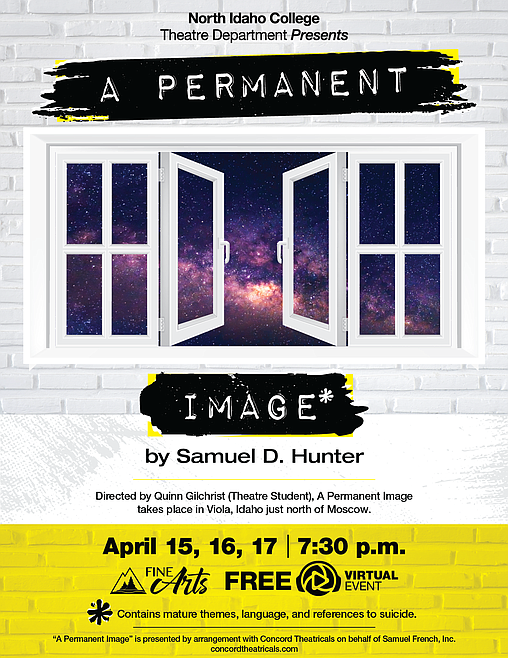 The North Idaho College Theater Department will present the play "A Permanent Image" by Samuel D. Hunter at 7:30 p.m. April 15, 16 and 17.
Courtesy image
by
Press Staff
|
April 9, 2021 1:00 AM
COEUR d'ALENE — The North Idaho College Theater Department will present the play "A Permanent Image" by Samuel D. Hunter at 7:30 p.m. April 15, 16 and 17.
"A Permanent Image" tells the story of Carol and her children, Bo and Ally, who are at Carol's Idaho home for their father's funeral. The family's relationships have been troubled, and it looks like Carol may be unstable, but Bo and Ally discover that she has a plan.
Directed by NIC theater student Quinn Gilchrist, "A Permanent Image" is described as a "fusion between realism and the absurd." It is a tense exploration of the distance families put between themselves, and what it takes to bring them back together.
This is one of two plays written by Hunter that are set in North Idaho and being presented this month by the NIC Theater Department. The other play is "The Few," which will be presented via Zoom at 7:30 p.m. April 22, 23 and 24. Zoom access and additional details about "The Few" will be announced separately. "The Few" is directed by theater student David Fisher.
"This is especially exciting for our department because these plays have been so student driven," NIC theater professor and theater director Joe Jacoby said. "It's a treat to work with student directors because that opportunity doesn't often present itself for us."
This is also the first time the NIC Theater Department has live-streamed a performance.
"This has been a year for adding new skill sets and taking advantage of unique opportunities. I'm deeply proud of how our students have shown resilience this year," Jacoby said. "We have been fortunate to work with a student playwright in the fall and student directors this spring, and are grateful for the generosity of these students."
"A Permanent Image" contains mature themes and language, and references to suicide. It is intended for mature audiences.
"A Permanent Image" is presented by arrangement with Concord Theatricals on behalf of Samuel French, Inc.
This virtual performance is free and will be performed live via Zoom. Register at event link http://bit.ly/APermanentImage for a free ticket. The Zoom link and password will be emailed to those who register.
Info: www.concordtheatricals.com
---