Celebrate Earth Week April 17-24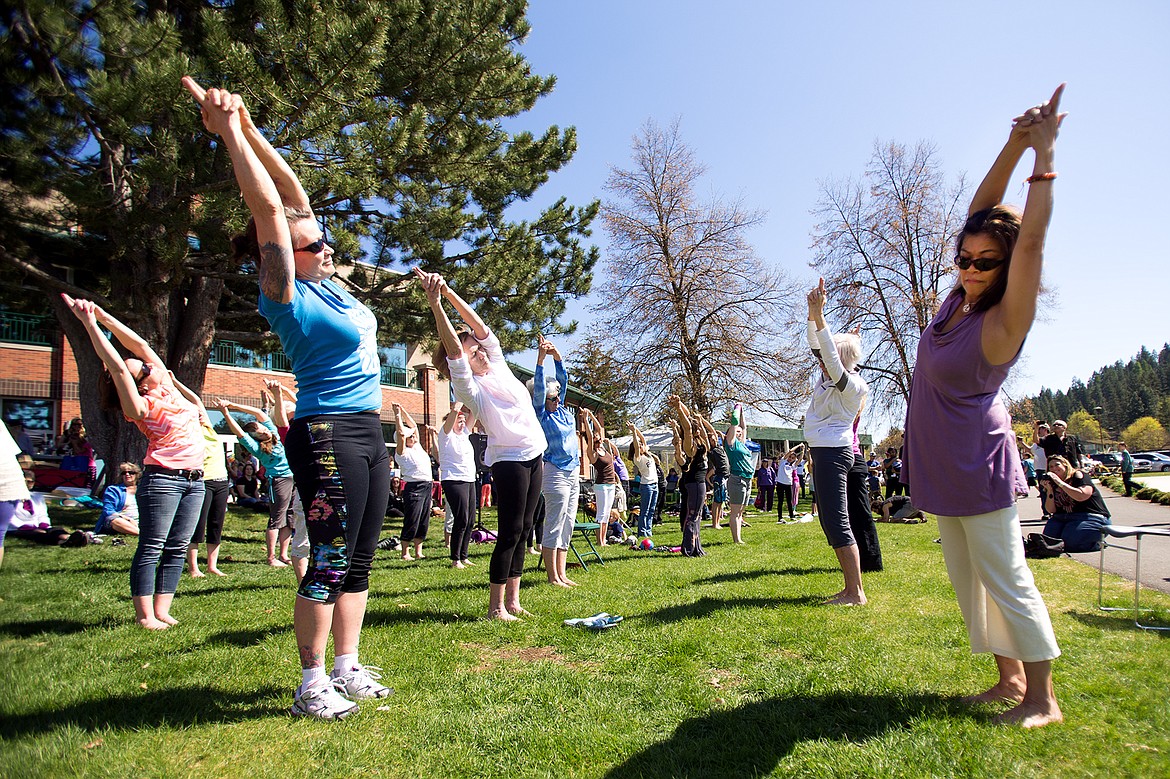 A yoga flash mob moves into different poses at the Earth Day Fair in April 2015 on the lawn near the Coeur d'Alene Public Library. This year's hybrid Earth Week event begins April 17 and goes through April 24, with numerous free and educational opportunities and activities. It will be presented by the library and the Kootenai Environmental Alliance.
KRISTIN McPEEK/Press File
by
DEVIN WEEKS
Staff Writer
|
April 7, 2021 1:00 AM
COEUR d'ALENE — Earth Week is just around the corner.
After the worldwide coronavirus pandemic halted festivities last year, the Coeur d'Alene Public Library and Kootenai Environmental Alliance are partnering to bring a hybrid event to the community to celebrate Mother Nature from April 17 through 24.
This year's theme is "Restore Our Earth."
"We're absolutely, definitely excited," said Earth Week co-coordinator and young adult coordinator for the library Angela Flock.
Earth Week falls around Earth Day, which is April 22. It's a time to learn about the environment and the problems it faces, while celebrating the natural wonders the earth provides.
"To me, we're so blessed in this area to be surrounded with the mountains and the forests and the clear lake right here," Flock said. "This is a celebration of that, and a look to the future to inspire future generations to keep it going."
The week of free events will include virtual and socially distanced activities, such as educational exhibits, clean-up hikes, 100 take-home activity kits (first come, first served, picked up curbside), themed story times, a BioBlitz event and more.
Flock explained that BioBlitz is similar to the "Pokémon Go" augmented reality mobile game, but with nature instead of characters.
"You run around and take pictures of anything living, a tree, an ant running across your sidewalk," Flock said. "Whatever you can take a picture of, you post it to iNaturalist and then everybody in the same project gets to see each other's photos. It's like getting to share your nature hunt with people in the community.
"We've never tried one before," she continued. "This is a little new, but it gives us the option to have something in nature and to keep it socially distant too."
Many of the socially distanced activities will be outside the library in McEuen Park. Masks will be required.
Work Day at the Gathering garden at North Idaho College will be April 18.
On Earth Day, a Civic Engagement Alliance meeting will be at noon in the pavilion in McEuen Park. Several speakers will discuss local and global environmental issues. It will be followed by a hike on Tubbs Hill.
On April 23, Park Ranger Ryan Reed will be at Higgens Point for a nature walk and to help with the BioBlitz and conservation kit giveaway.
Info: www.facebook.com/events/257017602544875 or www.kealliance.org
---