THE CHEAP SEATS with STEVE CAMERON: After a game like that, karma should be on Zags' side tonight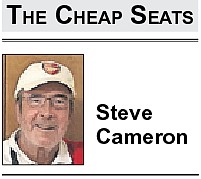 I know, it doesn't really seem fair, but…
You only get to win one basketball game at a time, no matter how spectacular the circumstances.
Forgive Gonzaga and its legion of fans for wishing that Saturday had been the glorious finish, that Jalen Suggs' incredible 40-foot bank shot at the buzzer had wrapped up the 2021 Final Four.
The drama of the night, that battle with a ferocious bunch from UCLA, the tension of overtime, and then Suggs…
It should have handed the Zags their elusive first national championship, right?
Instead…
Gonzaga must somehow halt the celebration, climb down from the clouds and get its act back together.
Quickly.
Talent-rich Baylor is waiting for a title-game slugfest tonight, and the Zags must go from dancing in joy to playing their best basketball of a fantastic season.
And don't let anyone kid you.
Flipping the switch on your emotions that quickly is tough.
Really tough.
WE'VE ALL wondered if we'd see the Zags and Baylor go head to head this year.
When that regular-season matchup was cancelled in early December due to positive COVID tests, we received no guarantee that these two teams would find their way back to each other.
Season after season, something derails the classic finish that everyone hopes to watch.
It's so, so difficult to wade through the NCAA tournament, no matter how good you are.
It only takes one off night, or one wrong draw, or one opponent playing the game of a lifetime.
We almost saw that with UCLA, no longer the team that lost its last four regular-season games and barely snuck into the tournament field.
UCLA had become a different animal by the time everything went crazy on Saturday night.
The Bruins were at the top of their game by then, and here's something you need to know now…
So is Baylor.
Only a COVID pause near the end of the season likely prevented tonight's game from being a battle of two unbeatens.
Baylor was sluggish and still recovering during losses to Kansas and Oklahoma State, but that time has come and gone.
WANT TO know how it's going to play out tonight?
Well, answer a few questions for me.
Do that, and I can tell you who will be cutting down the nets.
Start with the Zags.
Will they be able to get their heads clear and their legs back under them after the exertions of that marathon against UCLA?
Will Corey Kispert find his stroke, just in the nick of time?
Kispert was a quick-trigger, 46 percent shooter behind the arc through 29 games, but he's looked a little off-balance in the past two games — and produced a very unusual 5-of-18 line.
Can Gonzaga's defenders get out on the Baylor shooters and stay there?
The Bears have four regular rotation players who are hitting over 40 percent on 3-pointers, and the only starter UNDER that mark is MaCio Teague at 39 percent.
Can Drew Timme torture Baylor in the paint?
The Bears are big and rugged inside, but not exactly nimble.
IF THIS game goes according to Gonzaga's script, Baylor might endure serious foul trouble.
Will it come down to tactics and strategy, as so many games between great teams do?
If so, the Zags have an edge with Mark Few moving the chess pieces.
Baylor's Scott Drew has never coached a game of this magnitude, which should give Few and the Zags a nice advantage.
So, go ahead.
Answer those questions correctly, and I'll give you the winner.
By the way, a little good fortune — call it karma, even — seems to pop up in games like this.
Suggs' heroics seem to suggest that maybe, finally, this is Gonzaga's year to win it all.
A finish like that, after 32 games, would be…
Perfect.
Email: scameron@cdapress.com
Steve Cameron's "Cheap Seats" columns appear in The Press on Mondays, Wednesdays and Fridays. "Moments, Memories and Madness," his reminiscences from several decades as a sports journalist, runs each Sunday.
Steve also writes Zags Tracker, a commentary on Gonzaga basketball which is published each Tuesday — then monthly in the off season.
Recent Headlines
---