THE CHEAP SEATS with STEVE CAMERON: The instant classic that was sealed with a kiss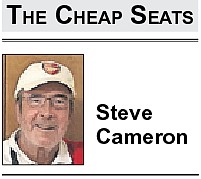 If you want a glimpse into Gonzaga's soul, just for a second…
Jalen Suggs just assumed his 40-foot running bank shot would be good.
Mark Few, meanwhile, was certain of it.
"I knew he'd make it," Few said of his freshman star. "He just has a magical aura."
This all sounds corny, but Suggs does indeed have some pixie dust to go along with his golden talent.
He made play after play in this magnificent duel with the Bruins, and just like Few, I'm sure a lot of people suspected that the kid from Minnesota might be the one to decide things with Gonzaga pushed right to the brink.
And he did.
But oh, what a night — not just for Jalen's heroics, either.
The Zags' 93-90 overtime victory, their ticket to Monday night's national title game, became an instant classic.
Instead of UCLA playing the traditional underdog style, using up clock and trying to keep the score at some manageable level, the Bruins did the opposite.
THE LADS from Los Angeles played some serious ball.
They fought Gonzaga over every inch of the floor, contested shots and dazzled offensively.
UCLA stars Johnny Juzang, Jaime Jaquez and skittery Tyger Campbell continually created shots and then nailed them — often under heavy pressure.
The Zags seemed several times as though they might get on a run and let us all breathe, but in fact, Gonzaga never led by more than seven points.
Going to overtime was the proper conclusion for this amazing couple hours of hoops.
It was a game that produced heroes on both sides.
For instance, we're used to Drew Timme spinning and whirling to score at the hoop, but the Zags only survived this semifinal and stayed unbeaten because Timme got position to take a charge from Juzang with 1.1 left in regulation — a play that obviously changed the outcome.
Speaking of Juzang (29 points on 12-of-18 shooting), he made a terrific play just moments before Suggs stole the spotlight.
Juzang missed a short jumper with time running out and Gonzaga up 90-88, but he slithered through several bodies to grab his own rebound and put it back to tie the game.
You can't have a genuine hero unless the setting demands it.
Juzang and the Bruins provided that stage, big time.
YOU KNOW, we've been talking all year about a Gonzaga-Baylor showdown, and how that's the game college basketball fans want to see.
It's the ultimate battle between teams that have been ranked Nos. 1 and 2 all season.
Now it's here, with the championship at stake (plus a heavy dose of history for Gonzaga), and yet UCLA made us forget all about Baylor.
The Bruins were marvelous — playing with the awesome energy befitting the school's 11 national titles, and the ethos of coach Mick Cronin — and brother, it's hard to imagine that the Baylor finale can match what we saw on Saturday night.
I've been around this sport quite a while, and seen some terrific basketball, but it's hard to remember a game played at the level we saw from the Zags and UCLA.
Sure, it's a cliché to say that neither team deserved to lose, but excuse me if I toss it out, anyway.
For all of the back and forth, lead changes and fantastic plays, though, this night will be remembered for Jalen Suggs' miracle banker as he crossed the half-court line.
Broadcaster Bill Raftery got to toss out his famous line…
"With the kiss!"
And Suggs, who raced over and jumped on the scorer's table in front of the Gonzaga fan contingent?
"It's something you always dream about as a kid," he said.
"I always wanted to jump on the table like Kobe or Dwyane Wade to celebrate."
With the kiss, indeed.
Email: scameron@cdapress.com
Steve Cameron's "Cheap Seats" columns appear in The Press on Tuesdays, Wednesdays and Fridays during the NCAA tournament. "Moments, Memories and Madness," his reminiscences from several decades as a sports journalist, will return and run each Sunday after Gonzaga's season is concluded.
Steve also writes Zags Tracker, a commentary on Gonzaga basketball which will be published each Thursday during the tournament.
Recent Headlines
---