THE CHEAP SEATS with STEVE CAMERON: Why all the hate for the lovable Zags?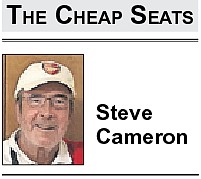 What is it that drives people crazy?
What is it about Gonzaga that makes skeptics' blood boil, to the point that they race to social media and fire off insults?
First, there was all the fuss about how the Zags play in a Mickey Mouse conference, so they'll fall apart in the NCAA tournament, like they always do.
(Uh, no, that one is factually foolish. Gonzaga has reached the Sweet 16 in six straight tournaments – more than any other team in the country.)
Now that the Zags have blown away all opposition and landed in the Final Four with Vegas bookmakers deciding they should be favorites to finish as undefeated winners, there are NEW insults.
This time, it's the fact that the Zags cannot even be mentioned in the same breath as any of those fabulous champions from the past.
NEVER MIND that if Gonzaga were to win out and finish with a 32-0 record (and it's still not done yet, mind you), the Bulldogs would become the only team to go unbeaten and win this tournament with a 64-team bracket — or being fair to Saturday night foe UCLA, a 68-team field.
It's never happened.
Never.
Oh, but the critics claim that the quality of college basketball was so much better in the old days – you know, a lot like everything else.
I've been getting emails reading tweets from angry folks suffering from Zagaphobia, the overwhelming need to dismiss anything accomplished by this team.
Or ANY Gonzaga team.
Besides the emails, the tweets come from far and wide, all making light of the Zags' (still in doubt) undefeated championship.
Why do people hate the Zags so much?
Win or lose in the Final Four, they will attempt to create beautiful basketball — passing, cutting and setting up shots.
Basically, the way you want to see the game played.
AND YET, tweeters scream that these low-bred nobodies from some truck stop in the Northwest have no business being in the same conversation as some of basketball's truly great teams.
Several tweets (and even Mark Titus and Tate Frazier, who produce an otherwise knowledgeable podcast) suggest that some REAL champions would hammer the Zags like a JV team.
Tate: "You telling me that Akeem (Olajuwon) and Clyde Drexler wouldn't look at Gonzaga and go, "We got this…"?
Interesting comparison, made in a few tweets, as well.
Akeem and Clyde won exactly nothing during their runs at Houston – mainly because the team couldn't shoot free throws.
Akeem (now Hakeem) and Clyde weren't even NCAA tournament champions, but they're clearly better than a potential title winner from Gonzaga?
Puh-LEEZE!
Sometimes we look into the past and our vision gets a little fuzzy.
Eh, guys?
THE NEXT barrage of insults has been directed at Drew Timme, for his goofball antics after baskets.
Twirling the mustache and all that stuff.
Hey, Timme is a character, no question, and he's out there having fun.
He's also a hell of a basketball player who has made a lot of big-name talents (that you, Evan Mobley?) look positively foolish.
So, what are you telling me, people — that Timme has somehow debased this sacred and holy tournament?
What a bunch of nonsense.
You're saying Timme can't do the mustache thing, or flex after a nifty move, but…
An entire NFL defense can gather in front of a camera after recovering a fumble, and do a hundred new dance steps — kind of like all the eight-year-olds at your family picnic?
THAT SORT of boogeying is absolutely swell, but Timme is out of order for schooling Mobley with a spin to his left for a scoop and score — then celebrating?
He still beats everyone back down the court, so…
What's your problem?
I'll tell you, in case you're too embarrassed to try therapy.
It's Gonzaga, pure and simple.
I don't know why, unless you think this little school has no right to join college basketball's powerhouse fraternity.
Too late, gang.
It's already done. Check that cover of Sports Illustrated.
Now just calm down and root for UCLA — but if that somehow doesn't work, root for whichever team gets the Zags in the title game.
And if THAT doesn't work…
You can always start screaming about Bill Russell, who…
Loves the way Gonzaga plays.
Ah, never mind.
Email: scameron@cdapress.com
Steve Cameron's "Cheap Seats" columns appear in The Press on Tuesdays, Wednesdays and Fridays during the NCAA tournament. "Moments, Memories and Madness," his reminiscences from several decades as a sports journalist, will return and run each Sunday after Gonzaga's season is concluded.
Steve also writes Zags Tracker, a commentary on Gonzaga basketball which will be published each Thursday during the tournament.
Recent Headlines
---