Amador seeks Souza's Senate seat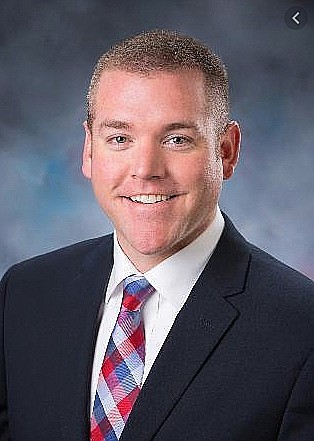 Rep. Paul Amador won't seek another term in the Idaho House, choosing instead to run for the state Senate.
Amador, representing Idaho's 4th district out of Coeur d'Alene, said Sen. Mary Souza — who announced Tuesday she won't seek a fifth term as she runs for Idaho Secretary of State — will leave awfully big shoes to fill in the Idaho Senate.
"Obviously, Sen. Souza has been doing that job for quite a while," Amador said. "She's done such a great job, so I wasn't looking to try to run against her in the past. But the position's open now, and it's something I've wanted to do for a while."
Amador bested then-incumbent Kathleen Sims in the Republican primary race for the District 4 seat by a slim 127 votes in 2016, advancing to the 2016 general election. After a healthy victory that installed him into office, Amador would go on to win two more terms, most recently in November 2020, where he won unopposed.
"After serving what will be three terms in the House, I've certainly appreciated what I've learned in my time there," he told The Press. "But the Senate presents a different challenge, if you will. It's a smaller group of individuals, so you tend to develop more close-knit relationships on issues and bills while working for the people of the state of Idaho."
Souza will finish out her term, which runs until January 2023.
Amador will run on the Republican ticket in the May 2022 primary. He currently chairs the House Ways and Means Committee and serves on the Idaho Legislature's Joint Finance-Appropriations Committee. He said that experience, working with members from both chambers of the Legislature, has given him a more collaborative perspective he hopes to share in the Senate.
"Most people would say the House is a little more rough-and-tumble than the Senate," he said. "When you have 70 members in the House, you have twice as many personalities and twice as many agendas. Obviously that creates a lot of discussions and a lot of opportunities to work together, and I've enjoyed that, at times. It's been fun to interact and spar over ideas.
"But one of the things I've really enjoyed is serving on JFAC, which is half-Senate and half-House. We work over the year, rather than the session, to collaborate on a budget. It's a great opportunity to get to know the people you're working with."
Amador's press release announcing his candidacy emphasizes a dedication to families: both Idaho families and his own. He and his wife of 16 years, Julie, have two sons, Peter and newborn Simon.
"I often say that my two sons are both my cutest and most demanding constituents, and while that might sound like just a line, it drives the decisions I make in the Legislature as I consider their futures living in our great state," he said.
Recent Headlines
---