Once games start, GU should be really good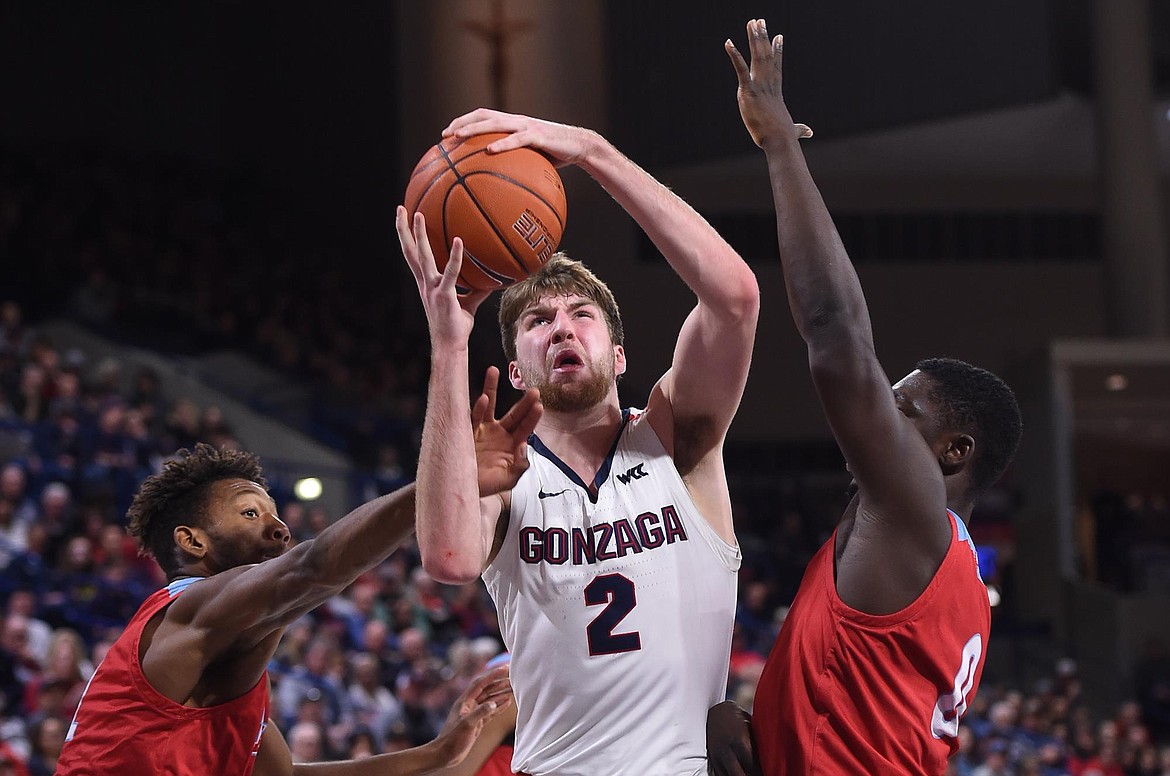 Photo from the Gonzaga University athletic department Drew Timme is among the returning players who give Gonzaga a chance to be among the top teams in the nations when NCAA men's basketball resumes in late November.
by
STEVE CAMERON/Zags Tracker
|
September 29, 2020 1:00 AM
You hoping to know when and where the Zags might play this fall?
Against whom?
Well, you're not alone.
Although the NCAA has announced starting dates for a 2020-21 basketball season (Nov. 25) and for authorized team practices (Oct. 14), we're still waiting to see some sort of schedule.
The closest we can get for you is that Gonzaga almost certainly will begin the season in a few Orlando shootouts, and that Mark Few is always talking about bubbles.
The Florida thing certainly would fit that description, with about a dozen of the nation's top teams picking up where the NBA has had so much success.
You can assume that the Zags will face Tennessee and Baylor (the other team considered seriously as preseason No. 1) in Orlando, plus some teams from what was going to be that city's original tournament.
Only Few and AD Mike Roth likely know any of the specifics regarding what might remain of a non-conference schedule, but Few has said more than once that he feels an obligation toward less glamorous opponents (Eastern Washington, etc.) that need a Gonzaga game to fatten their wallets with TV money.
OH, AND then there's the Pac-12, which now will allow its teams to play at roughly the same time as the Zags – after insisting on a complete lockdown until at least Jan. 1.
The news of "medical advances" in testing for COVID-19 – not to mention being the only Power 5 conference left off the football field – changed minds in the Pac-12.
Gonzaga originally was set to host both Arizona and Washington, and face Southern Cal in Phil Knight's Portland rodeo.
There are hints that those games may be pushed back a year, but until Gonzaga makes something – anything! – even mildly official, we're just guessing.
Spokane bubbles, maybe?
Who knows?
What we CAN say about what will be a strange hoops season (no kidding) is that the Zags will be good.
Great?
Let's wait and see on that one, since the NCAA has insisted there is going to be some version of March Madness.
National contenders will have a chance to prove their bona fides.
Back to Orlando, perhaps?
If the coronavirus continues to overwhelm us for another couple of years, the Zags and everyone else could be playing something called Disney Ball.
ON THE court, wherever and whenever that might be, the Zags should look just about as advertised.
Exciting, in other words.
Super recruit Jalen Suggs is on board (he's wearing uniform No. 1, if that tells you anything), and he's penciled in to play point guard — although that's a big burden for a freshman to take on immediately, especially when you consider Gonzaga's opposition right off the bat in Orlando.
Don't be surprised if you see a lot of Southern Illinois grad transfer Aaron Cook Jr. at the point, especially early in the season.
Cook is a solid and tested player, somewhat in the game-ready mold of last year's transfer surprises, Ryan Woolridge and Admon Gilder Jr.
You probably know the other two members (with Suggs) of the self-proclaimed "Tricky Trio" – fellow freshmen Dominick Harris and Julian Strawther.
What's amazing about the Zags' depth is that Few could choose to open the year, and still be VERY competitive, without using any of the three frosh as starters.
We're not saying he WILL, but …
Drew Timme is the incumbent inside (Filip Petrusev having gone home to Serbia) with Corey Kispert almost a certain All-American on the wing and Joel Ayayi at shooting guard.
Few could use Cook at the point and Anton Watson – back from shoulder surgery – at forward.
Oh, and anyone who follows this program closely is aware that plenty of players – especially those from overseas – tend to make huge leaps after a year sitting on the bench or sitting out entirely.
THERE are three candidates for the type of surprise that Ayayi produced a year ago.
Lithuanian swingman Martynas Arluakas saw a little game time last year, as did 6-foot-11 Russian Pavel Zakharov.
Meanwhile, Oumar Ballo, the 6-10, 260-pound bruiser from Mali who dominated an international Under-19 tournament when he was just 16, spent a redshirt year working against the starters in practice.
"He's so big," Timme said, "that you need to drive a car around him to get position near the basket."
Besides the talented freshmen – all three of whom need to gain some weight and strength to be truly elite at the college level – the one player who could change Gonzaga's entire dynamic is probably the 6-8 Watson.
A much-publicized all-stater from Gonzaga Prep who had shoulder issues right from the start as a freshman, nonetheless got enough playing time to prove he can be a special defender and point man on any press.
What Watson did NOT do, however, was prove he could shoot from any kind of range.
Some teams didn't bother to guard him outside the paint, so you can safely assume the coaching staff has been working on Watson's shot during all this down time.
If Anton proves he can hit uncontested 3-pointers, the Zags will be almost unstoppable offensively.
WHAT WE won't know for a while is whether this version of the Zags can produce big-time defense – the kind needed to contend for that one thing missing from the trophy case, a national championship.
If last year's team (31-2, WCC regular season and tourney champs, cinch No. 1 seed) had a weakness that could have been exposed in the NCAA tournament, it was defense.
Especially around the basket.
Petrusev was a sub-par defender who could be bullied by good big men.
BYU's Yoeli Childs practically ran Petrusev out of the gym.
The good news this time around is that Timme is a defensive upgrade, Watson could be a spectacular addition – and Ballo, when needed, won't be pushed around by anybody.
What we don't know, however, is whether all the kids will get burned by veteran college drivers and shooters, especially early in the season.
WOOLRIDGE was terrific against most tough guards last season, and the Zags learned how to use occasional quick double-teams against players who couldn't be checked one-on-one (Jordan Ford of Saint Mary's, who is finally gone; and Colbey Ross of Pepperdine, who's back for more).
It should be fascinating to see how all the new perimeter players adapt to playing defense at this level.
Although the Zags have led the nation in scoring efficiency (and points) each of the last two years, you have to go back to the NCAA title-game group of 2016-17 to find a really terrific defensive team.
This year (and in the future, with great players filling the pipeline), Few and his staff will be trying to match a spectacular scoring punch with the ability to get stops and keep opponents off the glass.
If they can …
The sky's the limit.
• • •
Email: scameron@cdapress.com
Steve Cameron's "Cheap Seats" columns appear in The Press on Mondays, Wednesdays and Fridays. "Moments, Memories and Madness," his reminiscences from several decades as a sports journalist, runs each Sunday. Steve also writes Zags Tracker, a commentary on Gonzaga basketball, once per month during the off season.
---