MOMENTS, MEMORIES and MADNESS with STEVE CAMERON: A boneheaded play call to rival even Carroll's Super blunder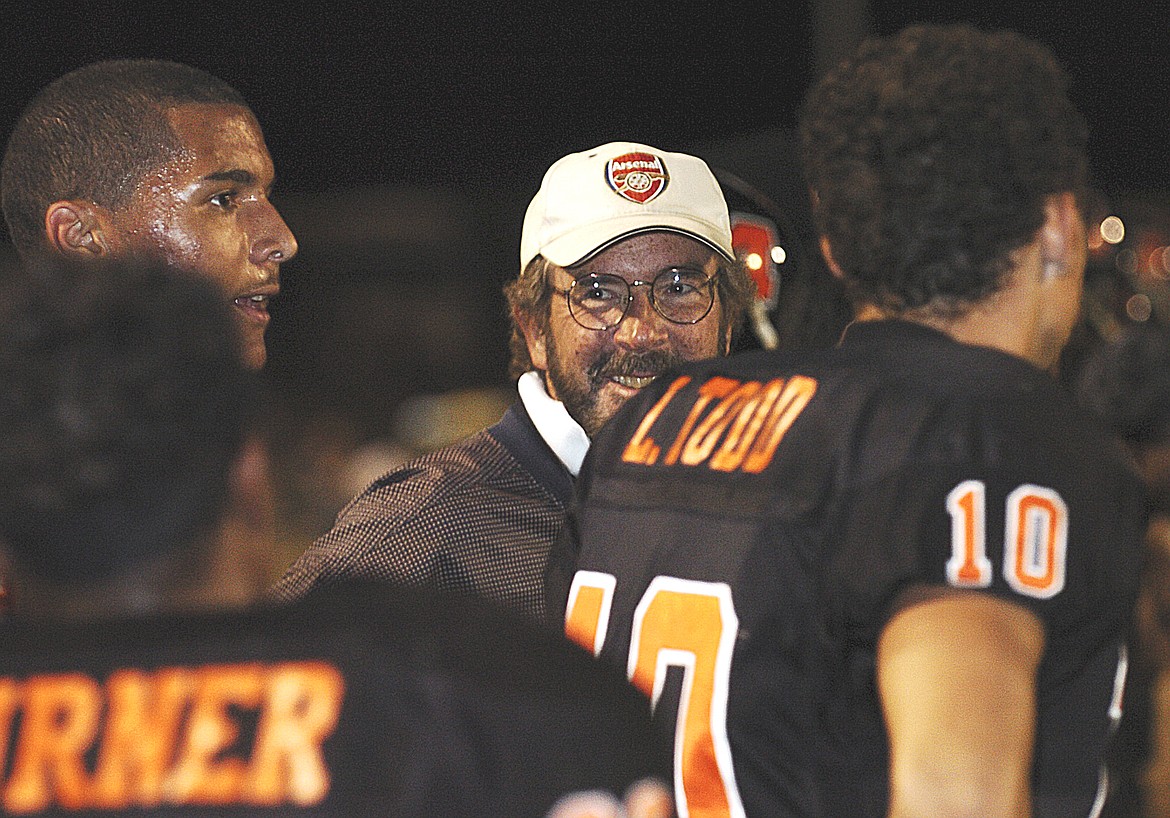 Courtesy photo Steve Cameron on sidelines of a Merced High football game. At left is Carter Todd (without helmet), his brother Logan Todd, right, and Garrett Turner.
|
September 20, 2020 1:10 AM
You probably noticed, but…
The New England Patriots are in the neighborhood tonight.
And that, of course, means that we have to revisit Malcolm Butler's interception in the Super Bowl.
You remember, naturally, because it's pretty well accepted that Pete Carroll made…
"The Worst Play Call in History!"
(Is that phrase trademarked, by the way?)
There were your beloved Seahawks, just 1 yard away from winning their second consecutive Super Bowl, and on second down — with a timeout remaining — Pete chose not to allow Marshawn Lynch a try or two at blasting into the end zone.
Instead of going with Beast Mode, he asked Russell Wilson to whip a quick slant pass over the middle.
It was intended for Ricardo Lockette, but…
Butler read the play, stepped straight toward Wilson and picked it off at the goal line.
Ballgame.
But wait…
IN FACT, I may have a candidate to rival Carroll's moment of madness for…
"The Worst Play Call in History!"
And this one was really a dagger to me, since it involved a high school team I'd come to know very, very well, and sincerely admire.
Also, back in 2006, I had no dog in any fight between Seattle and New England.
I haven't been around here that long.
No, that fall I was in Merced, Calif. — smack in the heart of the San Joaquin Valley.
Grapes, anyone?
Almonds?
I was sports editor and columnist for the Merced Sun-Star, which meant that I wrote about Fresno State and our local high schools.
At that time, the town had two high schools (there are now three), Merced and Golden Valley.
Both had good seasons in '06, but Merced…
I won't say it was the most talented team the state has even seen — that would be absurd, considering the likes of De La Salle in Concord (national record 151 consecutive victories), along with powerhouse schools like Mater Dei down in Orange County.
But that particular Merced team could have competed with any of them.
MERCED proved its worth in the season opener, going on the road to defeat Los Angeles city power Crenshaw.
Unfortunately, senior quarterback Logan Todd tore his ACL.
Merced promptly got upset at home by a so-so Madera team the following week, which prompted Logan to say: "Enough!"
Yes, he chose to play out the season on one knee — in part because his twin brother and No. 1 receiver, Carter, was also finishing up his prep career.
But Logan also knew he had a large and imposing offensive line, and those guys' mission all year became keeping their left-handed QB upright and healthy.
By the way, as this story moves along, please note that I said Logan was left-handed.
That's going to make a HUGE difference in just a couple of minutes.
OK, so Logan returned to action wearing a brace the size of Rhode Island.
And Merced rolled…
To give you an idea, the Modesto Bee newspaper selected a team of the decade for California's entire Stanislaus District in 2010, and six players from that 2006 Merced team made it.
As the Bee pointed out, more than 10,000 kids played varsity football in the district from 2000 through 2009.
YET, SIX Merced players from that one team were chosen — the Todds, running back Garrett Turner, defensive back Bernard Bolden, linebacker James Sulhoff and tight end Jarrett Sparks.
There could have been more, honestly.
Wideout Carlos Acosta was Todd's reliable deep threat, and the biggest hitter in the secondary was free safety Dion Bland — whose nickname, by the way, was "Dr. Pain."
Two or three of the linemen could have been on all-anything teams.
Now, having heard that roll call of stars…
Suppose I asked you: "Would this team score on a two-point conversion, against an exhausted opponent, to win a section title?"
If you'd seen them play, you'd laugh at the question.
No doubt they would, no doubt at all.
However…
Remember that Merced's one "Achilles knee," (if you will) belonged to Logan Todd.
Now, that brings us to the section championship game against undefeated Vacaville, a showdown which unfortunately was played on a muddy field at the University of Pacific in Stockton.
On a fast track, I think Merced's overwhelming speed would have made this game a breeze.
As it was, however, the thing became a slugfest.
LET'S JUST fast-forward to the final drive, which essentially required Merced to drive the length of the field, with no timeouts, while trailing 37-30.
Logan Todd was magnificent.
There was one particular throw-and-catch deep down the right sideline from Todd to Acosta that looked like something you'd see in the NFL.
Time was ticking away, though.
Finally, Merced wound up on the Vacaville 5-yard line with just four seconds remaining — and the clock stopped.
Last chance…
Logan did a half-roll to his left, spotted his brother in single coverage in the left side of the zone — Carter was about 6-2 and 200 pounds — and with the defensive back totally blocked out, Logan zipped home an easy TD pass.
Chaos.
37-36.
Merced still had no timeouts, no chance to discuss what to do next.
Kick the extra point and play OT, or go for two with a play you know will work?
The decision was to go for two, and a victory right on the spot.
In came the play from the sidelines.
I WAS waiting for exactly the same play as the last-second touchdown, and why not?
It would have been another easy pitch and catch.
Put everyone else on the right, maybe even send Acosta in motion that way, and let Carter — isolated on the left — catch another simple toss from his brother to win it.
That did not happen.
Because, well, here's MY nominee for…
"The Worst Play Call in History!"
I'm not going to name the coach, because after all, he's a high school teacher — not Pete Carroll.
But, oh…
The two-point play called from the Merced sideline, for some crazy reason, forced Logan to roll out to his RIGHT.
A left-hander who cannot run — and you want him to throw back across his body?
On one leg?
I was in shock, because I couldn't remember Logan rolling that way at any time, let alone in the confined space you have on a two-point conversion try.
Even more astounding, it seemed like all the Merced receivers had been sent that same way — dragging the entire Vacaville team with them.
Eventually, Logan just ran out of room, tried to find one of his guys in the mob, and threw a pass that was batted down.
IT WAS heartbreaking.
Merced High is a melting pot of diversity — like most places in the Valley.
The school and the team were like the United Nations that year, with white kids, Blacks, Latinos, Vietnamese and assorted other nationalities all thrown together.
Even the biracial Todd twins didn't even look alike.
Yet this unusual bunch had fought all season like the proverbial band of brothers.
They'd united the town in a way, too, even with a rival high school down the road.
And they should have won.
Almost any play but the one that was called would have worked on the two-point conversion attempt.
Vacaville's star running back, who also played safety on every down, said after the game that he feared overtime more than anything — because he could no longer even breathe.
My lingering memory of that post-game scene was Carter Todd, kneeling on the grass, crying.
The twins' dad, James, came over to me and said: "I've got a big job on my hands. One boy's in tears and the other one's having surgery in two days."
I have a tape of that game, still.
When I watch it, I'm shocked all over again that Merced loses.
I've been doing this stuff a long time, but…
That one defied belief.
Email: scameron@cdapress.com
Steve Cameron's "Cheap Seats" columns appear in The Press on Mondays, Wednesdays and Fridays. "Moments, Memories and Madness," his reminiscences from several decades as a sports journalist, runs each Sunday.
Steve also writes Zags Tracker, a commentary on Gonzaga basketball, once per month during the offseason.
---