Local Republican questionnaire draws ire of NIC trustee candidates
by
CRAIG NORTHRUP
Staff Writer
|
September 17, 2020 1:08 AM
A new questionnaire from the the Kootenai County Republican Central Committee has drawn the ire of a pair of candidates in the non-partisan North Idaho College trustee race.
The KCRCC questionnaire was sent to candidates in multiple races, asking for responses to questions about their adherence to Republican ideals, experience in the Republican Party, and whether or not said candidates have voted for non-Republican hopefuls in the past.
"The Kootenai County Republican Central Committee has developed a new process of informing local voters about Candidates running for both Partisan and Non Partisan offices," the document reads. "We have found that many Candidates who subscribe to be Republicans do not hold many Republican values. We also have found that Republican Voters need a way to determine who to vote for in Non Partisan elections."
The questionnaire then informs candidates that the KCRCC will implement a new "rating and vetting program" where all candidates will be scored by Republican precinct commitee members.
"It is, after all," the questionnaire reads, "their job to know their constituents and to keep them informed on Candidates and Ballot Measures."
The questionnaire and rating system was a bridge too far for two candidates running for non-partisan trustee positions.
"When I first saw it I was quite taken aback, because this is a non-partisan election," said Dr. Joe Dunlap, formerly NIC's president. "Typically, non-partisan elections for judges or other officers are designed that way so there is no undue political influence from one direction or another."
The questionnaire asked 10 questions of each candidate including whether they agree with the Idaho Republican Platform, if they have experience as an elected official, and to outline their activity as a Republican and if they have voted for candidates of other parties.
Other questions included whether they considered themselves fiscally and socially conservative, and how they would make themselves available to meet with constituents.
With 24 years in higher learning — including a four-year stint as former president of NIC and a previous tenure as president of Spokane Community College — the current NIC trustee collaborated with fellow candidate Dr. Paul Sturm to put together a response.
"A community college by definition serves a variety of community, student and employer interests," Sturm and Dunlap wrote in return. "As such the Board of Trustees has many constituencies that, in our view, cannot be served best in an ideologically-based atmosphere that leans toward partisanship. Focus should be on preserving and enhancing the college's integrity, quality, and success on behalf of the community as a whole."
They further contend that NIC is in a position to properly prepare graduates for the workforce, and that student success requires a community effort, rather than a partisan push.
"Therefore," Sturm and Dunlap summarized, "while we hold political and philosophical viewpoints with which you may agree or not, we have successful experience leaving those perspectives out of our advocacy for the institution to which we have pledged responsibility."
Dunlap later emphasized to the Coeur d'Alene Press that three candidates for the three open NIC trustee positions — Dunlap's Zone 4 challenger Gregory McKenzie, Sturm's Zone 5 opponent Michael Barnes and unopposed Zone 3 candidate Todd Banducci — all were elected in the May primary to sit on the KCRCC.
KCRCC chair Brent Regan said the questionnaire and ranking system are simply mechanisms for committee members to educate themselves on candidates running in the upcoming election, and to relay that information back to local constituents.
"Precinct committeemen are frequently asked for information about candidates and issues," Regan said. "In order to provide accurate and complete information, the Kootenai County Republican Central Committee has been developing a new review process for candidates running for office. Candidates will be surveyed and interviewed to determine their positions on issues that are important to voters."
Regan added that asking candidates to hold and express policy viewpoints — regardless of whether those positions align with conservative views — is not unreasonable, and that voters deserve to know candidates' positions on those policies.
Without mentioning Sturm or Dunlap by name, Regan scoffed at the notion that candidates shouldn't submit to vetting on behalf of their potential constituents.
"I think it is remarkable that some candidates are concerned about being asked questions or who is or is not qualified to be a candidate," he said.
Nevertheless, Dunlap said both he and Sturm should not be the only ones shocked by the questionnaire and scoring system.
"Any mainstream Republican, independent or Democrat should be outraged over this overt act," Dunlap told The Press, "an act designed to inject partisanship into a non-partisan election."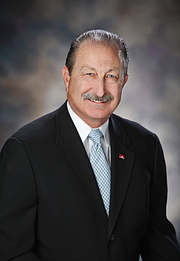 Recent Headlines
---