Youth Sports Sept. 16, 2020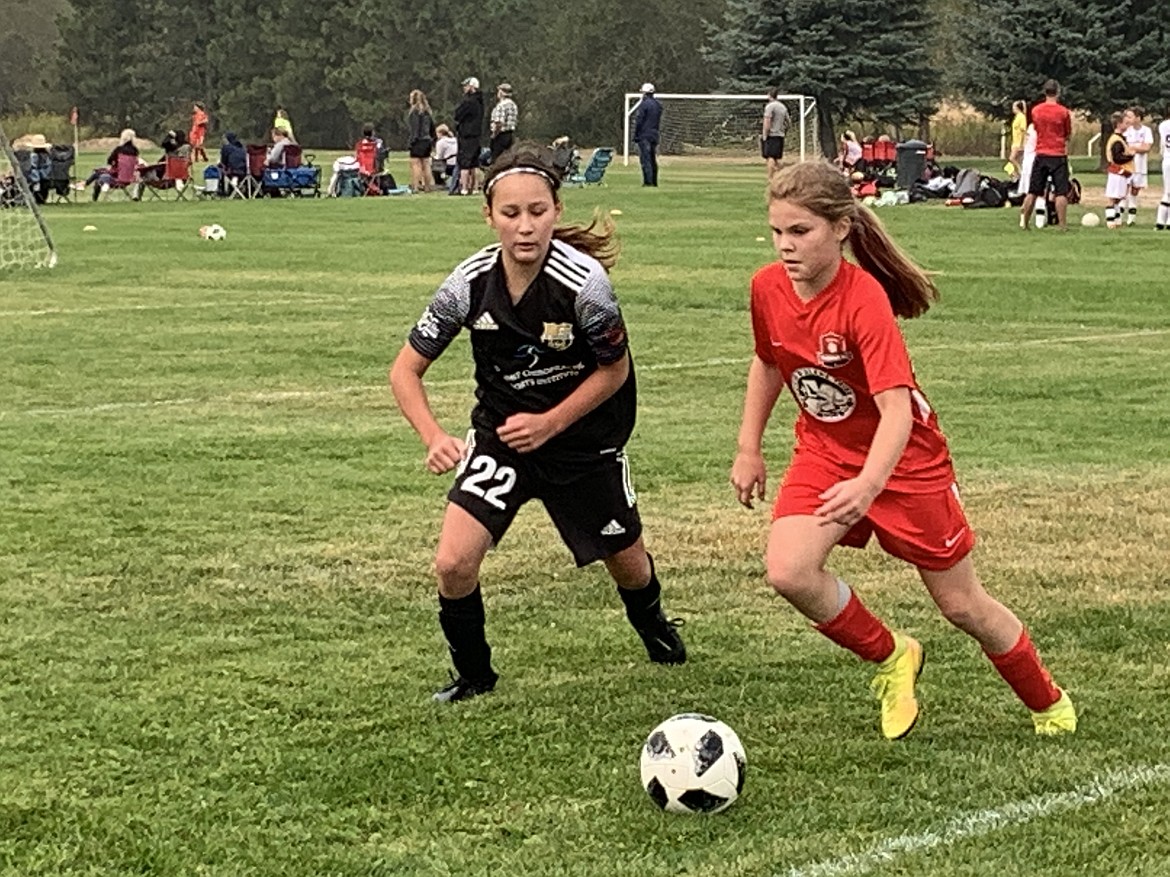 The 2009 Thorns North FC Green girls soccer team took the field for the Pend Oreille Cup 2020 on Saturday at Travers Park in Sandpoint. The Thorns earned a 1-1 draw with FC Spokane and a 1-0 win over Flathead Green 2009. Ryann Blair (22) scored a penalty kick goal in each match, and goalkeeper Savannah Spencer stopped 22 shots from FC Spokane and stopped 14 shots from Flathead, earning a clean sheet in the second match for the Thorns.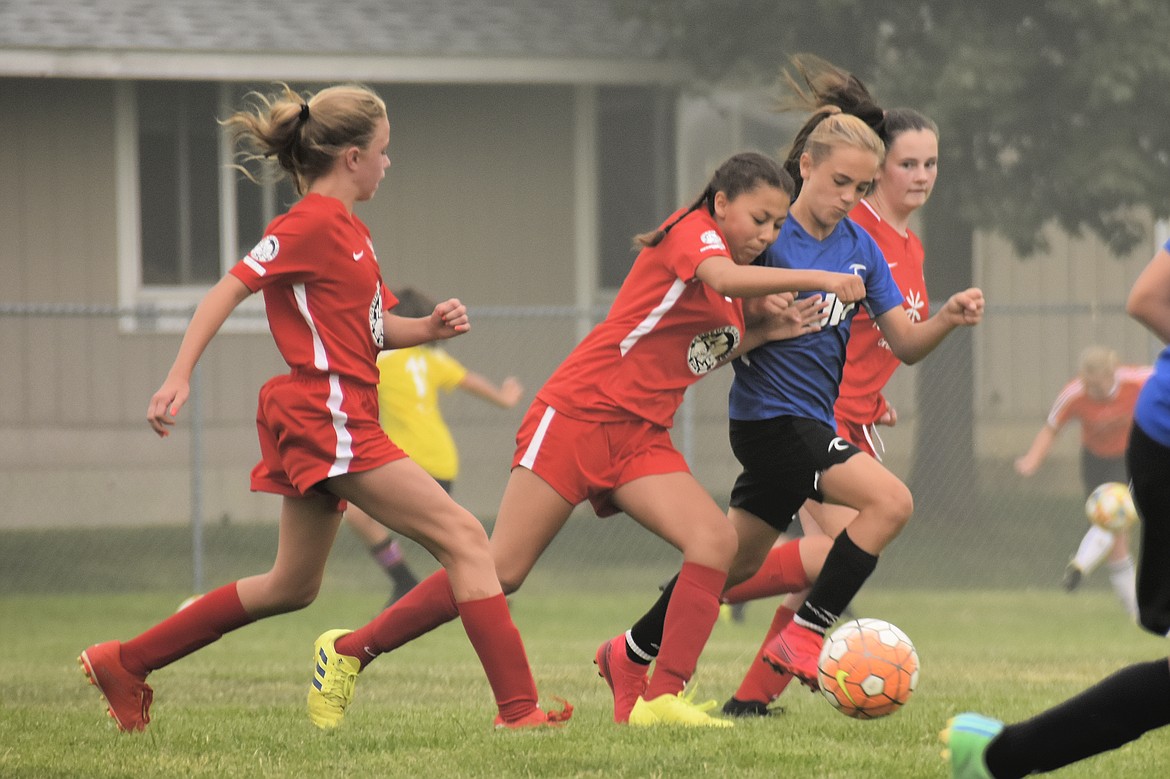 Courtesy photo This past weekend the Thorns North FC 08 Girls Red soccer team placed first in its bracket at the 2020 Pend Oreille Cup in Sandpoint before the hazardous air quality made it unsafe to play in the finals on Sunday. On Friday, TNFC 08G Red tied EW Surf SC 08G 4-4. Talia Lambro had one goal and two assists. Kamryn Kirk, Alli Carrico, Isabella Grimmett each had one goal. Adysen Robinson defended the goal for TNFC. On Saturday TNFC 08G Red beat EW Surf SC 08G Royal 4-1. Avery Lathen had two goals. Talia Lambro and Ellie Moss each had one goal. Talia Lambro, Ella Pearson and Kamr...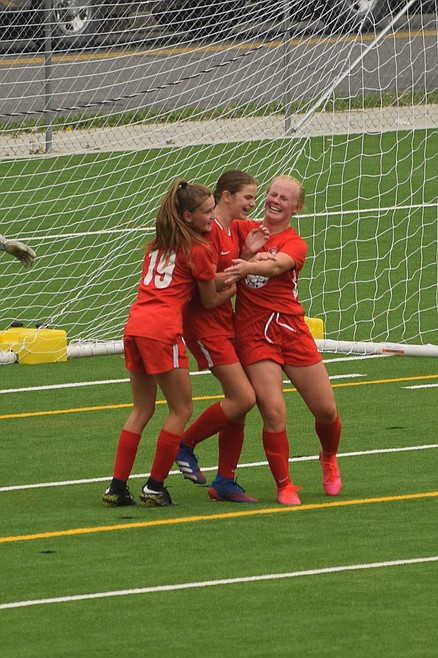 Photo by MARCEE HARTZELL Natalie Thompson, left, and Kennedy Hartzell, right celebrate with Libby Morrisroe after Morrisroe scores from a breakaway assist from Hartzell. The Thorns North FC girls 07 soccer team started the Pend Oreille Cup off great, beating EW Surf G07 WNPL 2-0 in the first of three games, before the AQI rose to a level that forced the tournament to cancel. The Thorns' other goal was scored by Rachel Corette (Kennedy Hartzell).
Previous
Next
|
September 16, 2020 1:05 AM
BOWLING
Sunset Bowling Lanes
High games
Bantams (5 to 8 year olds)
Boys - Hunter McComb - 61; Brody Shands - 49
Girls - Addison Herberly - 69; Chloe McCliggott - 61; Tori Graff - 28
Preps (9 to 11 year olds)
Boys - Zac Nielsen - 44
Girls - Ruby Goodknight - 121; Drew Hammond - 90; Payton Way - 89
Juniors (12 to 18 year olds)
Boys - Josh Loper - 203; Caleb Kearl - 179; Brayden Martinez - 169
Girls ; Quin Graff - 151; Daphnee Hammond - 143; Jessabell Hart - 138
NOTE: The Sunset youth leagues bowl at 10 a.m. on Saturdays. There is still room if kids 5-18 want to join.
Information: Jackie at 208-661-5402, jmontgomery329@roadrunner.com or stop by the front desk at Sunset Bowling Center.
• RATHDRUM PARKS AND RECREATION
U4 Soccer (3 & 4 yr. old Soccer)
Seright's Ace Hardware & Young Construction (Black)
Tessa Davenport (2), Everson Warren (3), Jane Etchison (1), Thomas Keough (1), Oliver Coppert (6)
Edward Jones – Debbie Holmes & Rathdrum Lions Club
Jordy Lang (9), Jonathan Scholz (3), Brantley Saegar (3), Charlee Short (1)
Bean Barn & Young Construction (Orange)
Daisy Ash (5), Cole Mayfield (8), Brenner Thompson (4)
U6 Soccer (5 & 6 yr. old Soccer)
Mihara Law PLLC & Rathdrum Lions Club
Kacen Lohmiller (1), Cora Mihara (1), Penny Messuri (1), Micah Andrews (2), Lila Fisher (1)
Pita Pit & Idaho Forest Group
Carter Woodcock (1), Casey Stella (1), Leigh James (1), Max Anderson (2)
REAL LIFE SPORTS
Sept. 10
Flag football
At The Fields at Real Life Ministries
5th/6th Grade Divsion
Game 1
Warriors - 14
Vipers - 20
Warriors
Touchdowns – Caden Dever, Nicholas Smith
Flag Pulls – Kolton Anderson, Kayden Klimek, Nicholas Smith, Jobe Stam
Vipers
Touchdowns – Jonah Ebert, Kelan Moore, Brayden Smith
Flag Pulls – Liam Alderman, Jeremiah, Jonah Ebert, Kelan Moore, Paxon Rasor, Brayden Smith, Gavin Tosi
Game 2
Juggernauts - 9
Spartans - 6
Juggernauts
Touchdowns – Jonathan Barnhart
Flag Pulls –Jonathan Barnhart, Caden Perkins, Carter Rossberg, Kason Stanaway, Noah Stielstra, Nikolas Taylor
The Spartans
Touchdowns – Titus Tenney
Flag Pulls – Luke Blasick, Brody Bowlin, Jackson Harvey, Isaiah Lewis, Gage Tenney, Kellan Walther
Game 3
Mahomies - 21
Yellow Jackets – 0
Mahomies
Touchdowns – Sawyer Bateman
Flag Pulls – Liam Anderson, Sawyer Bateman, Cale Blood, Monroe Osborne, Eyan Rubert, Joshua Sampson, Ian Tandy
Yellow Jackets
Flag Pulls – Parker Bundy, Zachary Carrasco, Gabriel Nagrone, Wyatt Rettman, Dylan Vranich
3rd/4th Grade Division
Game 1
Wolverines - 26
The Outlaws - 0
Wolverines
Touchdowns - Parker Henniger, Kagen Kirk, Trent Lilyquist, Lawson Roberg
Flag Pulls – Dawson Bechel, Parker Henniger, Trent Lilyquist, Jax Pearson, Liam Rettman
The Outlaws
Flag Pulls – Reed Dickson, Mason Miller, Archer Seeds
Game 2
The GOATS - 22
Pac-mans - 12
The GOATS
Touchdowns – Easton Annotti, Eli Whiteman
Flag Pulls – Easton Annotti, Caleb Finney, Eli Whiteman
Pac Mans
Touchdowns – John Neff
Flag Pulls – Blake Anderson, Kohen Hedge, Emersen Kertwick, John Neff, Wyatt Risken, Daniel Velasquez
Game 3
Stykers - 0
Titans - 32
Strykers
Flag Pulls – Ezekiel Mitchell, Jake Naff, Garrett Rediger, Mason Tucker
Titans
Touchdowns – Nathan Fitzpatrick, Jacoby Longtrain
Flag Pulls – Owen Copstead, Nathan Fitzpatrick, Trey Gosney, Colton Koch, Tanner Leiser, Jacoby Longtain, Trey Love, Matthew Rios, Cruz Salzwedel, Mason Soltwisch, Will Wood
Saturday, September 12, 2020 – Flag Football

@ "The Fields" at Real Life Ministries
Pre K/K - Grade Division
Game 1
Black Sharks - 16
Blue Flame Dragons - 25
Black Sharks
Touchdowns – James Harrington, Jaxsen Ontiveros
Flag Pulls – Jaxsen Ontiveros, Lucas Shamion, Grant Vetsch
Blue Flame Dragons
Touchdowns – Paxton Bond, Miles Wood
Flag Pulls – Paxton Bond, Clayton Durfey
Game 2
The Cheetahs - 18
Lightening Tigers - 24
The Cheetahs -
Touchdowns Kade Alvarado, Griffin Krissieg
Flag Pulls Kade Alvarado, Nicolas Edgar, Kylar Nelson
Lightening Tigers
Touchdowns – Cole Luzzo, Cole Martin, Gunnar Pursley
Flag Pulls – Jace Eachon, Beckham Lee, Cole Luzzo, Nicholas McLaren, Gunnar Pursley
1/2nd Grade Division
Game 1
Wolfpack – 12
Hawks - 20
Wolfpack
Touchdowns Jimmer Genatone, Mac Roberts
Flag Pulls – Miles Arrotta, Aure Brennan, Brody Brennan, Carter Dube, Keegan Michael, Bryce VanLueven
Hawks
Touchdowns – Byron Betsch, Josh Bevacqua, Henry Thurston
Flag Pulls – Byron Bertsch, Josh Bevacqua, Collin Bourassa, Palmer Murphy, Gabriel Stearns, Henry Thurston
Game 2
Post Falls Spikes - 12
Gators - 28
Post Falls Spikes
Touchdowns – Elijah Ebert, Issac Putman
Flag Pulls – Dominic Bechel, Brayden Drapeau, Elijah Ebert, Wesley Fisher
Gators
Touchdowns – Kase Ralston, Finnely Short, Witten Short, Cameron Tosi
Flag Pulls – Evan Johnson, Emmett Longtain, Finnley Short, Witten Short, Sawyer Smith, Cameron Tosi
Game 3
Dolphins – 26
Warriors (1./2nd) - 26
Dolphins
Touchdowns – Grady Forkner, Eben Harris, Griffin Higgins, Marcus Miller
Flag Pulls – Grady Forkner, Griffin Higgins, Elias Love, Marcus Miller
Warriors (1/2nd)
Touchdowns – Ashdon Bettis, Camden Glindeman, Michael Mclaren
Flag Pulls – Ashdon Bettis, Cannon Bond, Brody Cantrell, Camden Glindeman, Archer Herndon, Cameron Hoy, Blake Nielsen, Clyde Stokes
Sept. 12
Soccer
At The Fields at Real Life Ministries
Pre K/K Grade Divsion
Game 1
Sharks - 3
Bumblebees - 6
Sharks
Goals – Lucas Bradley, Parker DeGraaff, Garrett Hill
Bumblebees
Goals – Kyler Mee
Game 2
Super Speeders - 1
Turf Tornados – 7
Super Speeders
Goals - Avery Tarbutton
Turf Tornados
Goals – Kendall Morrett, Kole Reese, Kamden Vick, Memphis Tate
Game 3
Mustangs - 2
Thunder Cats - 5
Mustangs
Goals – Ethan Denisyuk
Thundercats
Goals – Oakley Gillis, Jeremiah Nystrom, Braelyn Parks, Owen Scaggs, Kolby Daniels
1/2nd Grade Division
Game 1
Soccerhawks – 4
Stormnados - 5
Soccerhawks
Goals – Micah Brumbach, Bowyn Gills, Benjamin Owen
Stormnados
Goals – Aiden Mojzis
Game 2
The Great White – 0
Thunderbolts - 5
Thunderbolts
Goals – Preston Bright, Seth Morley, Hudson Whiteman
Game 3
Gray Storm - 3
Lightening Sharks - 2
Gray Storm
Goals – Karson Eachon, Andy James
Lightening Sharks
Goals – Brenden Whitney
3/4th Grade Division
Game 1
Blue Hawks – 5
Forrest - 4
Blue Hawks
Goals – Jakob Brunk, Jax Molenaar
Forrest
Goals – Gabriel Carlino, Layne Whiteman
Game 2
Grey Lightening – 1
Green Destroyers - 10
Grey Lightening - 1
Goals – Tessa Lovell
Green Destroyers
Goals – Calvin Gant, Peter Ratcliffe, Owen Sheppard, Ryker Stevens
5th to 8th Grade Division
Game 1
Legends – 5
Blue Rockets - 2
Legends
Goals – Dane Mac-Davis
Blue Rockets
Goals – Luke Berghorst
Game 2
Thunderstromzz - 8
FC Bayern Munich - 4
Thunderstromzz
Goals – Kiya Cox, Owen Emery, Riley Johnson, Alivia Ludwig, Brooklyn Reese, Savy Woodruff
Sept. 12
Girls volleyball
At The Courts at Real Life Ministries
3rd/4th Grade Division
Match 1
Extreme Dreamers - 3
Chameleons – 0 Sets
Extreme Dreamers– Aces – Paetlyn Byrd, Addison Fowler, Avy Murphy, Jordyn Parke, Kalli Realmuto, Jayden Nelke
Chamelons – Aces – Hannah Batchelder, Raya Batchelder, Kendalyn Bowlby, Vivian Dykstra, Allison Morley, Elizabeth Morley, Allie Nitkichuk
Match 2
The Spikes – 0 Sets
The SunSetters – 3 Sets
The Spikes – Aces – Stella Cleave, Jade Laos, Sierra Molinari, Lola Ruggiero
The SunSetters - Aces – Grace little, Evelynn Milligan, Kennedy Short, Carolyn Tomlinson
5th/6th Grade Division
Match 1
The Corals – 2 Sets
Team B – 1 Set
The Corals– Aces – Harli Folda, Adeline Mavrinac
Team B – Aces – Adelynn Archer, Abby McArthur, Embree McKeown, Byrnna Miller
Match 2
The Crusaders – 0 Sets
Team D – 3 Sets
The Crusaders– Aces – Kirra Lichty, Kaitlyn Martin, Isabelle Meredith, Abby Moreland
Team D - Aces – Isabella Carlino, Ella Hummer, Desi Palm, Grace Palmer, Lydia Rush
POST FALLS PARKS AND RECREATION
Soccer
Sept. 12
U8
Century Publishing: Daisy Griffin 1 goals
Little Smiles Dentistry: Zane Campbell 4 goals
Mountain America Credit Union: Harper Combs 1 goal, Brailey Scott 2 goals, Sakiyas Scott 5 goals, Xander Weeks 7 goals
U11s
Big Sky Idaho: Amos Hunter 2 goals, Christopher Lederhoos 1 goal, Tanner Leiser 1 goal
Calvary Lutheran: Lincoln Holding 1 goal
Peach Orthodontics: Zachary Detwiler 3 goals
Stateline Speedway: Samson Kjar 1 goal, Nathan Sorenson 1 goal
U14s
Brumbach Dentistry: Cobe Cameron 3 goals, Caleb Heath 1 goal, Cole Jones 3 goals, Josiah Lange 1 goal, Owen Sharp 1 goal, Finn Zobell 2 goal
ML Architect: Ethan Kuplack 3 goals, Marcus Kuplack 4 goals
Post Falls Taco Bell: Gerard Breyer 1 goal
Seright's Ace Hardware: Andrew Bentz 2 goals, Malachi Chafin 1 goal
Submit items for youth and non-varsity high school sports by noon Tuesday for publication Wednesday. Email stories and photos (in .jpg format) to sports@cdapress.com.
Information: 664-8176, Ext. 2019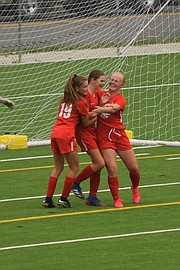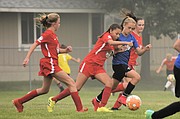 ---