War and peace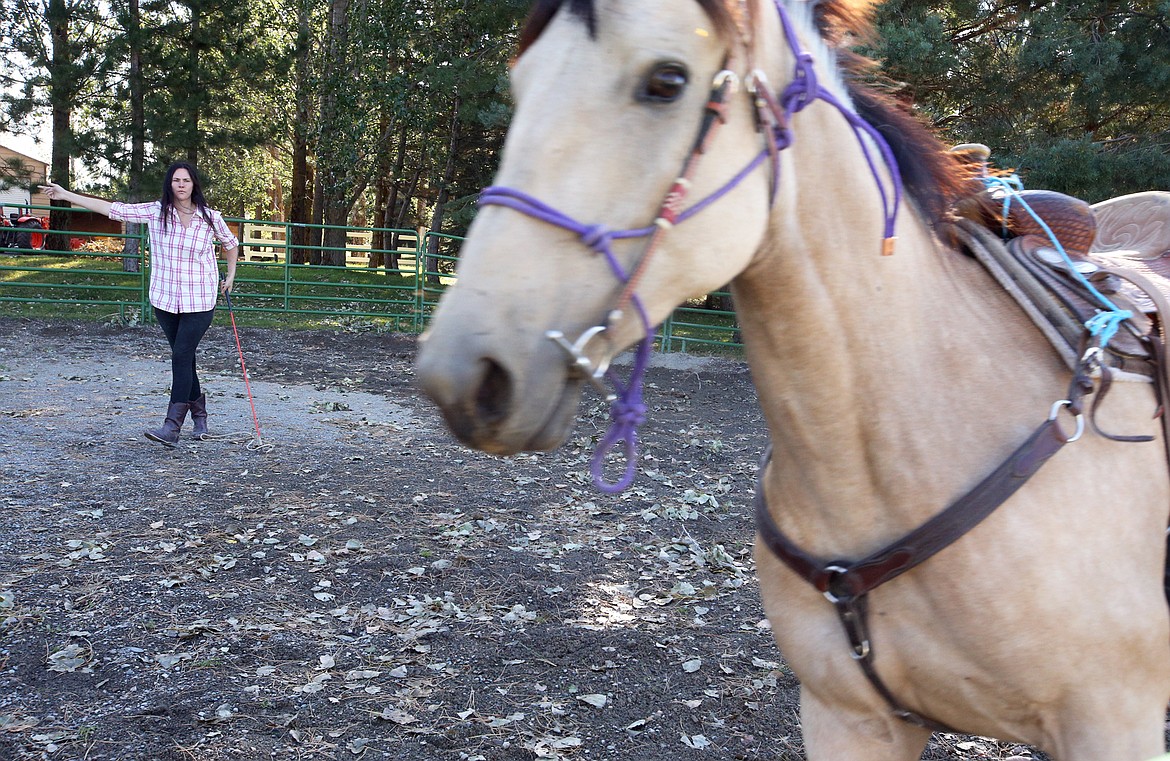 Autumn Galey works with Kaleki during a training session Thursday at Running W Therapeutic Riding Center.
BILL BULEY/Press
Autumn Galey and Kaleki walk back to the indoor arena at Running W Therapeutic Riding Center.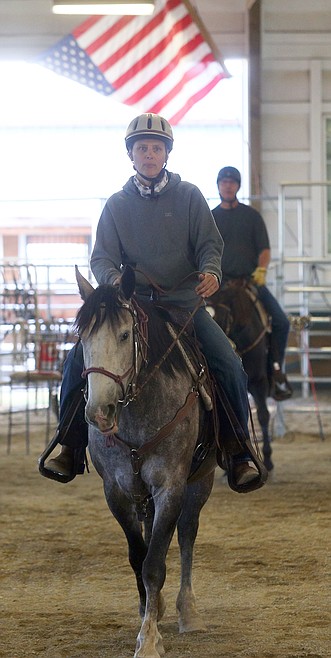 Suzette Brownell and Codi go through the paces at Running W Therapeutic Riding Center.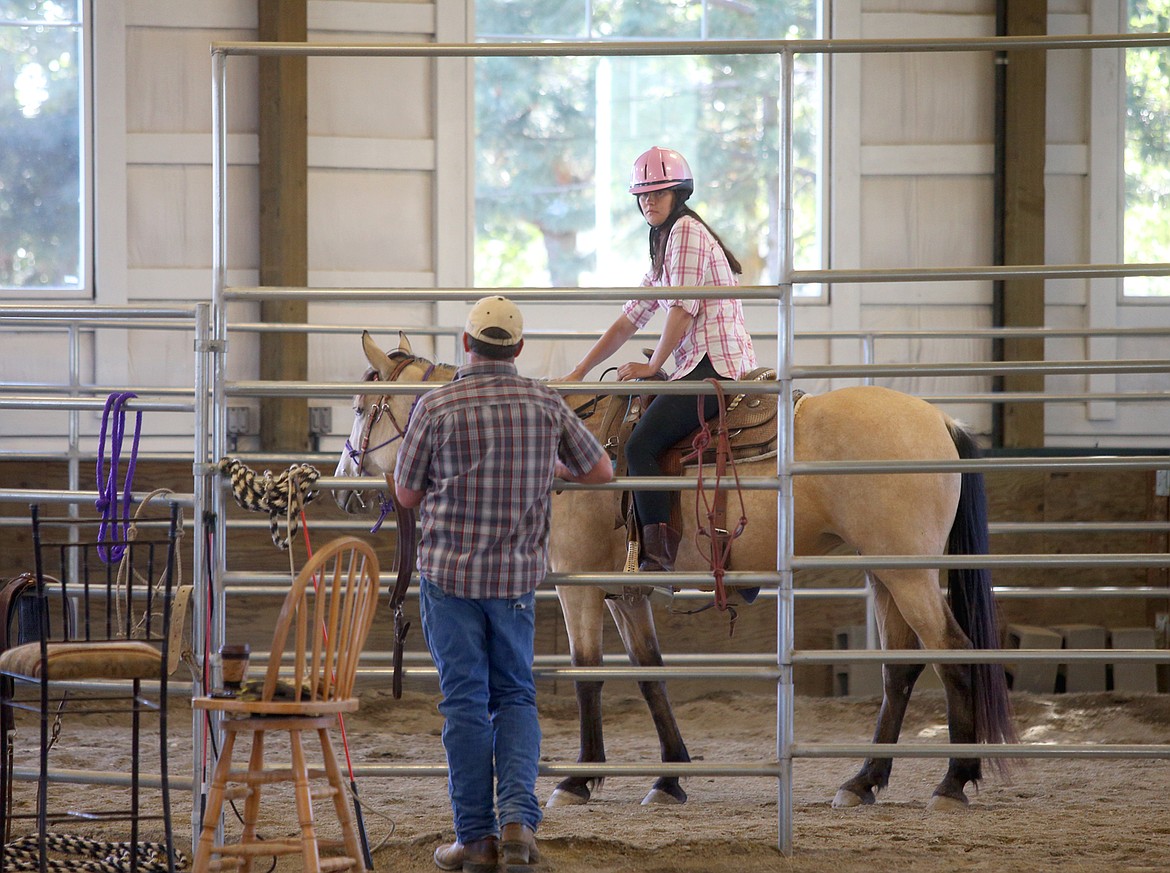 Don Wiltsie watches Autumn Galey ride Kalehi as they train together on Thursday.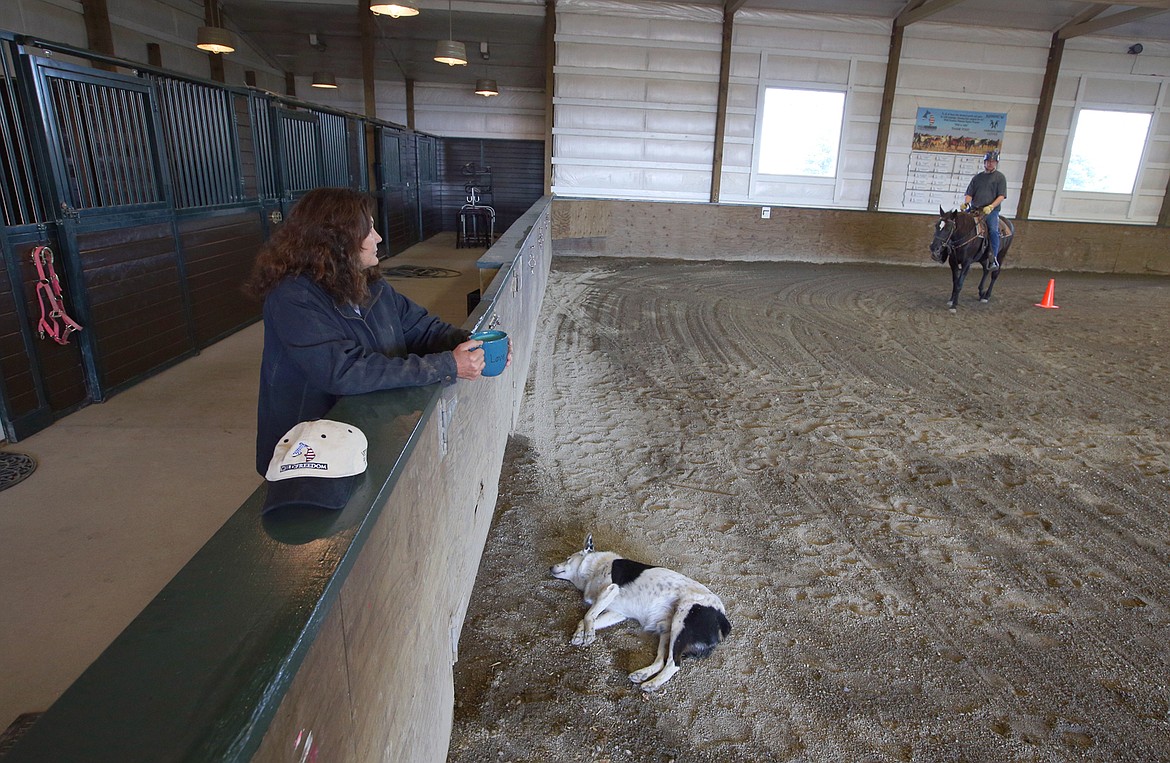 Cydie Wiltsie watches as her dog Walter sleeps and Randy Voll rides Odina at Running W Therapeutic Riding Center.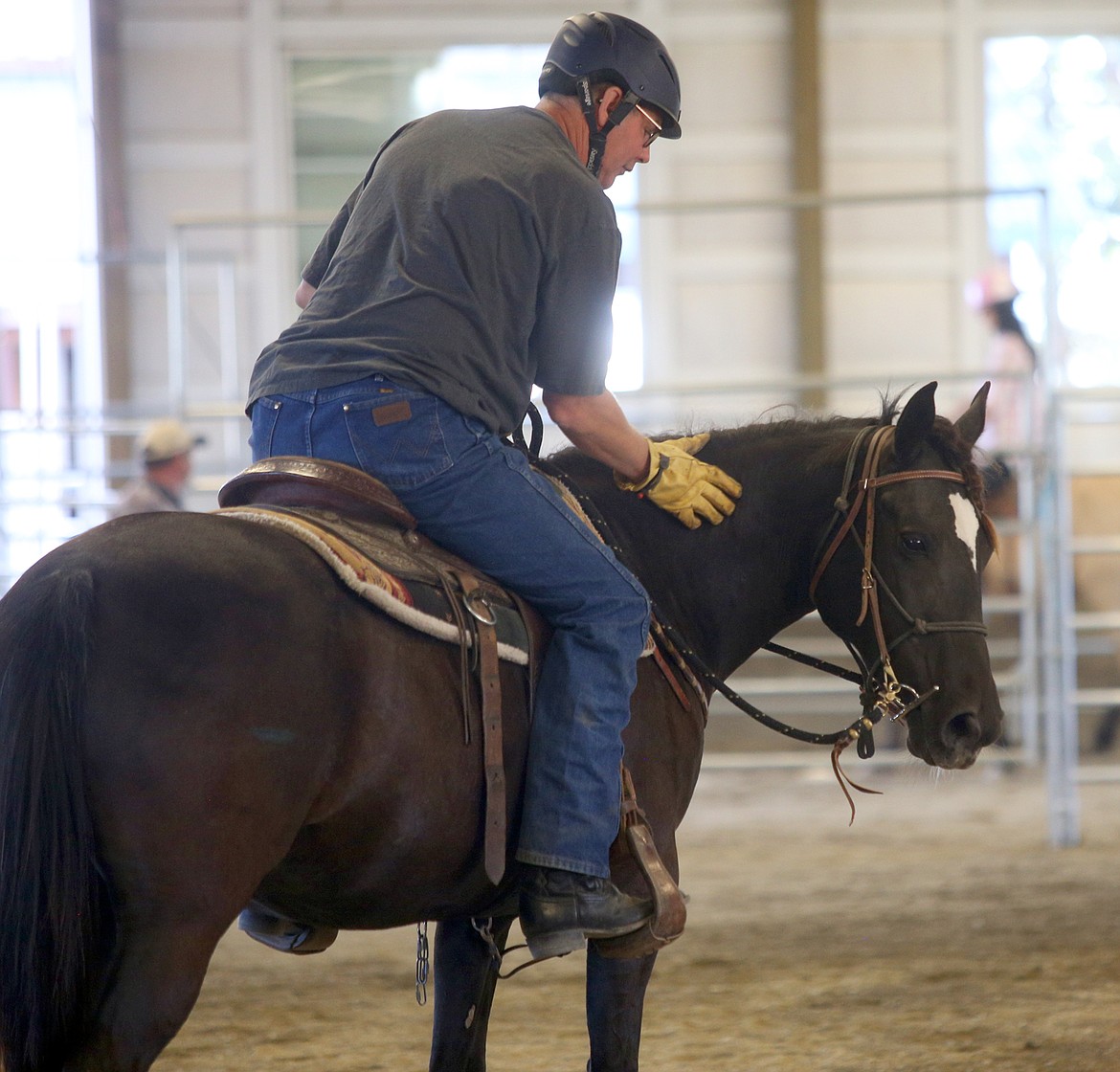 Randy Voll pats Odina during a break Thursday.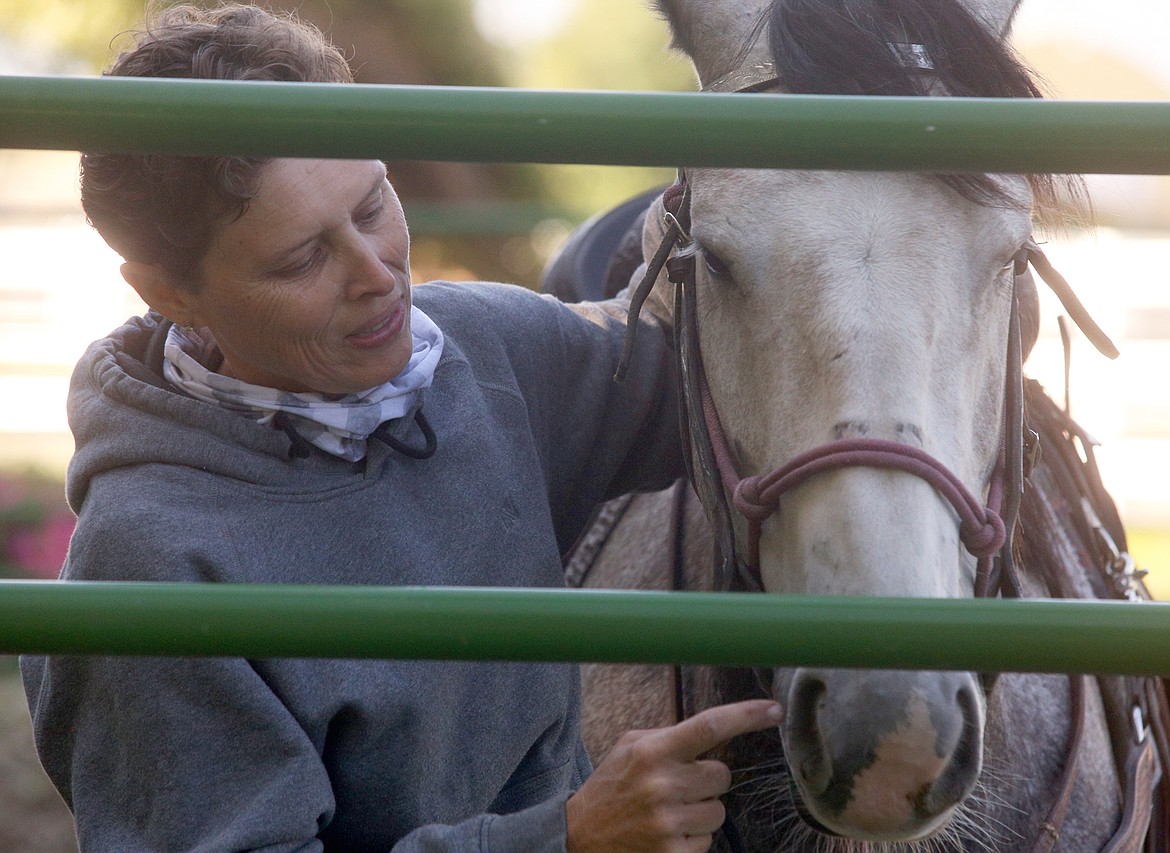 Suzette Brownell shares a moment with Codi after a training session at Running W Therapeutic Riding Center.
Previous
Next
by
BILL BULEY
Staff Writer
|
September 16, 2020 1:09 AM
When Autumn Galey met Kaleki in early June, she was scared.
"I was actually terrified," she said.
That's because Kaleki was a 1,000-pound wild mustang and Galey's goal in the coming months was to form a friendship.
No easy task, as Galey had zero equine experience. And Kaleki, being a wild mustang, didn't much care for this woman, or any human.
Yet, amazingly, they bonded.
"It's actually changed everything about my life," Galey said.
On a cool, sunny Thursday morning, she stood in the center of an equestrian ring directing the graceful horse as it galloped in circles. When Galey signaled her to stop, Kaleki did. When she waved for her to go the other directions, she did.
A few minutes later, the lesson over, Galey and Kaleki stood face to face, cool, calm and connected.
Rewind a few months, and the muscled Kaleki would have likely run right over the trim Galey and never looked back.
"We're like partners now. We work together," Galey said. "She sees me as safety. She does have to listen to me but I have to trust her at the same time — she provides so much for me."
Galey is one of three military veterans involved in a program, "Wild to Mild," at the Running W Therapeutic Riding Center on Harvest Road in Rathdrum.
They started June 4 and will wrap up next month, with the horses being put up for auction as they are still owned by the Bureau of Land Management.
In the four months in between, veterans and horse become not just best friends, but in ways, confidants and counselors to each other. The program matches wild mustangs with veterans on the premise that they need each other and can help each other overcome past pains pushed beneath the surface.
Madeline Baker, spokeswoman for Running W Therapeutic Riding Center, said the wild mustangs were captured on Bureau of Land Management land in Nevada and transferred to holding pens in Boise, where Running W picked them up.
She watched as Galey and fellow veterans Suzette Brownell and Randy Voll worked with their horses at the indoor arena.
She noted how close they were to the horses, moving, talking, and adjusting saddles and bits.
"All that doesn't just happen," she said. "Everything you see took time here."
She nodded as Voll began riding his horse, Odina.
"So many little steps go into creating just what you see right there with Randy," she said.
It's a long road to get there.
"They are literally wild animals," Baker said.
The veterans have been working with the horses five days a week, two hours a day.
It was weeks before they could even touch the horses and only recently have been able to ride them — slowly, in the arena, under the experienced eyes of Running W Therapeutic Riding Center owners Don and Cyndie Wiltsie.
"They've come a long ways from where these horses started and where they started," Don Wiltsie said
.
While they've hosted other programs for veterans, including one with already-gentled mustangs, this was the first that teamed wild mustangs with them.
"We're taking people who don't know anything about a horse, give them a wild horse who doesn't know anything about humans, and make a partnership," said Cyndie Wiltsie, smiling as dog Walter slept on the ground nearby. "And they've done that."
It's frightening for both, at first.
Horses can sense if someone knows what they're doing. They can smell fear, Wiltsie said.
"You have to be totally confident and quiet in yourself," she said. "And to show your horse that they can trust you."
As Voll rides Odina, Don Wiltsie tells him to use gentle pressure, not to kick her.
"I didn't kick her," Voll responds.
"You did. I watched you," Wiltsie said.
A few minutes later, as Voll rides past Cyndie Wiltsie, she asks, "Are you breathing?"
"Probably not," he answers, laughing.
The idea isn't just to come away with an obedient horse that can be sold.
Over time, they built a trust in each other that helps both adjust to a world they aren't entirely at peace in.
"These guys learn a lot about themselves while doing this," Don Wiltsie said. "If they come in with too much anxiety, the horse won't want to have anything to do with them. So they have to learn to control that to a point so they can work with their horse."
Brownell retired in 2013 after 20 years with the Air Force. She returned to Idaho in 2016 and lives in Spirit Lake.
Her horse, Codi, is named after her son, Cody, who committed suicide last year at the age of 21.
She said working with six-year-old Codi has helped her deal with depression, doubt, PTSD and other issues. It's been a slow but steady process.
"The trust between her and I was enough that she finally let me touch her on June 25," Brownell said. "Since then, it's different. We have a complete bond."
The two work together effortlessly in the equestrian ring. Codi follows Brownell's directions and when they finish, the horse stands easily and lets Brownell stroke her head and neck.
Neither shows any fear.
"If you do something wrong, they have their way of showing us," she said.
Codi has helped with Brownell's patience, her sense of calm, her healing. She keeps her mind busy.
The journey with Codi, she said, has been wonderful
.
"I never would have thought I'd be riding her," she said.
"Codi is an amazing horse," she added.
Voll, of Spokane, retired in 1997 after 21 years with the Army. He said working with Odina has been a dream come true since he was a child and wanted to capture and train a wild mustang.
His relationship with the horse, he said, has been therapy in itself and helped him develop compassion, for starters.
Both have developed patience.
"You need to be calm and collected," Voll said.
On day one, he said Odina wouldn't allow him near her. Last week, Odina followed him, stood by him, let him lead — and Voll, in turn, said he has become a stronger man along the way.
"I tell her all the time, 'I'm never going to hurt you,'" he said. "Even though you know they don't love you, it still feels that way."
Galey served in the Army for about five years starting in 2006. She said she was assaulted and her attacker ended up going to prison. She was later discharged and anger swelled inside over what happened.
She could not forgive and forget.
"I acted it out in inappropriate ways," she said.
Therapy, counseling, didn't help. She went through a divorce and struggled to connect with her two children, who feared her, she said.
"I just wanted to go back to where I was," Galey said. "I wanted to find normal again."
Kaleki led the way.
"I could finally see a path to it," Galey said. "This program has allowed me to have a peace that I found within myself."
It didn't come quickly or easily.
"We had no relationship in the beginning," she said. "I just wanted to be her friend. She was so scared and hesitant, but curious."
All those two-hour sessions, five days a week, all the mistakes and miscues, made a difference. Instead of being guarded and distant, Kaleki is playful now, bumping Galey when she wants her attention.
They look after each other.
"She does the things that shows she really cares," Galey said. "We've created that bond of trust together, which is nice."
Galey knows that Kaleki, much bigger and stronger, could easily injure her.
"So there's a sense of having to humble yourself," she said. "At the same time, it forces you to face every emotion you're feeling whether we hide it or not. We get so used to kind of just stuffing them down, but then we react to everyone around us.
"We can't even recognize our own emotions. Because we're not dealing with any of them any more, so it becomes just a mud puddle."
Kaleki feeds off her emotions, Galey said.
"If I'm sad, she's sad. If I'm anxious, she's anxious."
So she talks to her in a soft, soothing voice. Past hurts don't hurt quite so much anymore.
"I just live my life with her," Galey said.
When Kaleki comes up for auction next month, Galey doesn't plan to say goodbye. She plans to bid on her. She wants her to become part of her 85-acre property near Newport, Wash.
She can't imagine life without Kaleki.
"When I wake up in the morning and I spend time with her, I'm a better person for it," she said, smiling. "My kids at this point deserve every ounce of that."
---