THE CHEAP SEATS WITH STEVE CAMERON: As big of a Zag opener as you can get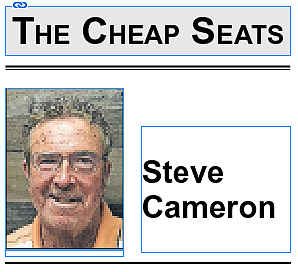 |
October 28, 2020 1:20 AM
Gonzaga has become a blue blood in college hoops.
That's the opinion of AD Mike Roth, and therefore, why not take the stage in 2020 alongside another blue blood?
Sounds like a plan, so the Zags are opening what they hope will be a spectacular season against three-time national champion Kansas.
The glamor matchup will take place in the same state, but not the same city in which the Zags originally thought they'd get this new season started.
Instead of kicking off the year with the Orlando Invitational, one of a few events that ESPN planned to televise from a bubble at Disney World, the Zags will face KU in Fort Myers on Nov. 25.
Yes, that's the first day the NCAA is allowing basketball competition – an unusual wrinkle that no doubt will puzzle both the Zags and Jayhawks.
At least temporarily.
ALMOST everything these days has been affected, in some way or another, by Covid-19.
Why should college basketball be any different?
"In a normal year," Roth said, "we wouldn't be going out there against Kansas without some kind of preparation. "Recently, we've had closed-door scrimmages (against Michigan State the past two seasons), and an exhibition game at home before we'd get into the regular schedule with a holiday tournament or something like that.
"This will be a complete change, which is life with the doggone virus around.
"We've got a lot of new kids on this team (three freshmen and redshirt frosh Oumar Ballo), and the first thing they're going to see is Kansas. "Of course, the KU players will be coming from the same place, and they'll be seeing Gonzaga right off the bat."
Roth indicated that Intersport, the media and event company sponsoring this Fort Myers match, plans to add two more teams.
The idea is that the Zags will get a different opponent on Nov. 27, and so will Kansas.
ESPN's decision to bail out of its Orlando events left Gonzaga in search of an opponent.
Ditto Kansas, which originally was set to play Kentucky.
Thus, we get a pretty delicious opener to start the 2020-21 season – for both sides.
ROTH SAID that some other marquee games that are already on the schedule – against Tennessee, Iowa and Baylor – are still marked on the calendar.
In fact, the Baylor game in Indianapolis on Dec. 5 also will be an Intersport production.
"Those are the plans," Roth said, "but the way the world is right now, plans are all you've got.
"Who knows what can happen?"
Gonzaga hopes to fill its allotted 27-game schedule, with 16 on the West Coast Conference docket and (hopefully) 11 more non-conference games.
"We want to play them all," Roth said. "The young men and women who come to play at Gonzaga want these games, as many as possible, and against the best possible opponents. That's how you wind up opening against Kansas. Our kids come here to play against teams like Kansas – that's the whole idea."
Roth has heard notions tossed around concerning "bubble events" – perhaps playing a chunk of the WCC schedule in Las Vegas.
"Eventually, it will come down to common sense, and handling this virus in the best possible way for our athletes," he said.
OKAY, DOES the athletic director have a pet idea for his Zags?
"Well, I'm an optimist," Roth said, "so I'm going to keep dreaming that a few months from now, when things look a little better…
"I'd like to see fans back in The Kennel.
"We have a pretty high percentage of students and staff on campus now, and I'd love to add that excitement and the special feeling of nights in that building to the Gonzaga community. "It's just amazing."
Right now, even Roth concedes that the notion of a jammed McCarthey Athletic Center seems way, WAY out there.
Of course, just a week or so ago, we would have been almost as shocked to hear that the Zags were opening the season against Kansas.
Crazy obviously doesn't mean impossible.
Not these days.
Email: scameron@cdapress.com
Steve Cameron's "Cheap Seats" columns appear in The Press on Mondays, Wednesdays and Fridays. "Moments, Memories and Madness," his reminiscences from several
decades as a sports journalist, runs each Sunday.
Steve also writes Zags Tracker, a commentary on Gonzaga basketball, once per month during the off season.
---