Purrr-fect match
by
BILL BULEY
Staff Writer
|
October 17, 2020 1:00 AM
COEUR d'ALENE — At the age of 70, for the first time, Tudy Gilbert started her own business.
Twelve years later, she's still at it.
And loving it.
"We're still kicking," she said Friday.
Gilbert has been the owner of Paws & Claws Pet Resort since 2008. Cats and dogs are dropped for a few hours, a day, a week, whatever the owner needs. They eat, sleep and play there.
With inside kennels for dogs, two outside play areas, an indoor area for smaller dogs and an upstairs room for cats, animals are looked after by Gilbert, three paid employees and some volunteers.
As she walks through the business, dogs jump up and bark. There are Dobermans, German shepherds, labradors, corgis, and rottweilers. Tails wag. Cats, indifferent as always, look up from their slumber, purr, and resume resting.
Gilbert said when she opened Paws & Claws, it was to provide an affordable, safe place for people to leave their pets, whether for a few hours or a few days.
That hasn't changed.
"I just absolutely loved animals. I love dogs and cats," she said as she led a tour to check on that day's clients.
Business at the Clayton Avenue pet resort has pretty much returned to pre-COVID conditions.
"The virus came, and that changed everything," she said.
Gilbert gets emotional when she talks about some customers staying home with their pets and still paying her, she said, because "they did not want to see me go under."
Even at 82, the energetic Gilbert often works several hours a day, pitching in with cleaning, checking up on the animals, and doing some bookkeeping.
"I do everything," she said.
But she admits that keeping the books wasn't one of her better ideas.
"Linda comes in and corrects what I do," Gilbert said, laughing. "Thank God for Linda."
Gilbert is fit and shares her enthusiasm with others. She belongs to the Lake City Tappers and volunteers to lead water aerobics for seniors at Garden Plaza.
She's grateful for good health, but at the same time, knows there will come a day she'll have to step aside from caring for dogs and cats, big and small.
"I'm going to have to retire soon," she said. "My knees aren't what they used to be."
Still, she's not calling it a day yet. The dogs and cats at Paws & Claws need her as much as she needs them.
"What this has been is love," Gilbert said. "We just love all our animals."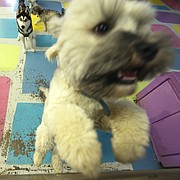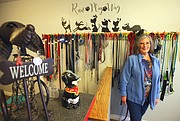 ---