When it came to pass ... Pottenger's pass, pick help Coeur d'Alene roll past Lake City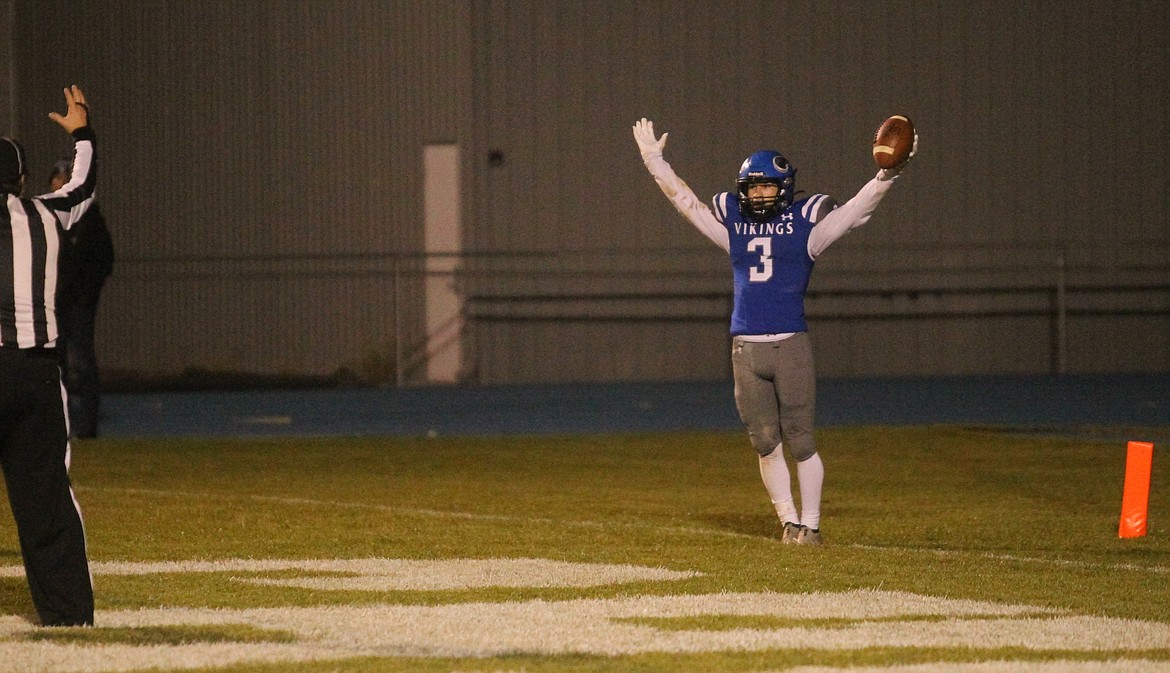 MARK NELKE/Press Ethan Garitone of Coeur d'Alene celebrates after scoring a third-quarter touchdown in Friday night's 64-34 victory over Lake City at Viking Field.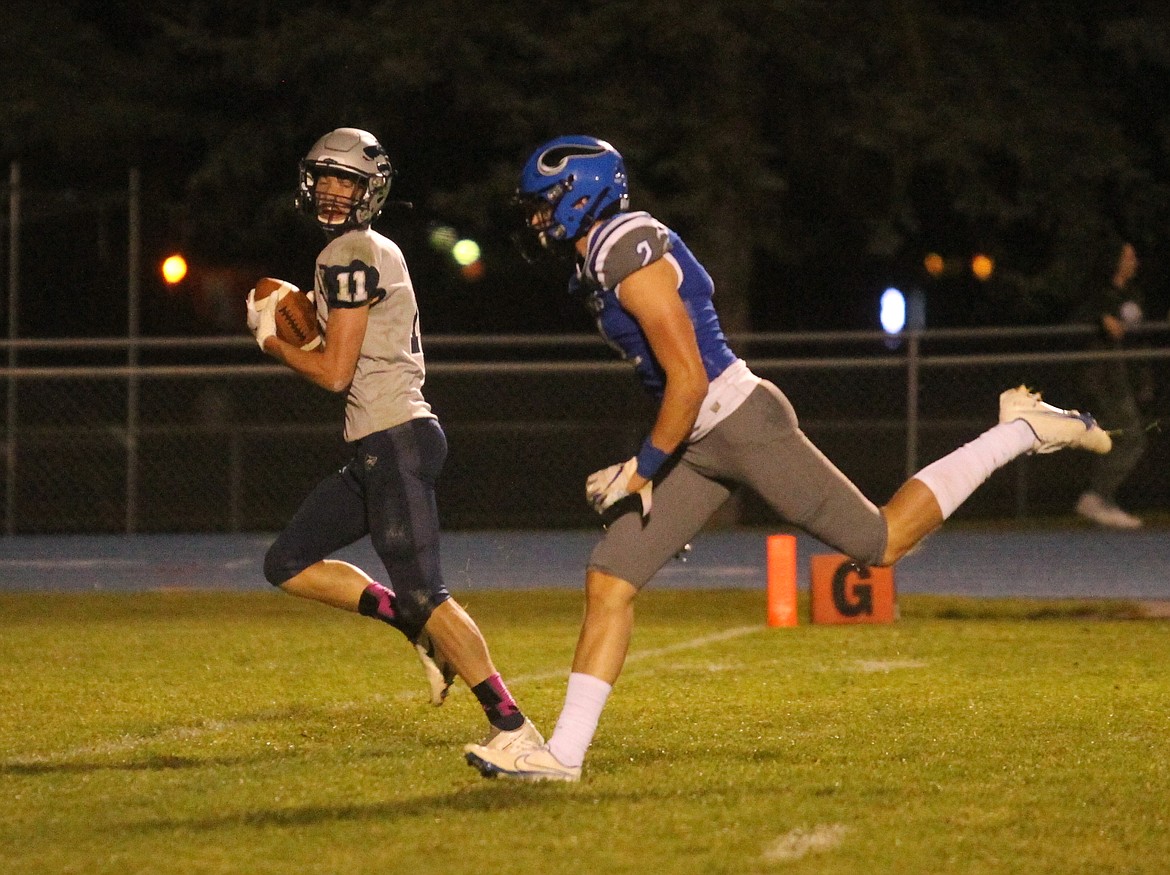 MARK NELKE/Press Damon Rosenau of Lake City looks back as he races to the end zone on a 25-yard pass reception against Coeur d'Alene on Friday night at Viking Field.
Previous
Next
by
MARK NELKE
Sports Editor
|
October 17, 2020 1:30 AM
COEUR d'ALENE — Ty Pottenger could hardly contain his excitement when he saw the list of plays Coeur d'Alene had on its play sheet to run against Lake City on Friday night.
The wide receiver pass, in particular.
Flanked to the left on a first-down play from the Coeur d'Alene 38-yard line late in the first quarter, Pottenger stepped back, caught a lateral pass from quarterback Jack Prka, and sailed a spiral down the near sideline that Ethan Garitone ran under for a 42-yard gain.
Prka ran it in from the 1 five plays later for a 24-0 lead, and the Vikings went on to beat the Lake City Timberwolves 64-34 in 5A Inland Empire League play at Viking Field.
"That play's been in the playbook for a long time," said Pottenger, a senior wide receiver/safety. "And before the game he (offensive coordinator Ron Nelson) showed me his play sheet and it was on there, so I was pretty excited. Ethan Garitone, I could tell he had beaten their safety, and I knew I had to throw it as hard as I could because he is one of the fastest kids in the state. I put a pretty decent dime on him."
"He's been dying to throw that thing. And they had him well covered, too," Coeur d'Alene coach Shawn Amos said of Pottenger. "He's a heckuva good football player, great leader — basically another coach out there for us."
The win by Coeur d'Alene (6-0, 2-0 5A IEL), coupled with the 43-28 victory by Post Falls (5-2, 2-0) at Lewiston, sets up a matchup between the two teams next Friday at Post Falls for the league title.
Coeur d'Alene and Post Falls both clinched berths in the state 5A playoffs with their wins on Friday.
It was a penalty-filled game, but the flags didn't keep Coeur d'Alene from racking up 561 yards of offense. The Vikings had five penalties (including four false starts) on one fourth-quarter drive — and still scored a touchdown.
"Some of it was reactionary; we've got to be more disciplined and not react to things that go on in the game," Amos said. "But that's on us; we've got to control our own discipline. We've got to fix that stuff; we're too good a football team to look like that. Honestly, these are high school kids, and it's hard to keep them focused when we're ahead. We have to play like we're always in a tight ballgame."
Prka passed for 339 yards and five touchdowns for Coeur d'Alene. Garitone had six receptions for 169 yards and two scores. Trent Elstad ran for 71 yards, and also had a couple catch-and-run TDs.
Pottenger also made a big play on defense in the first quarter, stepping in front of a Lake City receiver for an interception at the Lake City 44. That led to an Eli Jolly field goal and a 16-0 lead.
"Just studying film, I know Chris (Irvin) likes those quick slants to start the game, trying to get easy, quick yards," Pottenger said. "I just read his eyes, broke on the ball. I think that pick gave us quite a bit of energy."
Lake City (2-6, 0-2) totaled most of its 348 total yards on chunk plays through the air. Chris Irvin, who passed for 292 yards and five touchdowns, hit Zach Johnson on a 60-yard catch-and-run score, then hit Damon Rosenau down the middle for 25 yards to pull the T-Wolves within 24-13 late in the first half.
The Vikings scored just before the half to make it 30-13.
Lake City lost two fumbles early in the third quarter, Coeur d'Alene turned both into scores, and just like that it was 50-13 just 4:29 into the quarter.
"Coming out of the half, we had a good game plan but we fumbled twice. Once we got that out of the way, we were able to move the ball," Lake City coach Brian Fulp said. "Just the little mistakes really cost us.
Against a team like that you've got to play pretty perfect, and we did not."
Lake City had zero yards rushing in the first half, and finished with 56 on the ground. Johnson had two TD catches and an interception. Matthew Whitcomb caught a pair of TD passes in the second half.
Lake City travels to Lewiston (3-5, 0-2) next Friday in the regular-season finale, with the winner hoping for an at-large berth to the state 5A playoffs.
Lake City 0 13 8 13 — 34
Coeur d'Alene 16 14 27 7 — 64
First quarter
Cd'A — Cameron Cope 8 pass from Jack Prka (pass failed), 9:27
Cd'A — Ethan Garitone 49 pass from Prka (Eli Jolly kick), 7:31
Cd'A — FG Jolly 20, 4:20
Second quarter
Cd'A — Prka 1 run (Garitone pass from Prka), 11:57
LC — Zach Johnson 60 pass from Chris Irvin (Kyrus Condon kick), 5:10
LC — Damon Rosenau 25 pass from Irvin (kick failed), 2:47
Cd'A — Trent Elstad 19 pass from Prka (kick blocked), 1:13
Third quarter
Cd'A — Gunner Giulio 2 run (Jolly kick), 11:27
Cd'A — Garitone 25 pass from Prka (Jolly kick), 8:11
Cd'A — Prka 3 run (kick blocked), 7:31
LC — Matthew Whitcomb 20 pass from Irvin (Jace Bowman pass from Irvin), 3:26
Cd'A — Giulio 17 run (Jolly kick), 22.4
Fourth quarter
LC — Johnson 60 pass from Irvin (run failed), 11:51
Cd'A — Elstad 10 pass from Prka (Jolly kick), 7:04
LC — Whitcomb 7 pass from Irvin (Condon kick), :12
INDIVIDUAL STATISTICS
RUSHING — LC, Webb 9-8, Irvin 13-2, Howard 2-7, Condon 6-39. Cd'A, Elstad 14-71, Prka 7-32, Giulio 12-78, Bengtson 1-(minus 1).
PASSING — LC, Irvin 17-25-1-292. Cd'A, Prka 22-31-1-339, Pottenger 1-1-0-42.
RECEIVING — LC, Johnson 5-163, Whitcomb 4-46, Webb 5-16, Bowman 1-8, Rosenau 2-60. Cd'A, Pottenger 1-10, Garitone 6-169, McLaughlin 1-27, Cope 3-22, Wuolle 1-8, Elstad 4-72, Langley 2-27, Karns 1-14, Cummings 1-10, Giulio 1-2, D'Agostino 1-23.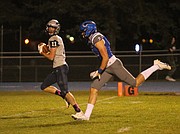 ---