Busy quilting bees: Stitching for a cause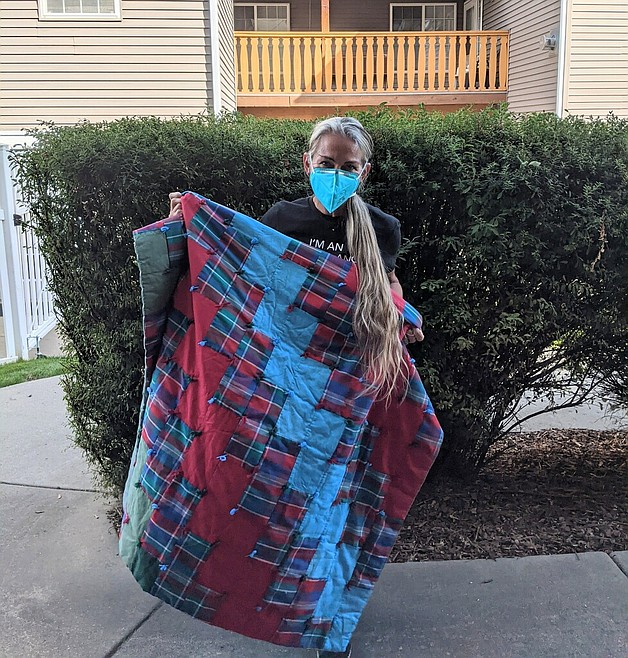 Kristin Ristic, Community Outreach Director for Guardian Angel Homes, holds a donated quilt made by the Quilters of St. George's Catholic Church of Post Falls.
Courtesy photos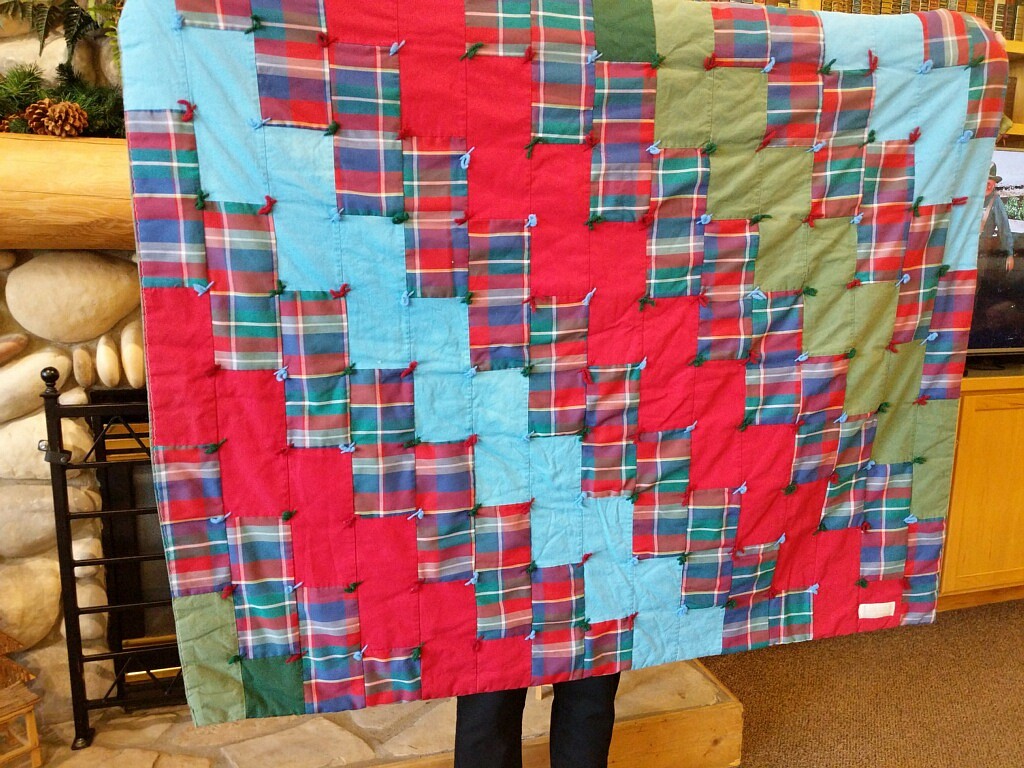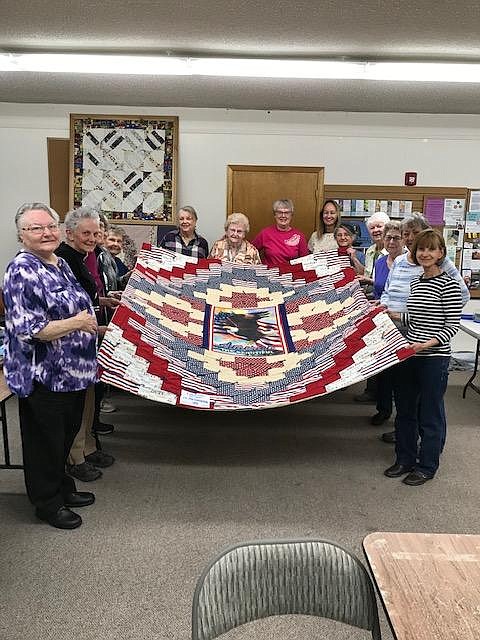 Quilters of St. George's parish pose with a special quilt made for a vet. The group made and donated some 200 quilts last year to 17 locations last year.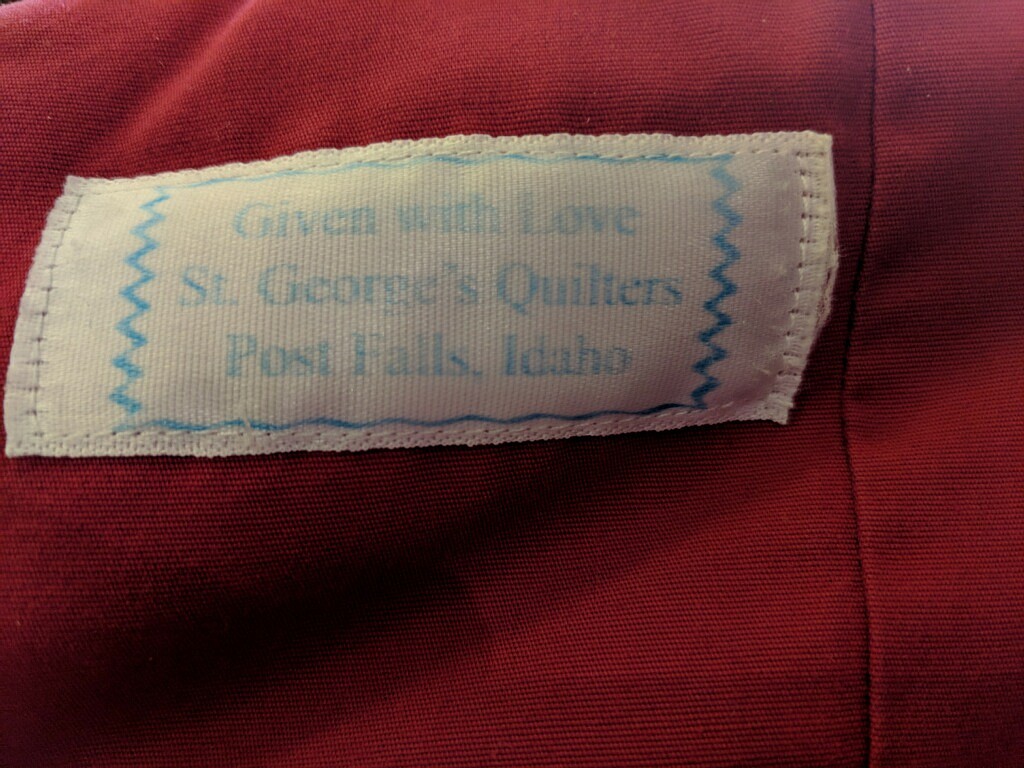 A sweet note gracing a quilt donated to Guardian Angel Homes.
Previous
Next
by
ELENA JOHNSON/Coeur Voice contributor
|
October 17, 2020 1:00 AM
There's something about the cozy embrace of the handmade that warms like a hug and cheers the heart.
Local quilters, knitters, crocheters and what-have-yous agree. That's why many of them donate their time – and their materials – to stitching and giving away their creations to charities, nonprofits, and senior care.
"[It's] the love that is put into it, and the time and the patience," said Lorie Goldsmith, facilitator of the quilting group at St. George's parish in Post Falls.
St. George's quilters have been donating their quilts around the Coeur d'Alene and the North Idaho area for years. In 2019, that amounted to about 200 quilts spread across 17 organizations.
Recipients currently on the parish's list include Arbor Crest, Bestland Coeur d'Alene, The Bridge at Garden Plaza, Brookdale, Guardian Angel Homes, Living Springs, Ivy Court, LaCrosse Coeur d'Alene, Life Care at Garden Plaza, North Idaho Hospice, the Veterans' services of Kootenai County, Bennet House, Union Gospel Mission Center for Women and Children, LifeCare, LifeCare Coeur d'Alene, Ronald McDonald House, and Walden House.
"People are going to wonder why they aren't on that list," Goldsmith laughed as she rattled off recipients.
And that's not counting the occasional donation to other charitable auctions and organizations, or the quilts offered for each baptism at the Post Falls parish.
"We're busy," said Goldsmith. "Except we haven't been lately. We don't quite know how it's going to go this year."
Apart from those donated to the Veterans' Services, the quilts are mostly a large lap size, which are perfect for use in wheelchairs, children, and anyone taking a quick nap. It also means the group can complete – and donate – more in a year.
If you thought there was no room for efficiency modeling in charitable quilting, think again.
"To do the little tiny pieces and points and things like that that takes a lot of skill and a lot of time," Goldsmith explained.
"Over the years [the group] just developed this simplified pattern that is easy to put together and they standardized it, so we use that. It just simplifies everything."
But it's not just the pattern that's been standardized; the group has formed a sort of production line. Students of streamlined production may want to take notes.
Rather than each working on their own project, the quilts are community-made and assembled by stages. Each member fills a specific role in production based on interests and abilities.
Folks in charge of layout choose the precut pieces and determine a pleasing arrangement to fit the pattern and then bundle them together. Those who like to sew will sew pieces into strips and then sew the strips together. After the top of the quilt, which shows the pattern, has been sewn , others add the fill and backing.
"We're sort of like the Henry Ford of quilting," Goldsmith joked.
In this utopian assembly line the participants can match strengths and desires with abilities, a step up from Fordism. Goldsmith is one of the strip-sewers, which she says is where her talents lie.
"I'm really not a quilter; I'm just a sewer. So I just sew the pieces together," she said.
"Some people like to sew, other people like to do the tying, other people like to do the cutting the material, some people want to iron. So everybody has their own little daily work that they like to do."
That's part of how a group of 20 quilters reaches numbers like 200 in a year.
"But to be quite honest there's one lady [Diane Legerski] who… just has her own little production method and she brings them in like 30 at a time. A lot of those are hers," said Goldsmith.
The group typically meets weekly to work together, though some take the work home with them, and this year meetings have not gone quite as normal.
Still, Recipients sure are happy with the results.
"It has been several years that St. George's has given us the gift of their beautiful quilts," said Kristin Ristic, Community Outreach Director of Guardian Angel Homes.
"We have received other donations[from other groups], but I would say not in the volume that they have done and for as long as they have done it for us," she added.
Ristic says they typically receive "two big bags" of labeled and folded quilts with designs to fit different residents' tastes.
She says the quilts come in handy for staying cozy on country drives, sitting in front of the fireplace, and for extra warmth in wheelchairs on a stroll.
They're a big help to Santa, too.
"Many of these blankets make it under our trees as gifts. [Residents] are over joyed when they see a handmade blanket with bright colors and done with such talent," Ristic said.
"We truly love on our residents and being able to give them a gift [like this] is such an added plus."
Donated quilts also get a lot of use at Schneidmiller House, Hospice of North Idaho's in-patient facility. For each patient's stay, a lovingly handmade quilt warms the bed and brings a little joy – along with needlepoints donated from other kindhearted crafters in the area.
"They are a wonderful addition to the patient's room," said Cindy Reed, RN and Director of the House
Often, Reed says, when patients come to Schneidmiller 24-hour skilled care is needed. The House works to provide "peace and comfort" to patients and their families. Quilts are not only bright and cheerful, but add a little bit of "home" to rooms. For veterans, the House is even able to provide quilts with patriotic themes. Families appreciate the touches as much as patients.
"We want our patients to feel the comfort of home," said Reed.
"[And] a handmade quilt is made with love and the details that go into each quilt are truly beautiful."
The quilters of St. George are far from the only crafters in town donating their time and skills, even if they are likely among the most prolific.
If you're a quilter looking to donate your time and skills, Schneidmiller House will happily accept donations of twin sized quilts measuring 63-by-82 inches at 2290 W. Prairie Avenue in Coeur d'Alene. The quilters at St. George also welcome quilters and would-be quilters to their group, regardless of faith.
For knitters and crocheters, Cancer Care Northwest also takes homemade hats and scarves, sure to be appreciated by patients with weakened immune systems and effects of chemotherapy
---