Ardell G. Howes, 96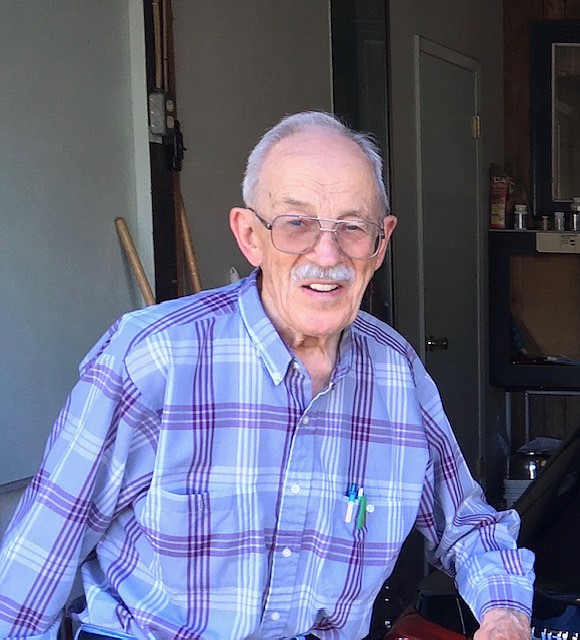 |
October 14, 2020 1:00 AM
Ardell Gordon "AG" Howes, age 96, passed away Oct. 10, 2020, in Coeur d'Alene, Idaho.
AG was born on March 13, 1924, in Starkweather, N.D., to Harry and Ella (Johnson) Howes. He grew up mainly near Edmore, N.D., where he and his siblings helped their parents operate a large farm. AG learned to drive teams of horses as a young boy and tractors as he grew older, as he helped take responsibility for all aspects of running the farm. A good student and athlete, AG was a starter on his high school basketball team, maintaining lifelong friendships with several of his teammates.
In 1946, AG married Alta Nelson, enlisted in the U.S. Army, did a tour of duty in postwar Japan and became the father of his and Alta's first son, Gordon ("Gordy"). Their second son, Gary, was born in 1949.
At age 25, after years of working long hours on the farm, AG considered pursuing a new career. Confident he would be successful in any endeavor if he worked as hard as he did at farming, he decided to become a teacher.
With his high energy and strong work ethic, AG held several jobs to support his young family while taking a full load of college courses. Upon receiving his teacher's certificate, he began teaching in the North Dakota public school system. 1954 saw the arrival of a third son, Terry, who was born on March 9, the same day as his brother, Gary.
AG and Alta ended their marriage in 1961 and AG continued to teach in North Dakota for two more years. In 1963 he moved to Spokane, Wash., near the home of his brother, Harry. After renovating homes for resale that summer, AG was hired to teach in the nearby Coeur d'Alene School District. His first contract was at Dalton Grade School, a K-8 school in the village of Dalton Gardens, where he taught students in the upper grades.
While teaching at Dalton, AG met Eleanor Tocaben Ames, who taught the elementary grades. AG was a favorite teacher of two of Eleanor's children, Francine and Forrest. In addition to teaching full time, AG took a full load of college courses, evenings and weekends, as he worked toward his bachelor's degree. One night a week, he and Eleanor would carpool to class with three other teachers. AG and Eleanor both graduated from Whitworth College in Spokane, in 1966. They began dating later that year and were married in May, 1967.
AG and Eleanor lived in Dalton Gardens until 1972, when they built a new home on a parcel of land they had purchased in Hayden a few years earlier. They continued to teach in the Coeur d'Alene School District, moving on from Dalton to teach at Coeur d'Alene, Lakes, and Canfield Junior High Schools. They retired in 1984.
After retirement, AG stayed busy by improving their property, haying and raising horses, cattle, sheep, chickens and feral cats. He loved socializing with friends, neighbors and local business people; joking and playing poker with his grandchildren; sharing his knowledge of investments and discussing values and lessons learned.
He and Eleanor enjoyed visiting and communicating with family members, working in their garden, and traveling in the western states, Canada, North Dakota, and New York. They took pleasure in riding their horses on Canfield Mountain and the hill north of Dalton and they loved raising and taking care of their dogs, including Irish wolfhounds, Irish setters, and a beloved mixed breed.
AG and Eleanor enjoyed watching television documentaries and dramas and stayed well informed on current events. In particular, AG was a devoted fan of the Gonzaga University Bulldogs basketball team, whose televised games he seldom missed.
AG was a role model to his children and grandchildren, and was loved and respected by his family and friends. He was especially disciplined in his health habits, including diet and exercise. For example, he walked and exercised daily for many years and rigorously followed the prescribed physiotherapy regimens following surgery. He proactively stayed informed about medical symptoms and treatments, and ensured that he and Eleanor received regular checkups and prompt attention for any issues.
Above all, AG loved, laughed with, and took exceptional care of Eleanor, whose happiness and wellbeing were his highest priorities.
AG is survived by his wife, Eleanor; sister, LeElla Trottier (Toby) of Devils Lake, N.D.; sons, Gary Howes (Sharon) of Wenatchee, Wash., Terry Howes (Charlotte) of Snohomish, Wash., Steven Ames (Laurie Jennings) of Port Moody, B.C., Canada; and Forrest Ames of Grand Forks, N.D.; daughter, Francine Ames Rudeen (Kent) of American Falls, Idaho; daughter-in-law, Lonita Howes (widow of Gordon) of Kingston, Wash.; 14 grandchildren; 24 great-grandchildren; and two great-great-grandchildren. His good friend, Royd Thompson, whom he considered to be another son, also survives him.
AG was preceded in death by his parents; his brothers, Russell (Alma), Harry (Elsie), Bud (Ruby), Delmer (Esther) and Kenneth (Irene); and his son, Gordon.
The family would like to thank Schneidmiller Hospice House/Hospice of North Idaho for the excellent care they gave AG in his final days, and for the warmth and consideration they showed the family.
At his request, no service will be held for AG. The family is unable to receive visitors at home due to the coronavirus.
Yates Funeral Home is entrusted with final arrangements. Please visit AG's online memorial and sign his guest book at www.yatesfuneralhomes.com.
---