Vicino Pizza opens in Riverstone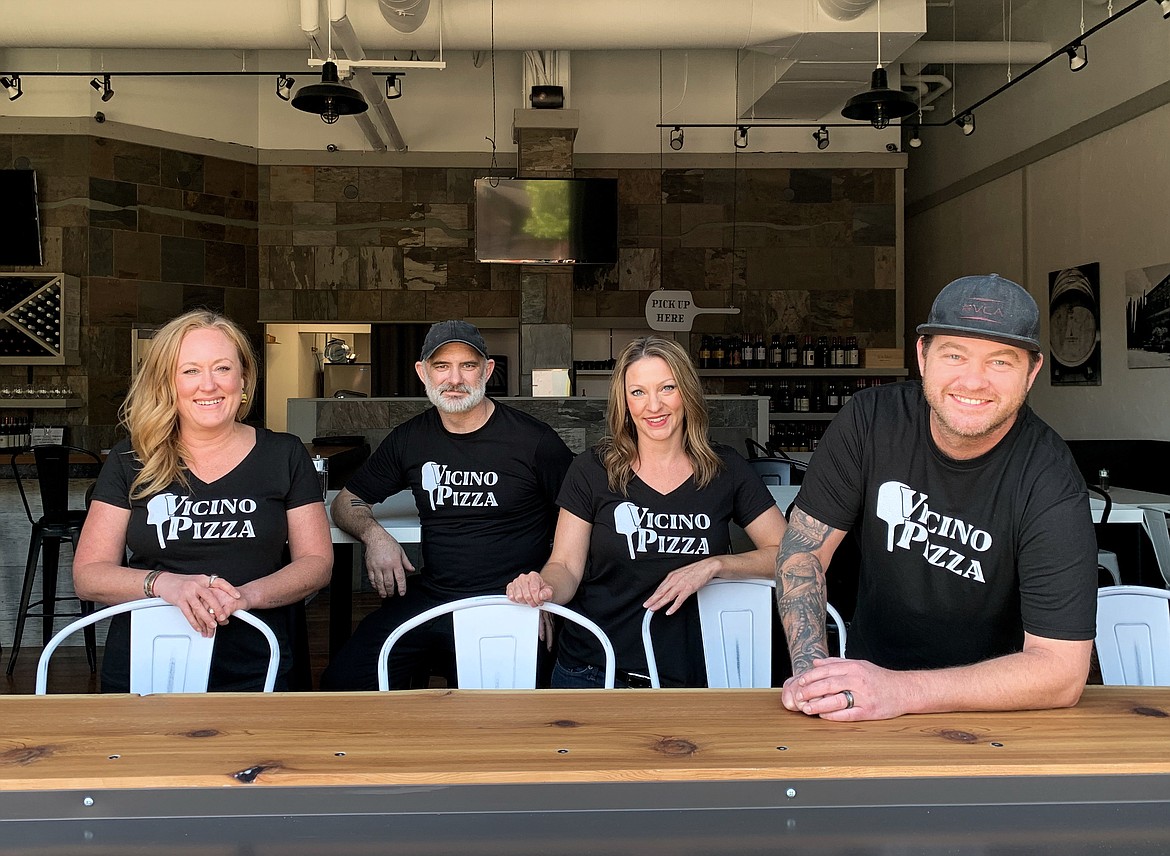 Vicino Pizza opened Oct. 5 in Riverstone with the management team of, from left, Krista French, Shawn Gust, Naomi Boutz and Josh Pebbles.
Courtesy photo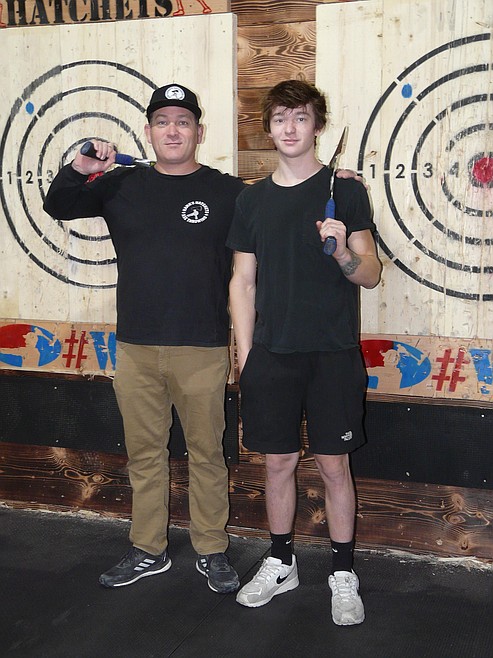 Owners Jared (Hank) D'Andrea and son Ezra Evans are seen at Hank's Hatchets, a new indoor ax-throwing venue that will open Friday at 2506 N. Fourth St., Coeur d'Alene.
Previous
Next
by
NILS ROSDAHL/Business Bits
|
October 11, 2020 1:07 AM
A Neapolitan-style wood-fired pizzeria, Vicino Pizza opened Oct. 5 at 2385 N. Old Mill Loop (across the street from Cold Stone) in Riverstone.
Pronounced Vi-chee-no, Vicino means "near" in Italian since it's just around the corner from its sister restaurant Vine & Olive Eatery and Wine Bar. It offers several Neapolitan-style pizzas, salads and small plates such as fritto misto, a salumi board and polpette with nonna sauce (meatballs and red sauce). It also will serve beer and wine.
With a casual Italian farmhouse decor, seating is for 75 inside with four outside patio tables that will expand to 10 next spring. Five TVs help with NFL Sundays.
Management includes owner Naomi Boutz, Executive Chef Josh Pebbles, Manager Krita French and Sous Chef Shawn Gust. Doors open at 11 a.m. with eat-in, online ordering, take-out and delivery. Phone 208-758-7997. Check www.vicinopizza.com.
Ricardo's Baja Tacos opens in Post Falls
Offering traditional Mexican foods, Ricardo's Baja Tacos opened last week at 1602 E. Seltice (beside Ace Hardware) in Post Falls.
With several ingredient options, the menu includes nachos, tacos, burritos, fajitas, enchiladas, quesadillas and kids' plates. Specials are on Taco Tuesdays. Owner is Ricardo Chung.
With seating at booths and tables and take-out, hours are 6 a.m. to 9 p.m. weekdays, 8 a.m. to 9 p.m. Saturday and 8 a.m. to 7 p.m. Sunday. Phone 208-620-0132.
Hank's Hatchets opens Friday on Fourth Street
An upbeat, urban indoor ax-throwing venue, Hank's Hatchets will open Friday at 2506 N. Fourth St., Coeur d'Alene.
With family fun for ages 8 and older, participants throw hatchets similar to darts and ninja stars. It works with parties, team building, date nights and more. Bring your own refreshments.
Hours are 5 to 10 p.m. Tuesday, Wednesday and Thursday; 5 to 11 p.m. Friday and Saturday; and 1 to 6 p.m. Sunday. Owners are Jared (Hank) D'Andrea and son Ezra Evans.
Phone 208-930-1476. Check www.hankshatchets.com.
Adam & Eve moves into larger space
Offering adult sexual products, the Adam & Eve business has moved into a larger area (formerly occupied by Mattress Firm) at 348 W. Bosanko in Coeur d'Alene.
Hours are 10 a.m. to 11 p.m. Phone 208-664-1400. Check www.AECoeurdAlene.com.
And now the Tidbits
Riverside Coffee is new on Seltice Way.
The Good Dog store at 3115 Government Way is now Pet Supplies Plus.
Spies say a Family Dollar store will be at 317 E. Seltice Way.
Old School Thrift is at the CdA Auction Yards at 3585 W. Seltice.
Two Ravens Tattoo is new at 1119 E. Sherman.
Emerge is opening at 119 N. Second St.
Milk & Honey Coffee is "coming soon" to Mullan and Cecil in Post Falls.
Schmidty's Burgers will be at 1524 E. Sherman.
A 120-room boutique hotel will be where the Outback Steakhouse was off Northwest Boulevard and I-90.
A new restaurant will happen above the river in Riverstone.
A new Maverik gas and convenience store is under construction in the northwest corner of Highway 41 and Mullan Avenue.
A new UPS distribution center is under construction at 192 N. Beck Road in Post Falls.
Metro Car Wash will be near Wendy's in Post Falls.
Watch for something new at 655 Best Ave.
The Hayden Dairy Queen will be at 513 W. Hayden Ave.
108 North is under construction connected to the Moose Lounge downtown.
La Cabana Mexican Food on Seltice Way is adding a new place in Riverbend Commerce Park.
The Union Gospel Mission Thrift Store is under construction on Government Way.
Something new is going into 413 Sherman beside the Art Spirit Gallery.
New store Magpie with gifts and decor items will open Oct. 24 at 110 N. Fourth St.
Trademark Mechanical is building a new place in Hayden.
The new Hardwick Hardware is under construction at 3820 E. Mullan in Post Falls.
A new motel is under construction on CdA Lake Drive between Mullan Avenue and Michael D's Eatery.
A Chase Bank is being built in front of Tractor Supply on Neider Avenue.
A Starbucks Coffee building is under construction kitty-corner from the Kroc at Ramsey and Maria.
Safe Splash is under construction on Kathleen Avenue.
"Typewriter" is the longest word you can type using one row on the keyboard.
*Contact Nils Rosdahl at nrosdahl@cdapress.com.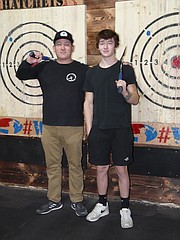 ---