NIC trustee candidates square off in Press Town Hall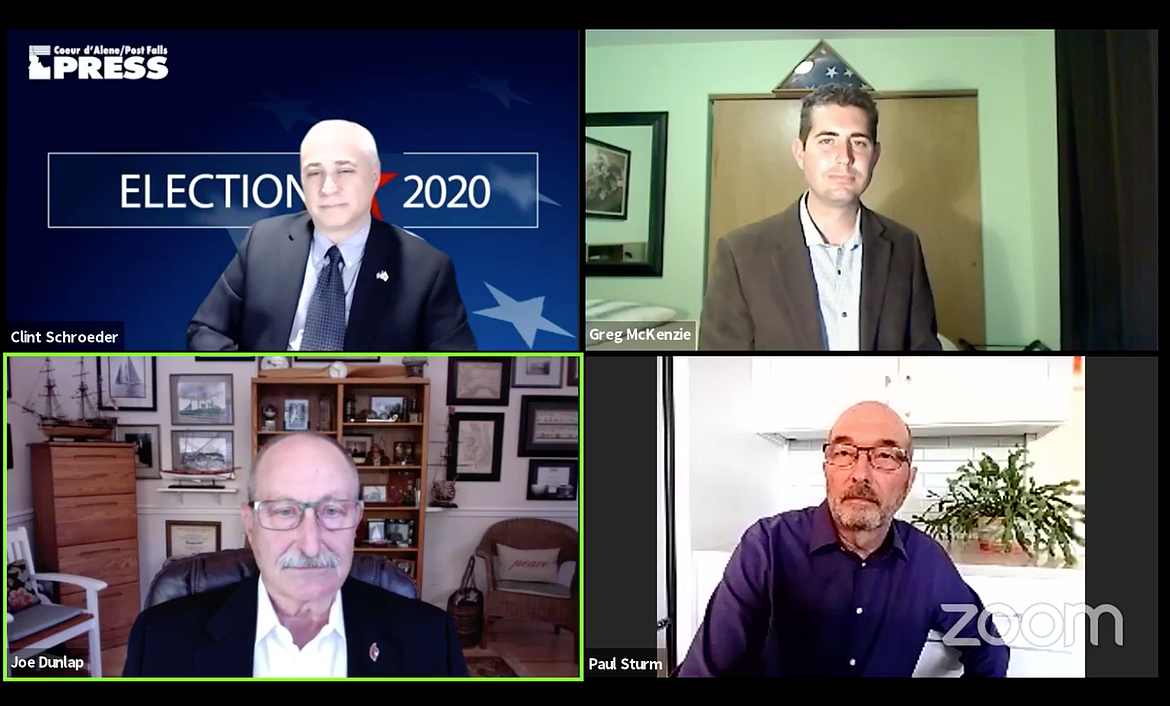 Publisher Clint Schroeder (upper left) interviews North Idaho College trustee candidates (clockwise) Greg McKenzie, Paul Sturm and Joe Dunlap during Tuesday's 2020 Town Hall Forum.
by
CRAIG NORTHRUP
Staff Writer
|
October 7, 2020 1:09 AM
Click here to watch the Town Hall Forums
Tuesday night's Coeur d'Alene Press 2020 Town Hall Forum took a turn from a question-and-answer period to a referendum on partisanship in North Idaho College, this after candidates for three trustee positions bantered about the role of political forces driving campus policy.
"Party identification is only an indication of that individual person's values," said Greg McKenzie, candidate for the board's Zone 4 position, during the second of the four-night event. "Each party has a party platform that they describe, and I encourage you to read all parties' platforms and the values they espouse. Some parties acknowledge God in it, and some parties don't acknowledge God."
Controversy has swelled around the nonpartisan race after the Kootenai County Republican Central Committee vetted and scored the conservativism of all five trustee candidates in September before issuing its recommendation for McKenzie, Todd Banducci and Michael Barnes. The endorsement drew criticism from McKenzie's opponent, incumbent Dr. Joe Dunlap, and Barnes' opponent, Dr. Paul Sturm, both of whom participated in the evening's town hall.
"I believe that we should vote for the person and the qualifications, not the party," Sturm said while highlighting his 34 years in education, including a decade as superintendent of the Pullman School District, "especially in these nonpartisan roles … I believe I earned the respect of people along the spectrum of political views as fair and focused on how school districts could best serve their community."
Dunlap said the independent nature of the college was critical to not only maintaining diversity of thought, but also keeping its accreditation, suggesting that a party-controlled board could threaten that status.
"This race is a nonpartisan race," Dunlap urged. "However, three of the candidates are (precinct committeemen) for the Republican Central Committee. Coincidence? I think not. The question is, should the college remain independent, and what are the ramifications for individuals coming with a political agenda?"
All three trustee candidates spent their assorted three-minute segments either critiquing or defending the board's records on a variety of issues, including the college's August cuts to the aerospace program. It was a move McKenizie critiqued for what he described as a lack of community involvement in the decision, an accusation Dunlap immediately refuted.
"Well, in an effort to correct the record," Dunlap challenged, "there was conversation with the advisory committee for the aerospace program, which is made up of industry practitioners … And so there were conversations, and the decision was made in consultation with them."
Trustee candidates also discussed declining enrollment, the role of the college's administration, and the effects of COVID-19 on North Idaho College's campus.
"I do believe," Sturm said, "President (Richard) MacLennan … and his staff did a great job in opening North Idaho College safely. We know the virus is primarily transmitted indoors over time with groups of people; that's the most dangerous situation. Well, that defines a classroom."
McKenzie, however, used the moment to voice his criticism for Gov. Brad Little's statewide shutdown and re-opening plans, saying that NIC should consider individual freedoms and operational changes, including policy variations between campus buildings.
"I can guarantee I absolutely will not be voting for this current governor again when he comes back up again for office," McKenzie chimed. "… I think blanketwide policies across the state, not even factoring individual counties — especially after their constitutionally mandated end of an emergency — are unjust."
The trustee hopefuls were not the only candidates that participated in the virtual forum. The evening led off with Sen. Mary Souza (R-Coeur d'Alene) and her challenger, Democrat Shari Williams, for the Idaho Senate District 4 seat. Souza touted her experience and roles in various committees to introduce herself to the undecideds in the district.
"I am on the Commerce committee," she said, "I am on the State Affairs committee, and I'm vice-chair of Health and Welfare. These are all issues that are so important to North Idaho. We have health care concerns. Our businesses need to have representation down in Boise, and State Affairs is where all hot-button issues go."
Williams — Coeur d'Alene resident for 43 years, wife of longtime NIC coach Rolly Williams, former educator, and retiree after 35 years as a dental hygienist — said she was running for office to arrest what she sees as problems that will only get worse if left unchecked.
"I love our city, and that's why I'm running," she said. "I've seen things I don't like: unfettered development, not much respect for the health of our lake. I just want to correct a few things that I'm very passionate about. As we've molded our students … and guided them — not only academically but ethically — we've had some wonderful students come back to us as doctors and coaches and teachers, leaders in community centers. I want that for Coeur d'Alene kids."
Souza and Williams answered questions about legalized sports wagering, the burden of growth-related impact fees, the role of charter schools, and the state's handling of the coronavirus pandemic, where Williams said the best way for businesses to break free from the shackles of COVID protocols is to abide by them.
"I err on the side of science," Williams said. "I don't think anybody's opinion but the scientists should count, as far as regulating the crisis. I think we need to be all be wearing masks in public. What you do in your private life is your own, or if you're working by yourself, that's fine. But if we don't flatten the curve — and it is flattened right now, but it is going up again — we're never going to get back to full employment."
Souza, a former nurse with a Masters degree in health education, said public health districts should push education, rather than mandates.
"I'm not against masks," Souza said. "I think masks are very appropriate. But I think there's a line at which government needs to stop telling people what they must do (under) penalty of law, (and) educate people to do what is best for them and the people around them in the community."
Williams, meanwhile, defended the mask mandate, saying that restrictions will loosen as the virus slows its spread.
"If everyone wore masks," she posited, "as the mandate by the Panhandle Health (District) said, if everyone wore masks, we wouldn't have to put restrictions on employment. But as it is now, some people wear masks, some people don't. You don't know who does and who doesn't around other people, and I'm not going to kill my grandmother or my grandchildren, and I don't want them to kill me. That's how I feel. I'm not living in fear of it. I just believe in science."
---