More broadband coming to N. Idaho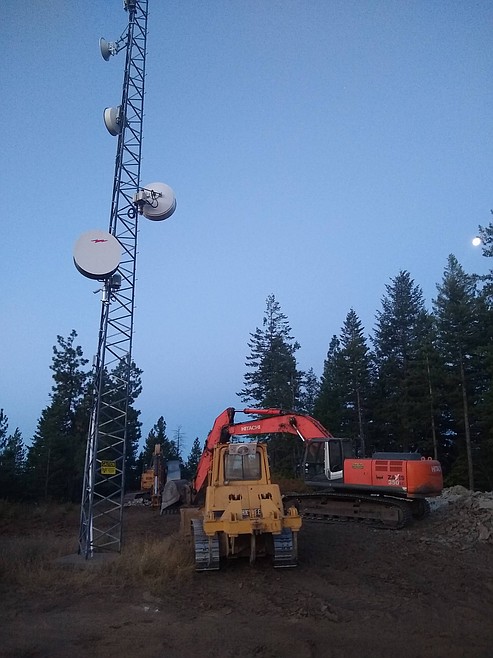 Intermax's Lone Mountain broadband expansion is close to up and running after receiving Idaho Department of Commerce's CARES dollars. Photo curtesy Mike Kennedy.
by
MADISON HARDY
Staff Writer
|
October 1, 2020 1:00 AM
Kootenai County will officially be on the grid as several other area organizations were granted CARES dollars to install broadband services in North Idaho.
Seventeen broadband applications were approved by the Idaho Department of Commerce last week to help Kootenai County residents get better connected to broadband services like wireless internet and cell service.
After two rounds of petition pushback from Spectrum Pacific West, the county applications will now receive about $4.8 million from the Department of Commerce's Idaho Broadband Grant Program. Spectrum — an internet, phone, television and wireless service provider — had twice appealed 14 of the 17 applications.
The grant program launched earlier this year aims to provide funding to public organizations to purchase and install broadband infrastructure, equipment and services for Idaho areas in need. Through the increased access to these services, the Department of Commerce hopes to strengthen Idaho's distance learning resources, telehealth, public safety and e-commerce.
Charter Communications, the parent company for Spectrum, said they appealed the grants because of their current service options in the county. Spectrum's second petition was officially denied by the Department of Commerce last week.
Despite the appeals, Intermax president Mike Kennedy said his company was pushing forward.
"We've already got a number of projects in Kootenai County going," Kennedy said. "Of the 17 applications, we have five that are close to completion, and then our lone mountain project is ongoing right now for a large new tower."
Kennedy said the towers in Mason Butte, Rose Lake, Beck at State Line, Canfield in Hayden Lake and Powderhorn all should be up and running in the next 10 days. As part of CARES regulations, Intermax and the county organizations aren't done yet and need to ensure all services are operational by Dec. 15 to be reimbursed.
"I never doubted that our case was strong," Kennedy said.
Many Kootenai County applicants partnered with Intermax, a North Idaho-based company that provides broadband services specifically in the Inland Northwest, which has historically struggled with connectivity.
"These people are in critical need of connectivity in today's world," Kennedy said. "So the county and the state working together with us are trying to focus on those rural areas that often don't get attention."
The applications were submitted by groups across the county to help Athol, Mica, Plummer, Lone Mountain, Hayden Lake, Bayview, Spirit Lake, State Line and Worley, based on the quality of service determined by Intermax's and the Federal Communication Commission's service map.
"Thousands of people who do not have decent speed internet now will," Kennedy said.
Recent Headlines
---