Mask mandate losing its teeth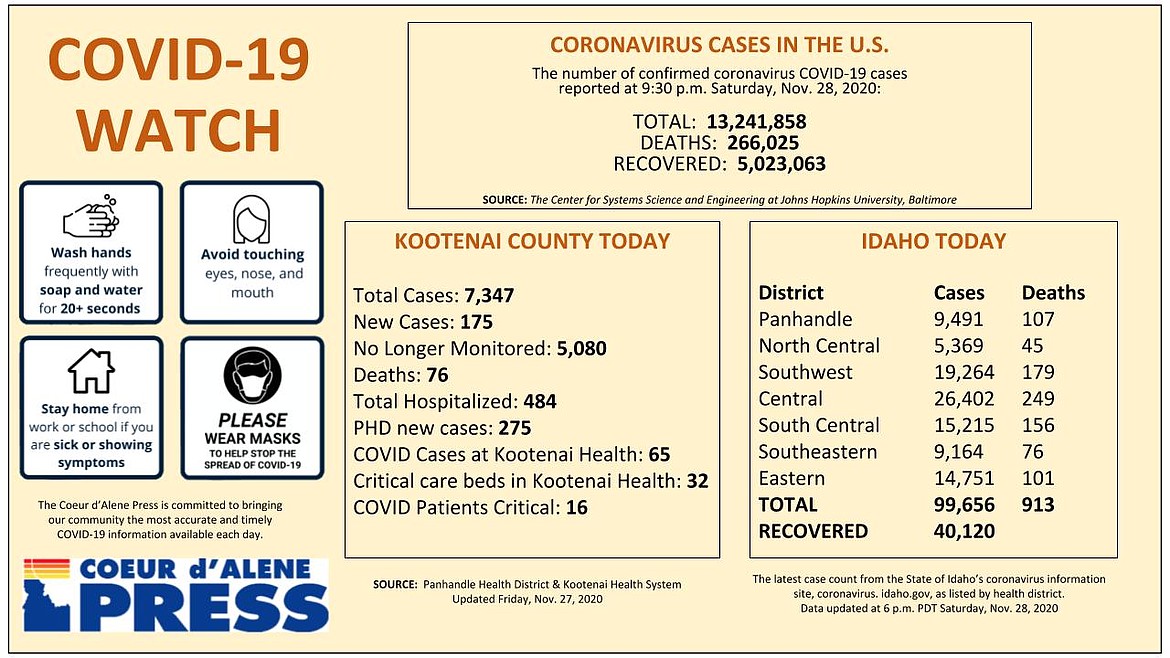 by
CRAIG NORTHRUP
Staff Writer
|
November 29, 2020 1:30 AM
Ten days removed from the mask mandate across North Idaho, and the Panhandle Health District board decision has already started to bend.
Many jurisdictions across the panhandle's five northernmost counties — Kootenai, Shoshone, Benewah, Bonner and Boundary — stated they either have deprioritized or have chosen to ignore altogether the mandate passed Nov. 19 in a 4-2 decision, starting most prominently in Bonner County.
"The Bonner County Sheriff's Office will not enforce Panhandle Health's mask mandate," Sheriff Daryl Wheeler told the Coeur d'Alene Press in a one-sentence response Nov. 20.
Since then, Wheeler sent out a release clarifying his point.
"The Bonner County Sheriff's Office is working at maximum capacity on real crime," he said, "and it cannot enforce the unenforceable mask rules. Most law enforcement agencies around the country are either passively or actively refusing to follow these types of directives."
Wheeler isn't the only Bonner County official pushing back on the mandate. Bonner County Commissioners will meet next week; on the agenda is an action item to consider defunding Panhandle Health, which would pull the county's more-than-$250,000 from the health district's coffers.
In the weeks before Panhandle Health board's initial July 23 mask mandate over Kootenai County — a mandate rescinded on Oct. 23 under immense political pressure directed from constituents to the district's board members — Kootenai County Sheriff Ben Wolfinger informed the board a county-wide mask mandate could not be enforced, citing its loopholes and the sheer manpower required to carry it out, all while stressing his department would focus on COVID-19 education.
After the Nov. 19 decision to implement the mandate panhandle-wide, KCSO re-emphasized that, though Idaho code gives the health department the authority to hand down a mandate, deputies would continue their commitment to education over citation.
"...The mandate that has been authorized has several exclusions or exemptions," Lieutenant Ryan Higgins, public information officer for KCSO, told The Press. "These exclusions or exemptions basically makes the mandate un-enforceable due to HIPAA law protections. Furthermore, the Sheriff's Department is very busy dealing with more serious crimes, so if a report of a mask violation comes into our office, it will be looked into and addressed as calls and manpower allows. Each incident will be a case by case event."
Panhandle Health District reported a record 275 new cases on Friday, though that number includes the previous 48 hours worth of cases, as most health care centers didn't report on Thanksgiving.
Katherine Hoyer, public information officer for Panhandle Health, said the various jurisdictions' unwillingness to enforce the mask mandate means it's up to residents to step up their efforts.
"We understand some places don't want to enforce it," Hoyer said, "so it becomes the personal responsibility of each of us to come together as a community. If we know how we can help take some burden off of our health care facilities, which are maxxed out, we can relieve some of the pressure those facilities are seeing with their over-worked staffs."
Hoyer said 65 COVID-19 patients are currently in North Idaho's hospitals, with 19 in Intensive Care Units.
Upon the Oct. 23 rescinding of the initial Panhandle Health mask mandate, the city of Coeur d'Alene implemented its own mask resolution three days later. That law treated violations like civil infractions — not unlike parking tickets, with fines reaching no more than $100 — as opposed to health mandate violations, which qualify as misdemeanors that can carry fines up to $1,000 and even jail sentences.
The Coeur d'Alene Police Department issued four citations — all during a Nov. 9 protest at the Kootenai County Courthouse in support of Christa Thompson, the Rathdrum woman whose charges for violating Gov. Brad Little's stay-home orders with an April yard sale were dismissed — but the city prosecutor's office declined to pursue the mask infractions in court.
Though Panhandle Health's mask mandate makes Coeur d'Alene's mask resolution redundant, the city is, for the time being, keeping its mandate in place.
Cd'A Police Chief Lee White said each law enforcement agency has the responsibility of maintaining enforcement within each department's jurisdiction. White told the Coeur d'Alene City Council that his department will enforce the law.
Post Falls had implemented its own mask policies on Nov. 17. The sergeant on duty told The Coeur d'Alene Press that writing citations for both the city and the health department has created a different challenge, one he was happy to report.
"We are responding to any calls we get," Sgt. Pat Eismann of Post Falls PD said. "It just depends on the circumstances. We've written no citations that I know of, but I want to emphasize: We just haven't had that many calls about it. People are doing a little better following it than the first (health board mask mandate). Sure, there are more and more outspoken opponents this time around, but people are doing a good job following it."
Recent Headlines
---