Go North, young man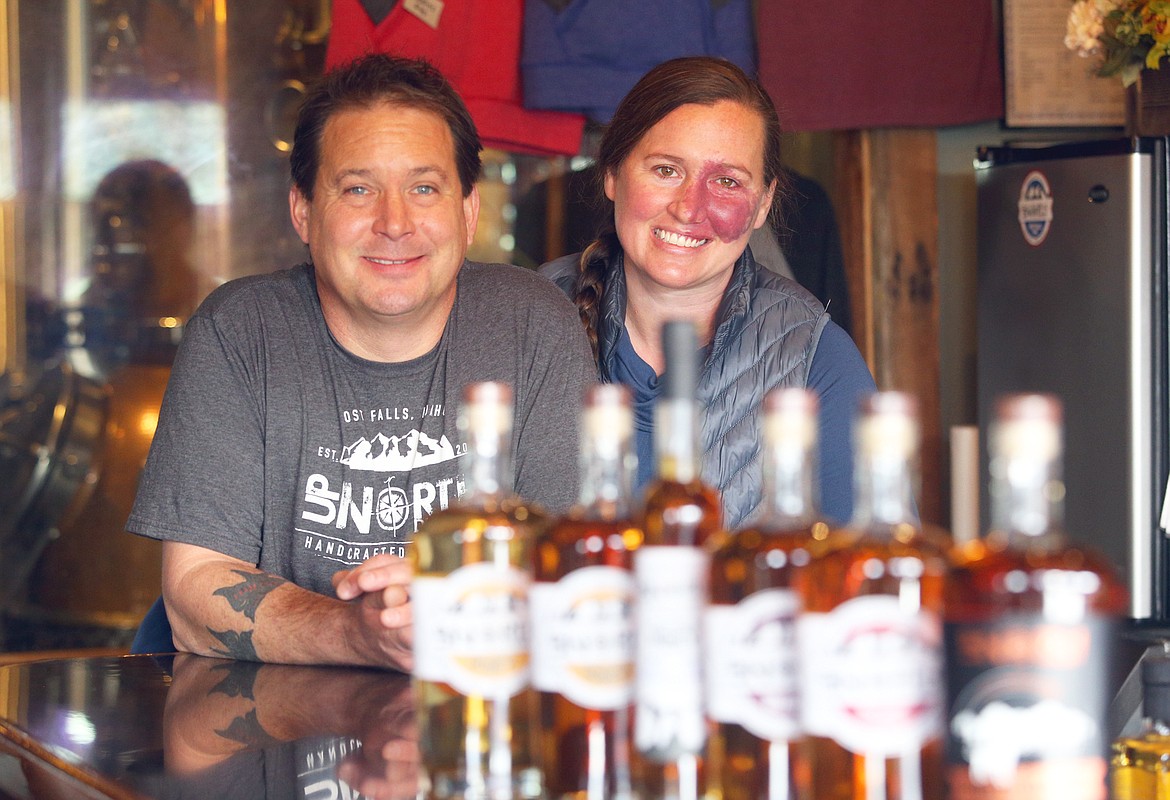 Randy and Hilary Mann own and operate Up North Distillery in Post Falls.
BILL BULEY/Press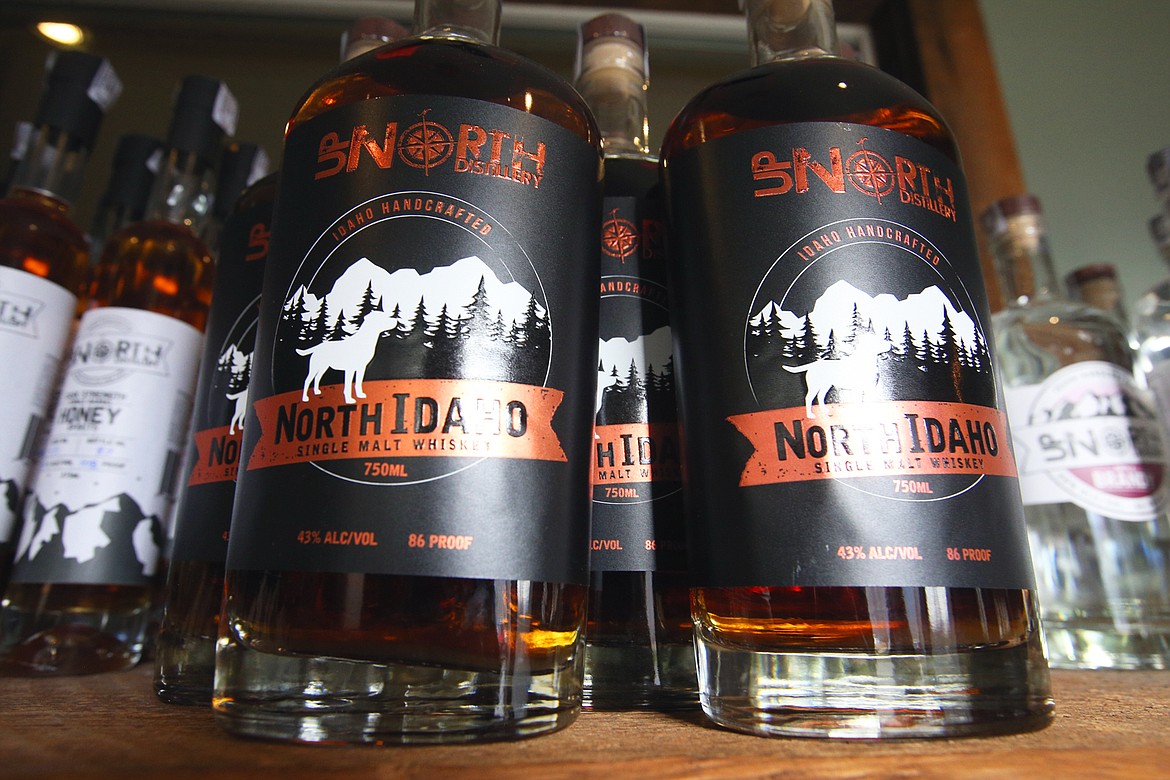 Up North Distillery recently released its first whiskey, North Idaho Single Malt Whiskey.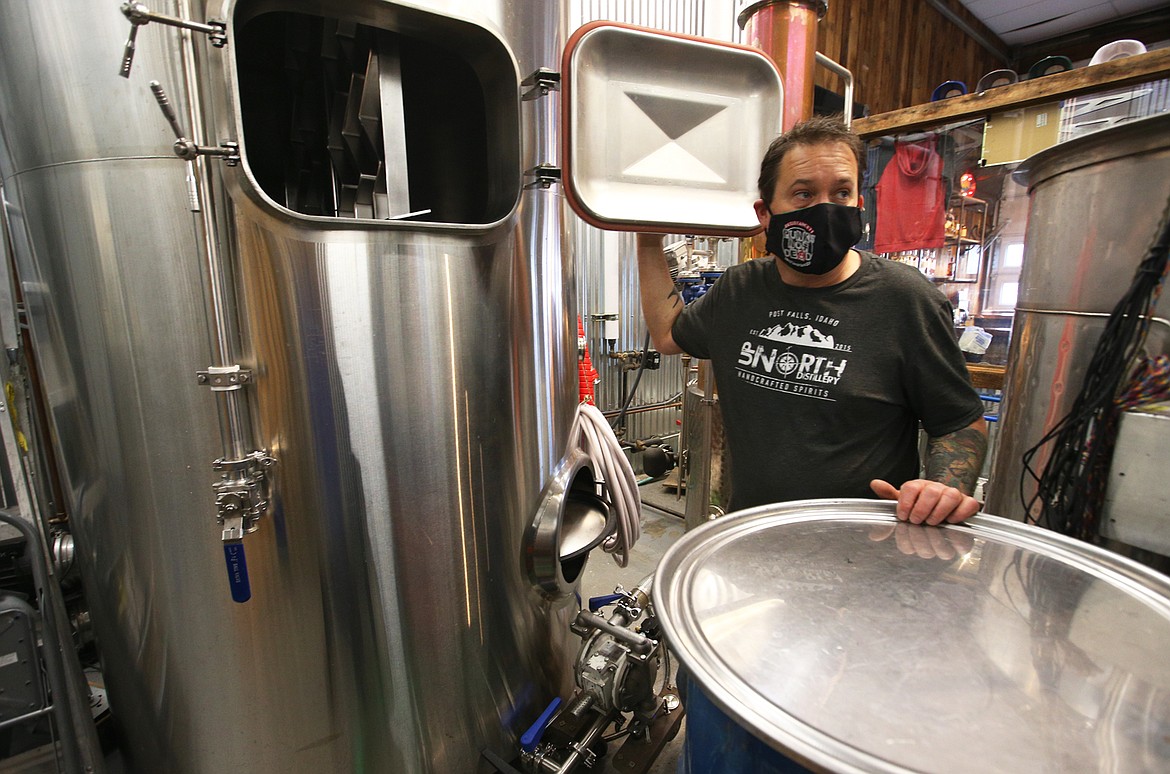 Randy Mann explains how the distillery works at Up North Distillery.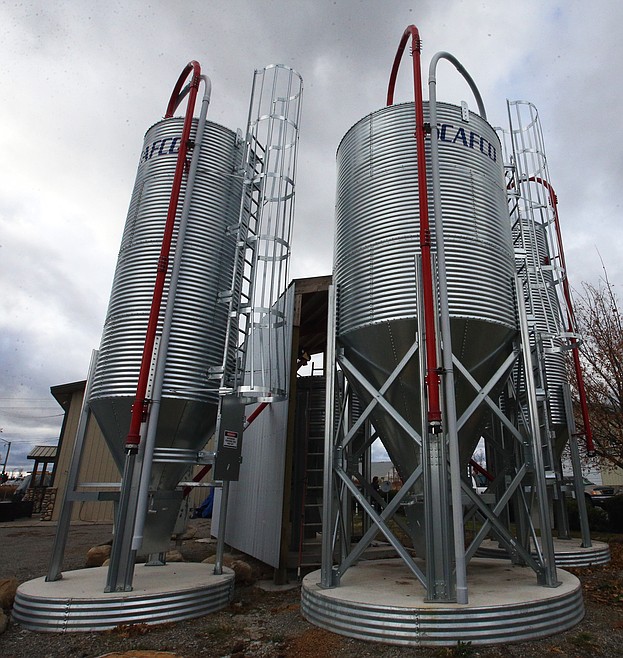 The silos stand tall outside Up North Distillery.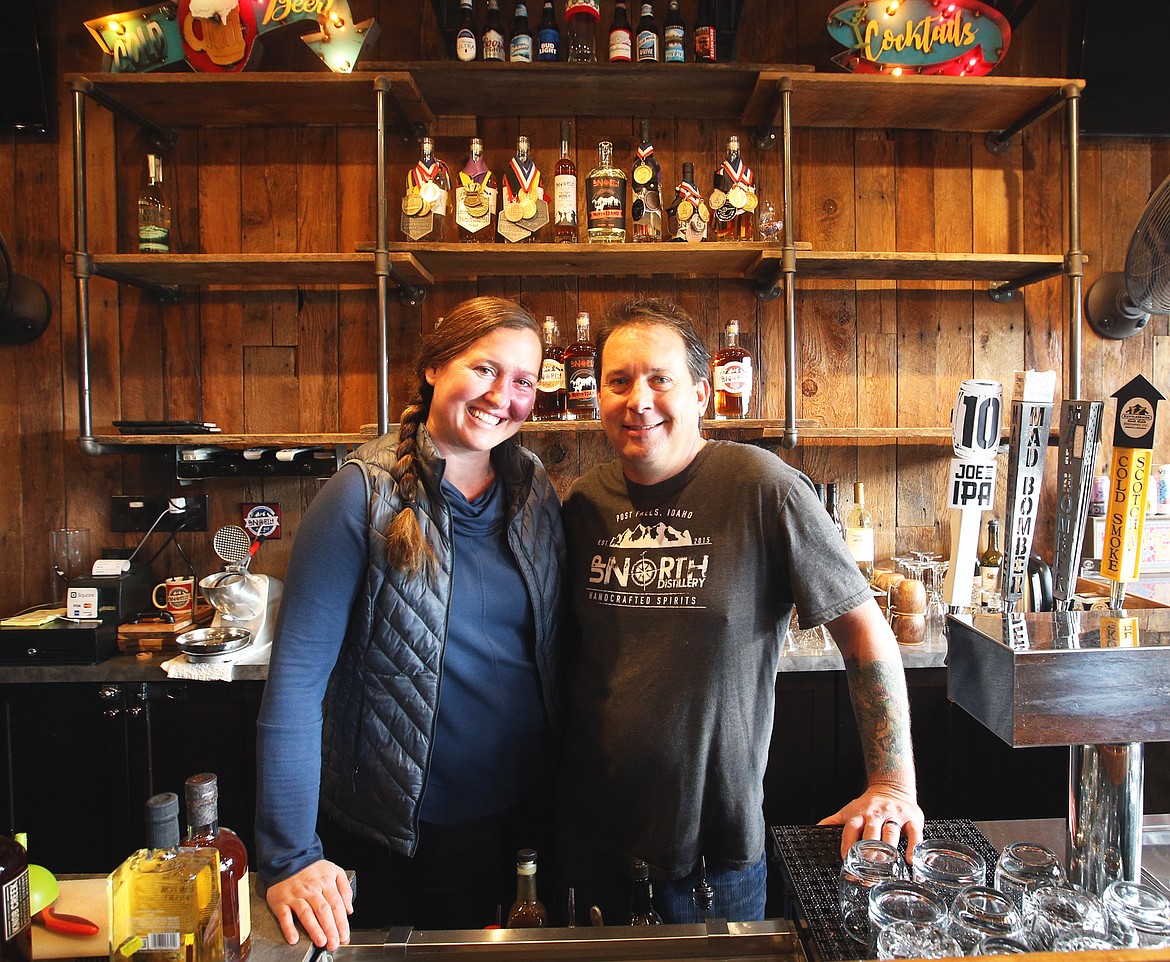 Randy and Hilary Mann behind the bar at Up North Distillery.
Previous
Next
by
BILL BULEY
Staff Writer
|
November 26, 2020 1:07 AM
POST FALLS — When Randy and Hilary Mann started Up North Distillery in Post Falls about five years ago, Randy had a particular goal in mind.
"One thing from the beginning was the malt whiskey," he said.
Now, you can drink to that.
Up North Distillery recently released its first whiskey, North Idaho Single Malt Whiskey. It is distilled from 100% malted barley grown in the Northwest.
Sitting inside next to their bar, hours before it was scheduled to open, Randy and Hilary are joined by their high-energy and spirited black Labrador, North. The image of North is on the label of their whiskey, an inspiration of a creature fearless and wild at heart.
"From the beginning the goal was to make malt whiskey," Randy said.
The Manns built their business, as they say, from ground up, as they had no investors. The bar, liquor store and distillery, even the grain silos outside installed three years ago to hold the single malt barley, are all at 846 N. Boulder Court, where they offering complimentary samples and where Batch #1, Barrel #1 bottles are for sale.
Yes, they make their liquor, sell it and store it. And that's a long process. Whiskey and spirits can wait two years or longer in a barrel, aging properly, before being bottled and sold.
"That's a big investment," Hilary said.
Their back room is lined with 53-gallon, wooden barrels of booze. Each has a handwritten label.
"So we get creative with our space," Hilary said. "We're constantly moving things around."
The whiskey-making process, from the first step to the last, sounds a lot like science. Randy talks about malted grain, cooking it in water, enzymes, converting starch into sugar. He speaks of a fermenter, yeast, and the distillery bringing the liquid to 174 degrees. He outlines how alcohol separates from the water and yeast eats the sugar.
Randy says while it sounds complicated, it's not.
"It's just ratios, I guess," he said.
After all that, it sits in a barrel for at least two years. Brandy is more like three.
"We didn't want to buy other people's spirits," said Hilary, who oversees the administrative side. "We wanted to make it ourselves. So of course, it has to sit in a barrel forever."
It's a process that is at the same time both formula and creative — a process the Manns built upon, added to, and made their own.
"It's very dynamic," Randy said.
And effective.
Up North Distillery has won numerous awards, including most recently, medals at the Best of the Northwest Spirits Competition held by Sip Northwest Magazine where they received two Double Golds, Gold and a Silver medal. 
Their products include a variety of honey spirits, apple brandy and now, single malt whiskey.
Consider these offering:
Barrel Finished Honey Spirits, Distilled from 100% Honey (Mead Wine), Aged in American Oak Barrels for 1 to 2 years
Barrel Reserve Honey Spirits, Distilled from 100% Honey (Mead Wine), Aged in new American oak barrels for 2 to 3 years, Limited Distribution
Cask-Strength Single Barrel Honey Spirits, Distilled from 100% Honey (Mead Wine), Aged in American Oak Barrels. Our distiller hand selects the finest barrels and hand bottles at cask strength.
Apple Brandy, Distilled from 100% Apples, Barrel Aged Apple Brandy, Distilled from 100% Apples, Barrel aged for at least 2 years
Big Kid Cider, Our Apple Brandy mixed with fresh apple cider
Their bottles are available at Idaho liquor stores as well as their distillery in Post Falls.
Hilary, whose day job is being a counselor in the Coeur d'Alene School District, said single malt whiskey is a new, up-and-coming category with growing demand — and we might add, for those with good taste.
"It's pretty exciting to be part of the single malt movement," she said.
They keep their products close to home. The honey comes from Idaho, while the grain comes from Washington.
"We try to buy local as much as possible," Hilary said.
On a bottle of North Idaho Single Malt Whiskey it reads, "Similar to the beautiful hills and mountains of North Idaho, this Single Malt Whiskey is worth exploring time and time again, finding new paths and trails to unwind with every sip you take. Like us, we hope you find familiarity and adventure with every bottle of our North Idaho Single Malt Whiskey."
Randy's road to whiskey making started with basic beer years ago in Coeur d'Alene.
"With a beer kit you really can't mess it up, but I like to keep learning," he said.
So he experimented with different recipes and developed a variety of beer. He kept at it until it turned out just right.
"I would never throw them away," he said.
One day, he struck up a conversation with a guy making a whiskey still.
"What do you have to do to make whiskey?" Randy asked
From there, well, as it says on their website, and as Randy explains during the interview: "Since it's illegal in the US to possess a still and distill any alcohol, we didn't spend years perfecting the craft and testing out different recipes in a secret garage location away from prying eyes. We didn't build our own still from beer barrels and copper pipe (since the revenuers frown on that type of activity). The story we tell is that we took an advanced distilling class, at a legal distillery nonetheless, and from that point started building out the dream of opening a distillery that would allow us to provide our quality product to the world."
From there, it became a passion. Randy studied, practiced and perfected his craft.
"That was it," he said. "I found a way to make it happen."
Up North Distillery is one of about 10 distilleries in Idaho. It has held its own, with game nights, food trucks and music in the summer. The Manns also opened The Bee's Knees Whiskey Bar at 324 W. Lancaster Road in Hayden.
"We have a seasonal menu that rotates and it's been fun to play around with different craft cocktails for the season and introduce people to our spirits," Hilary said.
You can buy shots of the whiskey at the bar. To purchase a bottle, you must step into their small liquor store
So, let's get to it. How does North Idaho Single Malt Whiskey taste?
Randy won't kid you. He's a straight shooter. Darn right it's good, even great. But, he adds, it could be better. He's not satisfied.
"I'm my own worst critic," he said. "I like it. But the next batch, I promise you, will taste better."
That's got to be very, very good.
Recent Headlines
---