Commissioner makes plea: 'Do everything we can'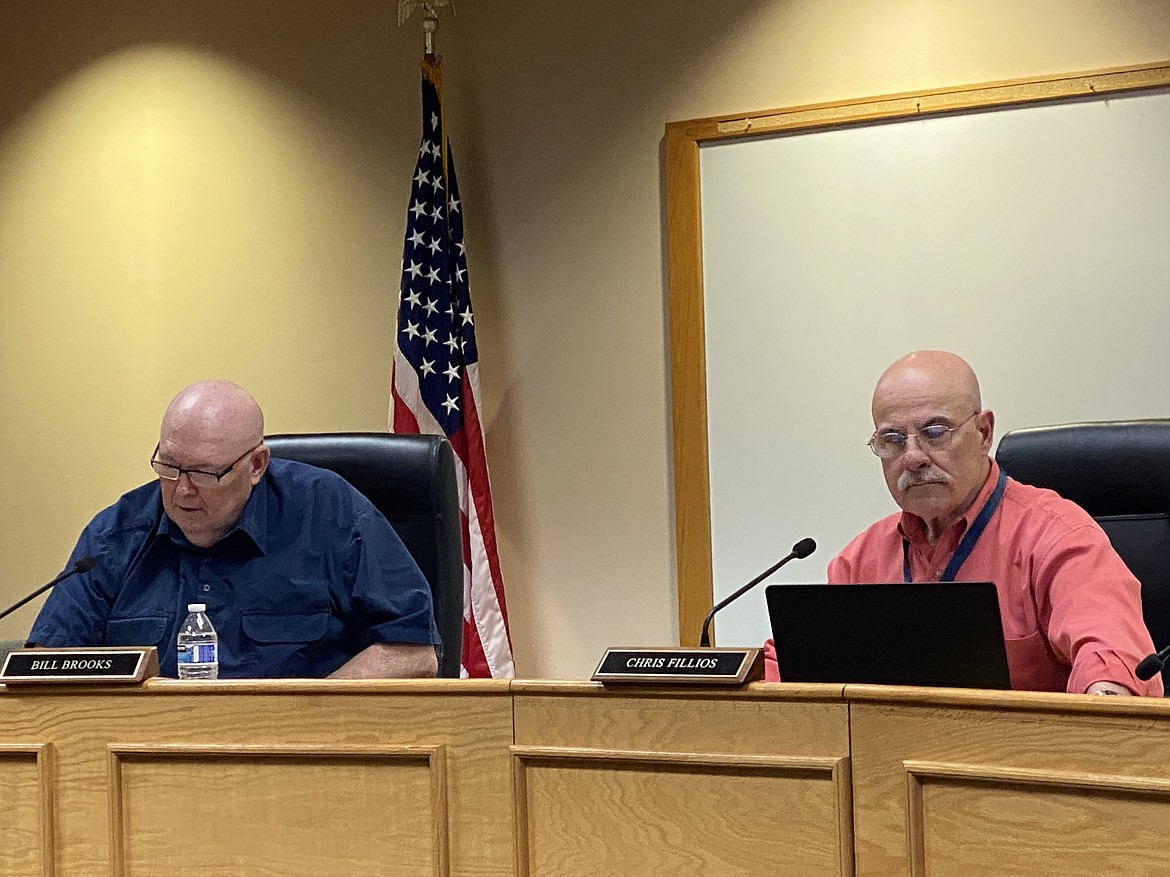 Commissioner Bill Brooks (left) brings up the matter of Kootenai County residents stark division on wearing masks amid the COVID-19 pandemic. Pictured: Commissioner Bill Brooks, Commissioner Chis Fillios (right). (MADISON HARDY/Press)
by
MADISON HARDY
Staff Writer
|
November 25, 2020 1:00 AM
In light of the Panhandle Health District board of health's decision to create a districtwide mask mandate, Kootenai County Commissioner Bill Brooks is upset about the social divide.
"There's been way too much in the ways of mandates and no mandates and mask mandates," Brooks said during the commissioners' Tuesday business meeting. "It's gotten to the point where it's becoming a dividing element in our county."
His conversation came after speaking to a COVID-positive resident who was wearing a mask but was out in public. Brooks, who has expressed his opposition to a mandate multiple times, said he supports wearing masks and taking the recommended personal safety measures.
"How about a handwashing mandate," Brooks joked. "Raise your hand if you'd have a problem with that. Well, studies have shown that approximately 66% of people after using the restroom do not wash their hands."
Jokes aside, Brooks said that if the county wants to stop the COVID-19 virus in its tracks, they should be doing "everything they can do." The county has strictly adhered to the mandates and recommendations long since established, including requiring masks. However, for lack of jurisdiction, they haven't attempted to mandate any provisions of their own.
"We've shown already that mandating is not the answer," Brooks said. "Let's not let this be an item that divides us. It should be an item that unites us."
Unlike the governments of Washington and California, which have adopted a second shutdown, Gov. Brad Little is keeping the state open to preserve Idaho's economy. However, officials have warned that the health care system's constant stress and rising case count could jeopardize this stability. Going into the holiday season, Brooks asked the public to take the extra steps to protect Kootenai County from a potential shutdown.
---