Cd'A won't prosecute Nov. 6 mask violations
by
CRAIG NORTHRUP
Staff Writer
|
November 21, 2020 1:07 AM
The Coeur d'Alene prosecutor's office is declining to go forward with charges against four individuals for allegedly violating the city's mask resolution.
"Prosecution has been declined because no warning and no opportunity to comply with the mask mandate was given to the citizens involved," said Wes Somerton, chief criminal deputy attorney for the city.
The four cases sent to the prosecutor's office were all connected to a Nov. 6 rally at the Kootenai County Courthouse in support of Christa Thompson, the woman who was cited by the Rathdrum Police Department for holding a yard sale in April in violation of Gov. Brad Little's then-active stay-home order.
Thompson's case was dismissed that day to the delight of the rally-goers.
At the time of the Nov. 6 incident, officers declined to write citations on the spot, with Coeur d'Alene Police Chief Lee White explaining that writing citations could have enflamed an already-heated situation.
"Typically, if an officer observes a violation, he would write a ticket," White said in a Nov. 9 interview. "But you've got to remember, these are trying times. We're just trying to keep our community safe. We were able to, through other means, identify these four individuals and deliver our reports to the prosecutor's office."
The mask resolution, passed Oct. 26 by the Coeur d'Alene City Council, is a civil infraction with a $100 fine.
To date, the four citations stemming from the Nov. 6 incident are the only mask resolution citations written by Cd'A PD, and they might be the last.
While Coeur d'Alene's mask resolution remains in effect, council member Dan Gookin said he has introduced an item for the Dec. 1 council meeting to rescind the city's mask resolution. On Thursday, Panhandle Health's board voted for a districtwide mask mandate, covering Idaho's five northernmost counties. That item is being reviewed by Coeur d'Alene's legal department.
"If they determine Panhandle Health's mandate overrules our mask resolution," Gookin said, "it's dead in the water, anyway."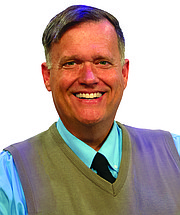 ---