Volunteers bring harmony to Music Conservatory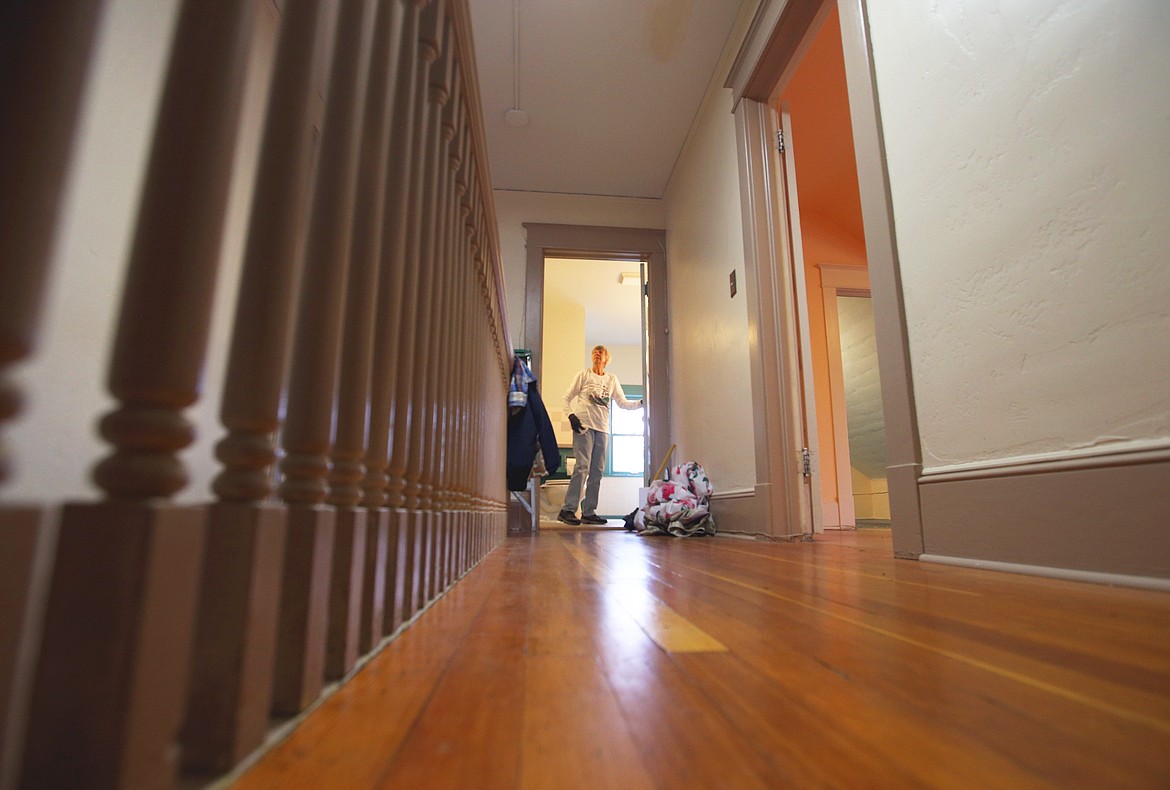 Jan Severtson cleans the upstairs bathroom at the new home of the Music Conservatory on Saturday.
BILL BULEY/Press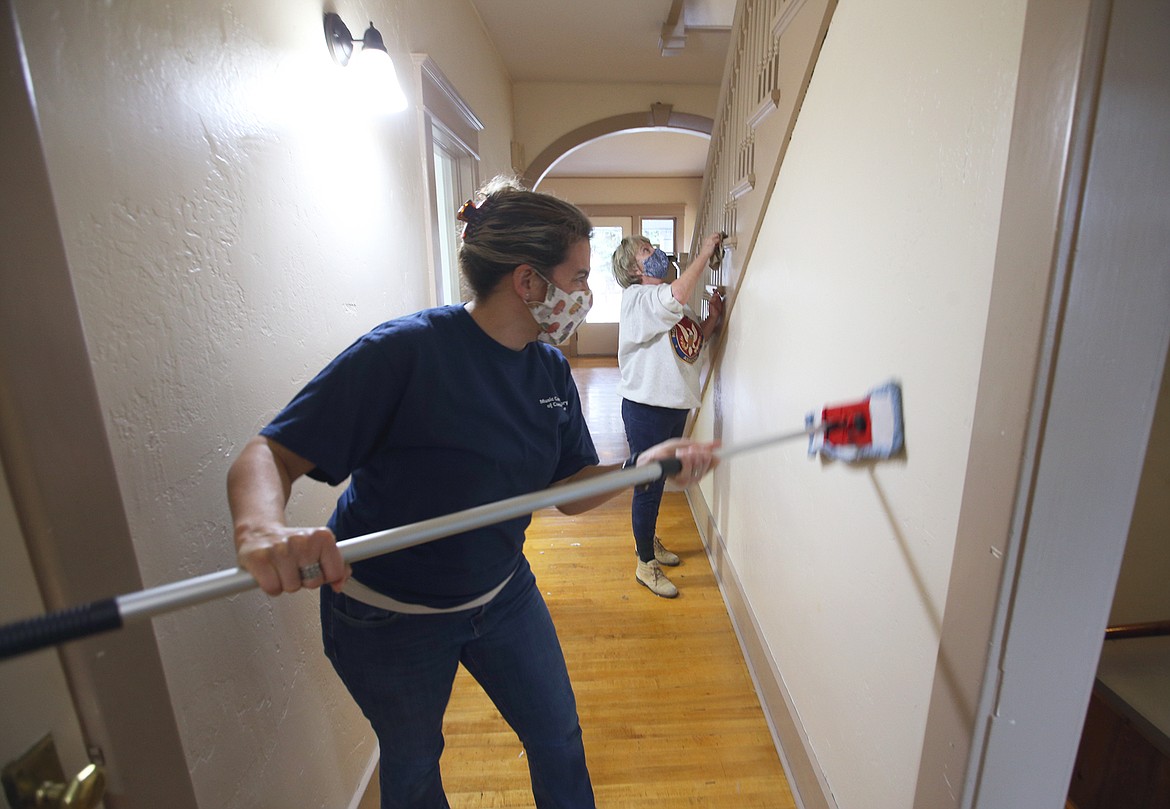 Monica Thulon, left, and Deborah Mitchell wipe down a wall at the Hamilton House, which is the new home of the Music Conservatory of Coeur d'Alene, on Saturday.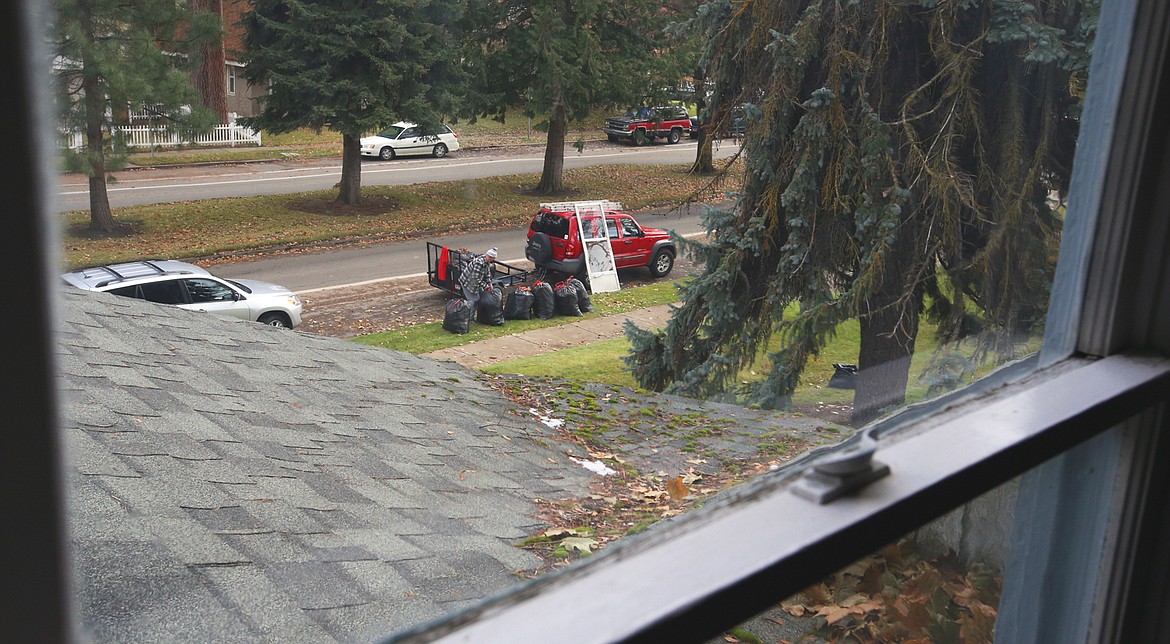 A view from the third-floor of the Hamilton House on Saturday finds a volunteer preparing to haul away leaves during the cleanup of the new home of the Music Conservatory of Coeur d'Alene.
Previous
Next
by
BILL BULEY
Staff Writer
|
November 15, 2020 1:30 AM
COEUR d'ALENE — Jan Severtson believes in the power of music.
"Fine art is very important to a person," she said Saturday morning. "It rounds them out."
Severtson was one of about 15 volunteers who came out to prepare the 1908 Hamilton House to become the home to the Music Conservatory of Coeur d'Alene.
She spent her morning making the upstairs bathroom spotless. She scrubbed the tub, the toilets, the sink, mirrors, walls and floor and anything else that had even a speck of grime.
When she was done, it was shining.
Severtson was glad to do it
"I don't sing, I don't dance, so this is a way I can help. I can clean," she said.
The expected volunteer crowd of about 30 was cut in half by the coronavirus, but those who showed up took on many tasks. Inside, they wiped down walls and peeled away centuries old wallpaper. Outside, they raked, bagged and hauled leaves away.
Monica Thulon, secretary of the Music Conservatory, was delighted.
"It's amazing just to know the community cares about our efforts to buy this house and bring it back to the community and they are wanting to see it come alive again," she said.
The volunteer efforts, this weekend and last, was much appreciated.
"It's been such a long road," Thulon said. "There were times we felt like we were alone in it. Seeing all these volunteers, we were never alone in it."
The house at 627 Government Way was saved from demolition last month when Coeur d'Alene Mayor Steve Widmyer and Windermere/Coeur d'Alene Realty Inc. owner Donald "Pepper" Smock bought it for $500,001 and agreed to lease it to the Music Conservatory.
This was after a lengthy fundraising effort fell short. The destruction of the home, owned by Kootenai County and tentatively earmarked to become a parking lot, seemed imminent.
That's when the two community leaders stepped in with an offer that commissioners accepted after some debate.
"It's incredible. I'm still kind of numb," said Zoe Ann Thruman, development coordinator for the Music Conservatory. "It was so close to demolition so many times. They pretty much wrote our obituary on it. Literally at the 11th hour with 90 seconds to go in the commissioners' meeting, they voted to sell it."
The goal is to use the house as a home where music instructors will share their talents and passion with youth. The group has a lease payment of around $2,200, so it wants to move quickly.
"Our ultimate goal right now, COVID considering, is to open our doors in January," Thruman said.
A December Christmas fundraiser at the conservatory is in the works.
Instructors are in place. Instruments are coming in but more are needed. The hope is to have an instrument bank so students can check one out and keep it as long as they are taking lessons there.
Already, pianos, a cello and violin have been donated.
A wish list of other items includes rugs, copiers and a printer/scanner, book shelves, stackable chairs, decorative acoustic wall hangings and a new front screen door.
While sprucing up is going well, extensive improvements remain in the 112-year-old, three-story house. Flooring, windows, roofing and electrical must be upgraded.
Thulon said they know it's a large, costly undertaking, but they are confident the house will soon be ready to make music with continued support.
"We have a long way to go, but we'll get there," she said.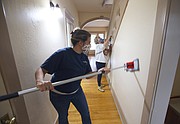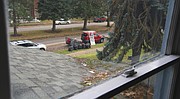 Recent Headlines
---