Clark's having a ball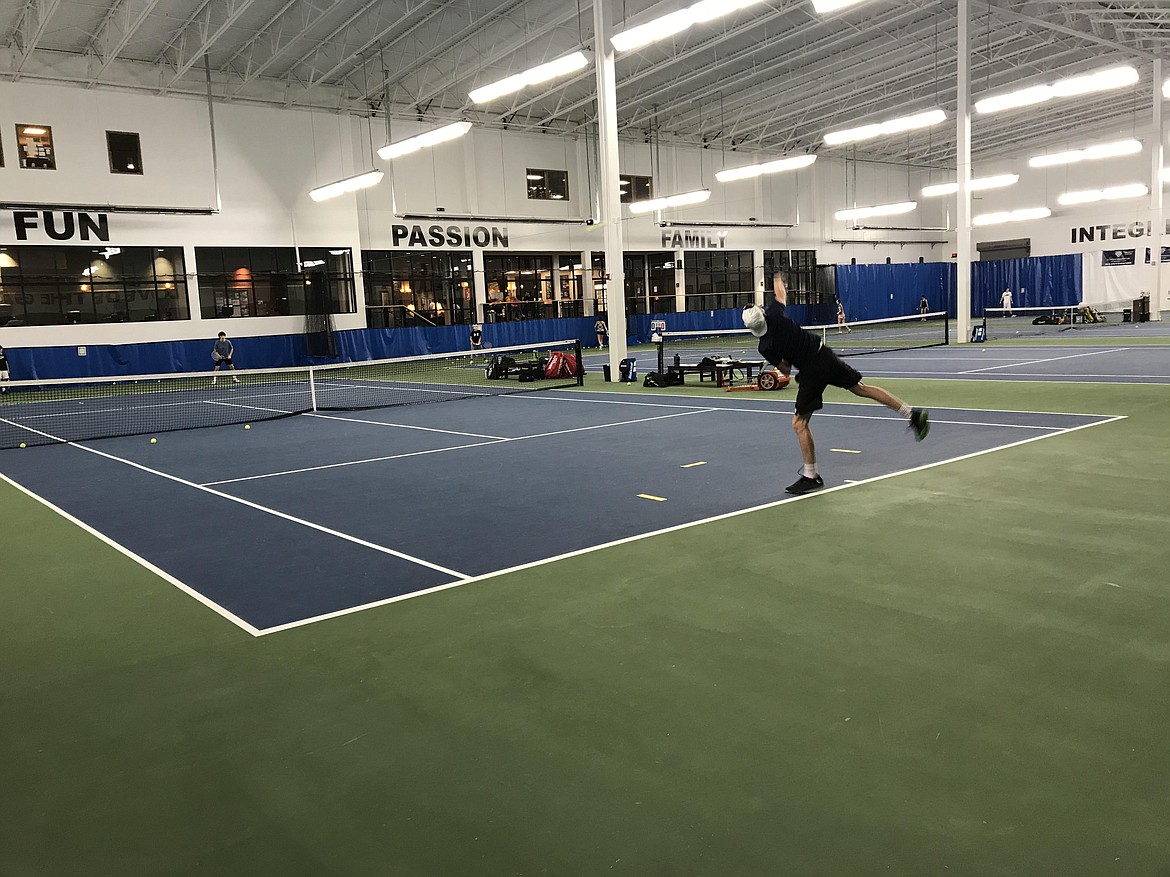 Some of the best tennis courts in North Idaho can be found at PEAK in Hayden. (Courtesy of Steve Clark)
by
CRAIG NORTHRUP
Staff Writer
|
November 14, 2020 1:00 AM
Steve Clark is a familiar face at PEAK Health and Wellness in Hayden. He's no stranger to tennis, either.
"I've been playing for a while now," the new director of tennis and pickleball at the Hayden courts told The Press. "I have some collegiate coaching experience, as well."
That's putting it mildly.
Clark made it to the NCAA Championship Finals in doubles for the University of California-Davis before going pro. In 1987, he started his collegiate coaching career at Chapman before hitting the Division I ranks, helming Texas Tech.
He then took over the University of California-Irvine team before eventually coming to the Spokane area, where he spent five years coaching at Eastern Washington University in Cheney.
Now, a few weeks into his new role as director of PEAK's tennis and pickleball program, he said he's surrounded by top-of-the-line facilities and the best courts in the area.
"Tennis is truly a lifelong sport," Clark said. "I've been fortunate to be able to have a career doing something that I love."
Clark came to PEAK after leaving Eastern Washington in 2019, in part because of what he described as a commitment the company showed toward cultivating a culture of excellence.
"You can see when you walk onto the courts, we try to motivate with some of the fundamental core values of the game: inspire excellence, love of the game, fun, passion, integrity," he said. "It's something I really believe in here."
Clark also promotes those values — and more — on his podcast, the Coach Steve Clark, PhD Show, where he interviews guests and talks tennis with coaching greats, pro players and industry heads, such as Alex Waske, Craig Tiley and Chris Tontz.
"I'm having a lot of fun," Clark said. "It's a great way for me to promote the sport I love."
That love has extended to pickleball, as well. PEAK's reputation as a premier pickleball destination in North Idaho has given locals easier access — particularly in the winter — to one of the fastest-growing sports in the country, one that has attracted audiences young and old.
"You don't have to be able to run a 4.4 40 in order to play a court sport like pickleball," Clark said. "You just have to be quick and be able to learn control. That's why it's fun: You can get people of all ages out there. Just the culture of getting out there and enjoying it is so worthwhile."
It's that accessibility, Clark said, that makes PEAK staff hopeful for the future.
"We want to grow both of these programs," he said. "We have an extremely nice facility. I've played all over the country as a college coach and a player, and I'm telling you, this is a world-class facility.
"Right now, we have probably the best junior (tennis) program we've ever had. Even with the pandemic, we're getting full. We want to grow the competition, too, bringing up the younger kids. Not only is it a great sport but with a great venue. It's the same with pickleball: We want to get it even more popular, so PEAK will be known as that place you go to, to play."
---