'Heartbeat' of the Vikings — Offensive linemen pave the way for unbeaten Coeur d'Alene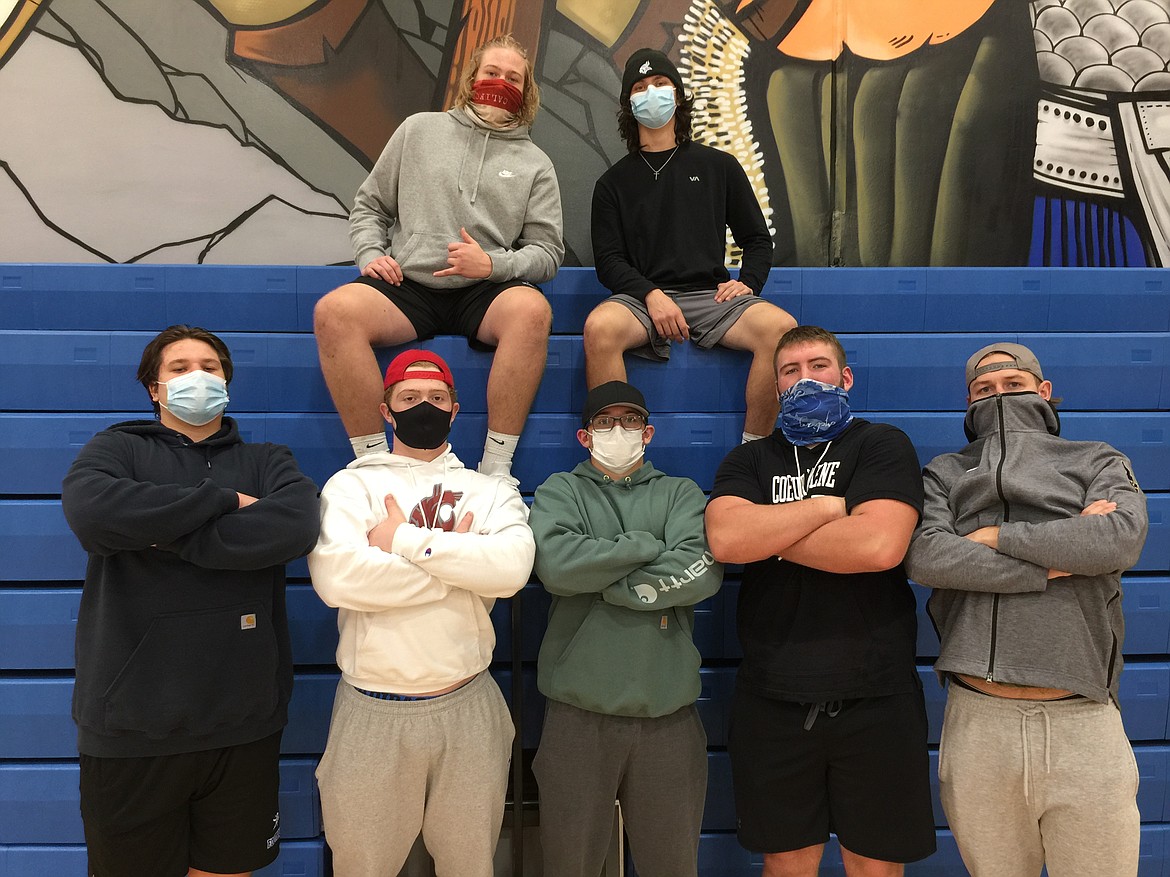 MARK NELKE/Press Coeur d'Alene High's starting offensive line — standing from left, junior right tackle Wyatt Sandford, junior right guard Jaxson Washington, senior center Logan Cessna; senior left guard Jackson Kohal and senior left tackle Seth Hagel. Seated above them are senior nose tackle Patrick O'Dell, left, and senior defensive end Brayden Booth, who also rotate in on the offensive line.
|
November 5, 2020 1:27 AM
By MARK NELKE
Sports editor
They come in all shapes and sizes and backgrounds on the offensive line at Coeur d'Alene High.
There's a converted quarterback, and a former wide receiver/tight end. There's a senior who played some snaps in the state title game as a freshman.
There's the starting nose tackle who also rotates in on the offensive line, who lost 40 pounds in the offseason — unbeknownst to his coaches.
There's the tackle whose main job is to keep his quarterback upright.
There's the starting defensive end described as a "Swiss Army knife" by his coaches, because he also fills in nearly everywhere on the offensive line.
And there's the starting guard who — along with his teammates — helped improve his footwork and other techniques thanks to Zoom meetings, and videos sent to the players during the pandemic by the coaches.
But they have one thing in common — they're a big reason Coeur d'Alene is 7-0 and averaging 48.7 points per game, heading into Friday's state 5A quarterfinal matchup at home vs. Timberline of Boise.
"We get satisfaction from knowing that we're the reason we just got points on the board," said senior left tackle Seth Hagel, a two-year starter. And when we can pick up a defensive lineman and put him on his back."
THE STARTING lineup on the offensive line — center Logan Cessna (5-11, 200 pounds, sr.), left guard Jackson Kohal (6-4, 290, sr.), left tackle Seth Hagel (6-3, 215, sr.), right guard Jaxson Washington (6-1, 250, jr.) and right tackle Wyatt Sandford (6-2, 235, jr.).
Two starting defensive linemen — defensive end Brayden Booth (5-10, 190, sr.) and nose tackle Patrick O'Dell (6-2, 255, sr.) — also rotate in on the offensive line, O'Dell at the guard positions, Booth pretty much everywhere but center.
"I am obviously a little bit biased here but I think offensive and defensive lineman are the heartbeat to any team," said Dustin Shafer, the Vikings' offensive line coach since 2008.
"Logan Cessna has a lot on his plate. He is an excellent student and does a good job of setting the tone and pace for us. Kohal is a great leader by example. He is constantly in the weight room and is constantly asking (assistant) coach (Corey) Brown or myself questions about what he notices on film. Seth Hagel is a very consistent player, but he also does an excellent job of bringing energy and keeping things relaxed and fun. J-Wash is very similar to Kohal. He is simply a grinder. Wyatt Sanford has had the biggest learning curve because he grew up playing tight end and wide receiver.
"I think all the coaches would agree that Patrick O'Dell is the overall leader of this line. He brings a great work ethic every day to practice and he holds himself and teammates accountable. Also, Patrick is very funny."
Hagel, who has been on varsity since his sophomore year, said protecting the blind side of senior quarterback Jack Prka is "a lot of pressure. If he gets hit once from that left side, it could end his career, almost. You have to take every week preparing, getting ready to make sure you can do whatever you can to make sure he stays in that game and can do his job — get us on the board."
O'Dell weighed as much as 285 last year, and is now down to 245.
"Over quarantine I got into construction, I was working a full-time job because there was nothing else to do," O'Dell said of last spring. "Just started shedding pounds, and it was kinda nice getting all the compliments, so I just kept trying to lose some weight. The coaches had no idea it was happening."
"He is our 'life of the party' guy," said Brian Holgate, in his second stint as a Viking assistant coach, a career which started in 1996.
"He's a pretty funny guy," Washington added. "A lot of funny stories. "All-around pretty funny dude."
As a freshman, Kohal rotated in on the offensive line in place of Spencer Weisel, and played in the state title game against Highland at Holt Arena in Pocatello at nose guard and left guard.
"It was nerve-wracking at first," Kohal said of being a freshman on varsity. You're playing in a couple of freshmen games and all of a sudden it's like, 'Kohal, we need you.' Some of these guys are D-I athletes, and they just made me better over time."
A three-year starter on the offensive line, Kohal has offers from Idaho and the University of San Diego, and is also talking to the Air Force Academy.
"He is a big, strong kid," Shafer said. "He also has a high GPA. He doesn't make a lot of mistakes on the field."
Cessna, whose father Rusty was a standout athlete at Sandpoint High, played quarterback in the Fitz League, for third- and fourth-graders. In sixth grade, his Junior Tackle coach was Tony Prka, currently an assistant with the Vikings. Tony's son is the aforementioned Jack Prka, who was on that Junior Tackle team with Cessna, and is in his second year as the Vikings' starting QB.
"Jack was the better quarterback, so I made the switch (to center)," Cessna said of the sixth grade. "It was all right, because I was bigger and stronger than the other kids (at the time)."
Booth credits his ability to fill in at so many positions on the offensive line to a lot of film study, and just watching the other guys play their positions when he's not in the game.
"You can really flip a switch and be able to do both," Booth said of playing O-line and D-line. "I get pretty fired up when I'm out there. I'm a 'D' guy — I like tackling; I like hitting people."
"He is undersized, but plays with great leverage," Holgate said. "He is one of the most technically sound guys I have coached. He may not light up the stat sheet, but by being gap sound he allows our linebackers to make plays."
Sandford is in his first year starting at right tackle. He played left tackle as a sophomore, but moved to the right side for more playing time, as Hagel was the starter at left tackle.
Sandford said he was OK with moving from receiver to lineman.
"I got bigger, and they decided to move me inside, thought I'd play more," Sandford said. "I was fine with it; I just embraced whatever I needed to do."
Washington is in his first year as a starting O-lineman on the varsity.
He said last spring, while the students were all kept home during the pandemic, "We had weekly Zoom meetings with the coaches, and they would send out videos about technique stuff that we were going to do going into practice for this year."
Even before COVID, Washington said the Viking linemen were already trying to learn some of the new techniques. During COVID, they continued to learn at home — either by themselves, or by having someone across from them.
"It can help, having the visual," Washington said. "You can do it against air. My dad (Greg) helped me a little bit. And a couple of us would get together and do a little work at the park."
The offensive and defensive linemen used to have their traditional weekly feed, until COVID-19 scuttled those plans. Depending on who you ask, Washington was the surprisingly big eater. Or Kohal. Or O'Dell. Or junior Cameren Cope, a slender defensive end/wide receiver.
Washington (nose tackle) and Sandford (defensive end) both rotate in on the defensive line. Others such as juniors Kaden Franks and Andrew Stockham, and senior Carter Wiebusch, have also seen action on the offensive line.
"Coach Shafer and I talk about our projected starters before the first game," said Holgate, Coeur d'Alene's varsity defensive line coach since 2014. "We come up with a rotation plan for the year. We have played 15 different defensive linemen this year. We have 10 D-linemen that I feel comfortable playing at any time or any situation. This allows Dustin to put his best five-man group together and play with cohesion."
Recent Headlines
---