Party politics pays off in NIC Trustee race
by
CRAIG NORTHRUP
Staff Writer
|
November 4, 2020 1:07 AM
Endorsements from the Kootenai County Republican Central Committee appear to have paid dividends on Election Night, as voters were on their way to voting conservative blood into the North Idaho College Trustee races.
As of midnight, Gregory McKenzie, a research engineer with a bachelor's degree from Cal Poly in aerospace engineering and a master's in acoustics from Penn State, was leading incumbent Dr. Joe Dunlap Tuesday, 19,876 - 18,210, to lead the Zone 4 Trustee position.
Meanwhile, Michael Barnes was well ahead of Dr. Paul Sturm for the Zone 5 Trustee position. Barnes, a computer security and information security specialist, led 21,458 - 15,930 as of midnight.
McKenzie and Barnes — along with Todd Banducci, who presumably won Zone 3 in an uncontested race — earned controversial endorsements from the KCRCC in September, when all trustee hopefuls were asked to fill out questionnaires that measured the conservative nature of each candidate's answers. Dunlap and Sturm refused, with the longtime college educators citing the need to keep the NIC trustee election nonpartisan.
As results trickled in from the Kootenai County Elections Office Tuesday night, Dunlap explained his rationale.
"It's important that (trustee positions) remain nonpartisan," he said, "because the education institution it represents and serves throughout all five counties in North Idaho should not be driven by a political agenda and a political ideology."
Dunlap further cited an Oct. 6 Coeur d'Alene Press-sponsored virtual town hall, where McKenzie criticized Gov. Brad Little's handling of the COVID-19 pandemic.
"My opponent came out, when asked about Little's response to COVID-19," Dunlap said. "He was adamant he was opposed to the governor and would never ever vote for him. The problem is, we work with people we disagree with. We work with the state. We work with the governor. So we can't take sides. We have to look out for what's in the best interest of the college."
Dunlap said, should McKenzie win, he hopes his opponent and other trustees will remain nonpartisan as he wished them well.
"What I hope happens is that those who do get elected can be non-partial in their decision making and vote on decisions that they perceive is in the best interest of the students," he said. "I wish everyone the very best, including my opponent."
The KCRCC's endorsement helped produce similar results in the nonpartisan Kootenai-Shoshone Soil and Water Conservation District's supervisor races. The local Republican Party endorsed John Minichino, Jr., Wes Evans and Steve Van Zevern for the volunteer positions. Two of the three were in position to win as of midnight Tuesday.
"I support (the vetting procedure)," Minichino said Tuesday night. "I think it's necessary, even in the nonpartisan positions. It's important they do their due diligence, while at the same time providing valuable information to the voters."
Those endorsements mostly resonated with voters. While Laurin Scarcello led the pack with a first place 22,304 vote count, and Linda Ely was holding onto her position with 17,142 votes, Evans held a firm 18,403 count to earn his seat. Minichino was holding on to the fourth position by a slim 180 votes over fifth-place Valerie Wade with 16,793 as of midnight.
"We will be continuing to preserve the agrarian culture in the community and eliminate waste," Minichino said, "and continue to work with performing solid due diligence to promote conservative practices. (This means) minimizing the amount of grants we receive from the Department of Agriculture and the federal government. While that's more on the Idaho legislature's side, we'll be supporting their efforts."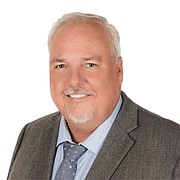 Recent Headlines
---