Restaurants, retail split on Sherman parking changes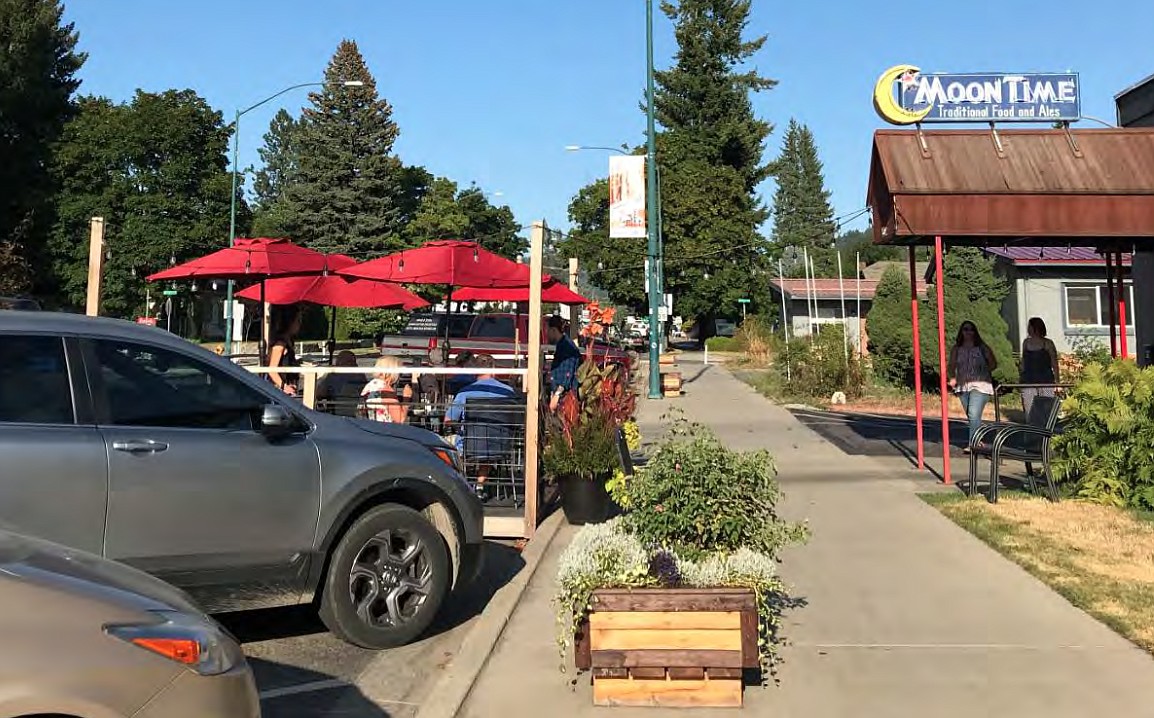 Parklets and extended sidewalks, not unlike the set-up outside Moon Time on East Sherman Avenue, will be considered at the Tuesday, June 2 city council meeting. The proposal would allow businesses throughout downtown Coeur d'Alene to build extended spaces for their patrons through the summer. (Courtesy City of Coeur d'Alene)
by
CRAIG NORTHRUP
Staff Writer
|
May 31, 2020 1:20 AM
Early results from a recent survey polling business owners downtown show mixed reactions to changing the Sherman Avenue parking layout to provide shops and restaurants more space to rebound from the COVID-19 pandemic.
The survey, released by the Coeur d'Alene Downtown Association in conjunction with staff from City Hall, polled owners and managers of businesses downtown. As of noon Friday, 38 respondents replied. Just over half — 20 out of 38 — voted in support of closing Sherman Avenue to motorized traffic this summer.
Thirteen of 38 opposed both closing Sherman and expanding parking stalls in front of downtown businesses to accommodate more space for those shops and restaurants.
A total of 19 businesses indicated they would use the extra space from either closing Sherman or creating parklets, while 13 said they would not use either option. Seventeen voters said they supported the idea of closing Sherman or using parklets every summer, as opposed to 10 who stated they only supported the idea for summer 2020 only.
The vote to close Sherman was also split evenly between restaurants and retail shops. Ten restaurants voted in favor of closing the main street, while 10 retailers voted in opposition.
Retailers themselves were split on changing. Of the 13 retailers who participated, six opposed closing, while seven voted for some version of the change. Restaurants, meanwhile, overwhelmingly favored a change, with 10 approved of some version of a change, compared to four who voted against the idea.
While the survey did not officially close until late Friday, city staff will recommend parklets and expanded sidewalks. The idea, if approved, would have participating businesses create their own parklet or sidewalk extension, largely at the business owner's expense. The city would pay for public parking signage and installation, as well as signs promoting social distancing.
Parklets would also be available to businesses on Lakeside, Coeur d'Alene and Front avenues, as well as north-south streets in the downtown area.
Vehicular traffic would remain open along Sherman Avenue and the other streets in this scenario, with participating businesses expanding onto the sidewalk and/or building temporary sidewalk extensions and pedestrian detours.
The issue will come before the City Council on Tuesday.
Recent Headlines
---