Real estate prices climb
by
CRAIG NORTHRUP
Staff Writer
|
May 31, 2020 1:30 AM
Sales are off from last year, but low interest rates, consumer demand fueling housing market
While Idahoans are starting to climb out of self-isolation and re-join the world, one ever-present resident in Kootenai County has returned with vigor: Explosive growth in the real estate market.
May's Multiple Listing Service numbers show home prices steadily rising this month. The average price for a single-family home climbed to $419,000, up 8 percent from April, and 14.5 percent from May 2019's $366,000.
Couple that with the 238 single-family homes sold and 280 sales pending in May — a 19.3- and 22-percent drop-off from May 2019, respectively — and you see higher prices with fewer homes available, a trend that is nothing new to local market professionals.
"We are still seeing a consistent price appreciation despite a slowdown in pending sales during the first few weeks of the COVID-19 quarantine," said Jennifer Smock, managing broker of Windermere/Coeur d'Alene Realty. "... This is indicative of pent-up consumer demand and a serious shortage of inventory."
While pending sales are off dramatically from last year — 280 this May versus 359 in May 2019 — properties still going through the buying process climbed from April, up 12 percent from last month's 250 pending purchases. This, Smock said, stems from banks getting stingy due to the uncertainty of the times.
"With lending restrictions continuing to tighten, the average home buyer is finding it increasingly more difficult to qualify for a loan than it was pre-pandemic times," she said. "This has created a bit of a real estate frenzy in our area. We are seeing multiple offers made on homes and offer prices coming in well above the list price in order to compete with multiple-offer situations."
But the lending market is sending mixed messages to buyers. While banks have tightened their purse strings, interest rates have dropped. The FHA 30-year fixed rate dipped to 3.45 percent, down from the mid-4s before COVID-19 struck. Freddie Mac reported Thursday a 30-year fixed rate average of 3.15 percent, its lowest on record. (It's worth noting Freddie Mac typically measures averages against perfect credit scores, scores that come under jeopardy in a financial climate where millions of furloughed and under-employed Americans are reportedly struggling to pay their mortgages on time.)
The low interest rates are giving some local professionals cause for optimism.
"Fortunately, the low interest rates have contributed to our stable market," said John Beutler of Century 21 Beutler and Associates on Northwest Boulevard. "Refinancing has been very strong, as well ... Normally our market is the most active from June through September. I really believe that there will be pent up travel from buyers who have been looking and want to get up here."
That "get up here" mentality is nothing new to the local housing market, as out-of-state buyers flock to North Idaho in droves every year. But COVID-19 in hotspot areas like California and Seattle, as well as the regulations that have tried to mitigate the disease, have pushed buyers to the brink where they can't pack their bags fast enough, Smock said.
"Driving around town, it is common to see out-of-state license plates — Alaska, California and Washington. The buyers that were on the fence or waiting for the right time have seemed to see this as it. We consistently hear from people who have been thinking about moving to the area stating they are on their way here. The next few months should prove to be a busy time with out-of-state buyers."
The out-of-state push is still going strong despite what Beutler described as one of the driving factors in escalating pending home sales.
"Typically this time of year we see sellers putting their homes on the market," he said. "This is happening now, pretty much the same as last year. Some sellers have purposely waited until now [for] better weather, and in some cases they may have wanted to wait and see how the COVID-19 would affect out-of-town buyers."
Beutler added that he doesn't blame out-of-towners for wanting to come to North Idaho.
"You can take a lot of things for granted," he said, "but when you drive down Northwest Boulevard and look at the improvements the city has made — updated the ball field, McEuen Park, the skate park, Tubbs Hill, the carousel, I could go on and on — out-of-state visitors see this and they want to be a part of it. It's very energizing."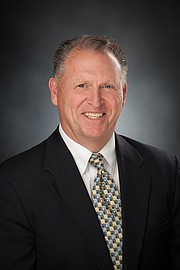 Recent Headlines
---