Locals return to favorite haunts for food,drink and good company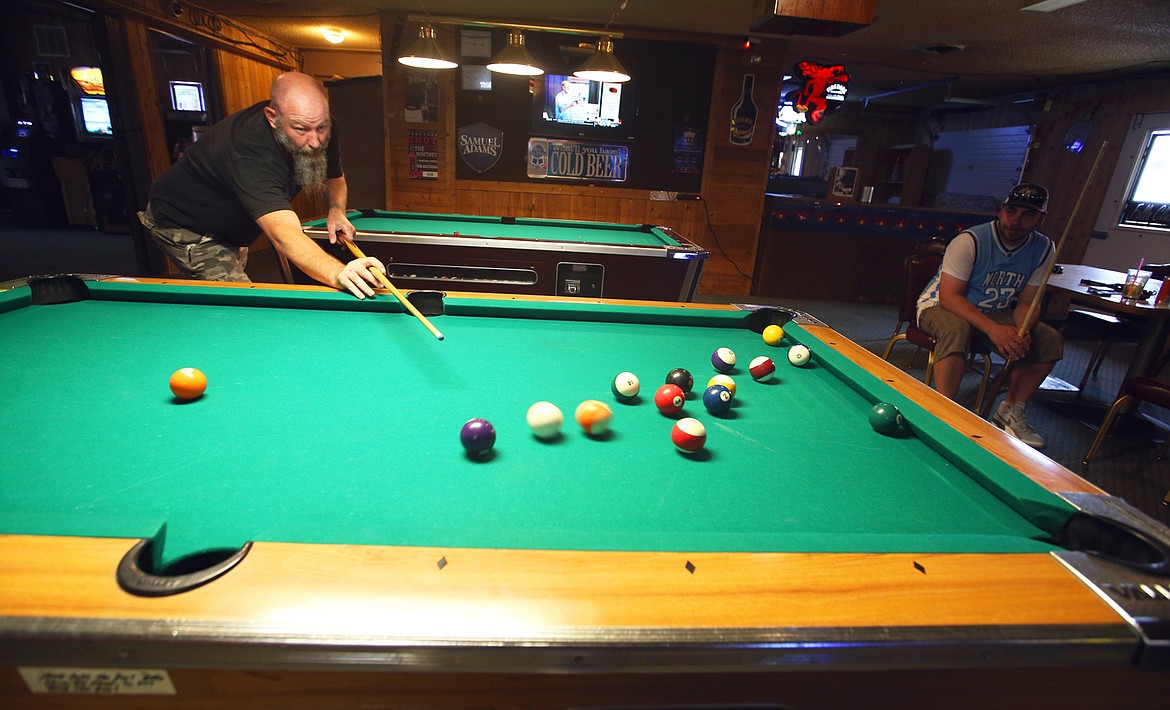 Mike Petersen takes a shot in a game of pool at the Falls Club in Post Falls on Saturday, while Zack Bosley watches and waits for his turn.
BILL BULEY/Press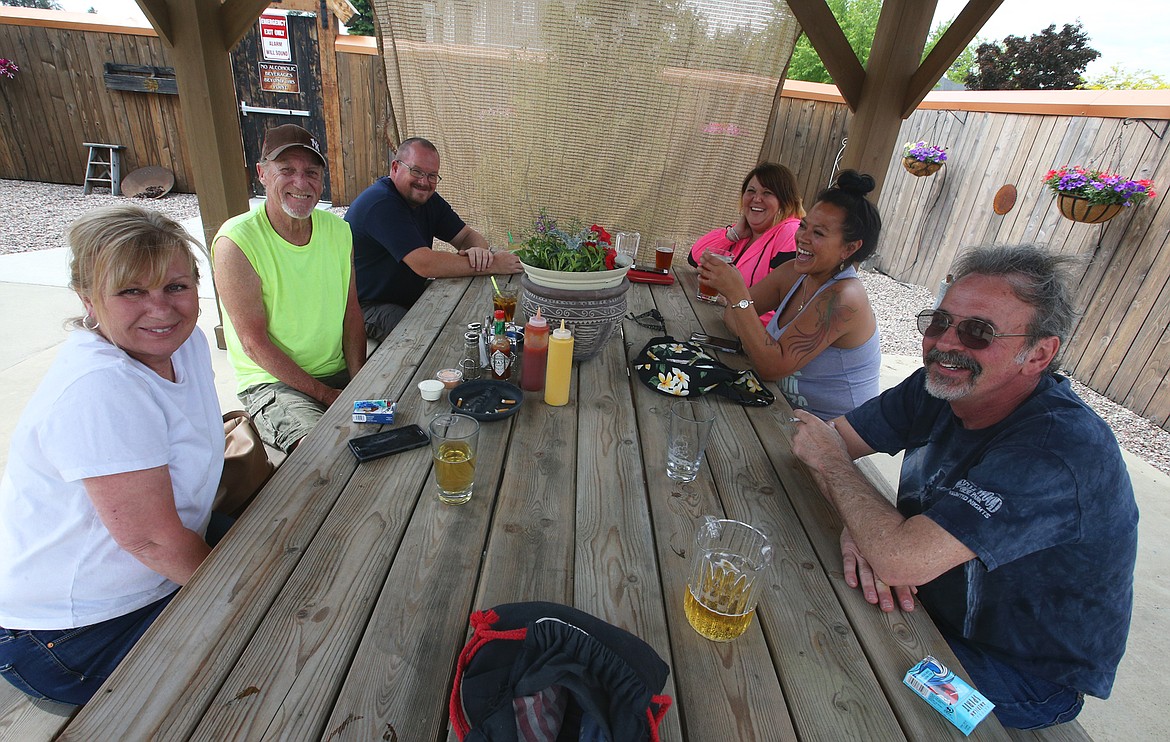 BILL BULEY/Press Friends in the outside beer garden enjoy the reopening of the Falls Club on Saturday. Clockwise from left, Cathy Quinn, Mike Sparkman, Morgan Tanner, Vada Fernandez, Susie Levingston and Tom Angerman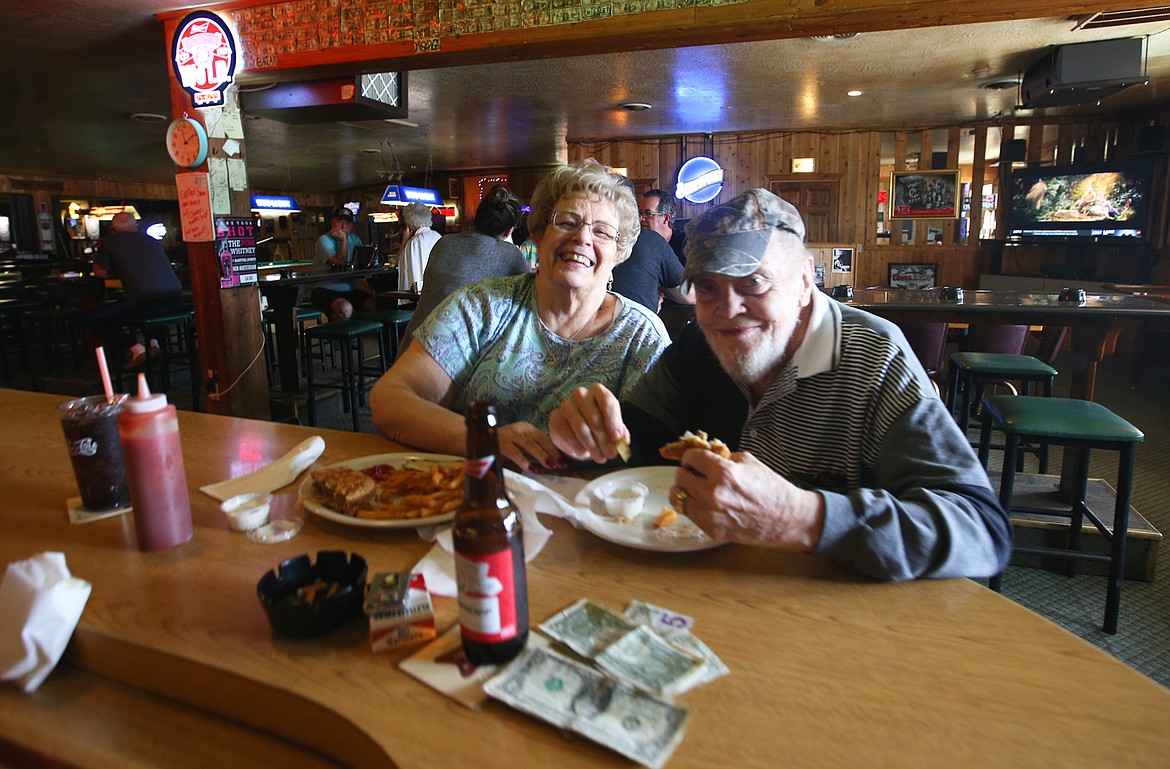 BILL BULEY/Press Dave and Fran Lewis have lunch at the Falls Club Saturday afternoon.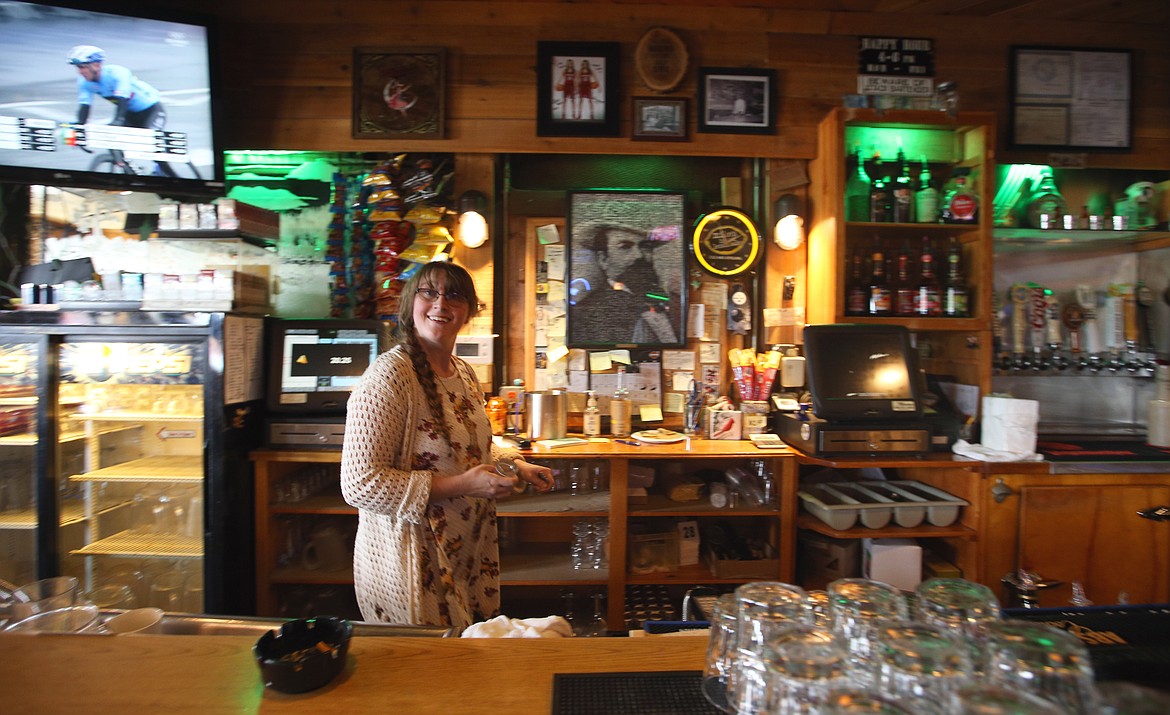 BILL BULEY/Press Falls Club employee Danielle Schaeffer is all smiles as she works behind the bar Saturday afterboon.
Previous
Next
by
BILL BULEY
Staff Writer
|
May 31, 2020 1:40 AM
Locals return to favorite haunts for food, drink and good company
POST FALLS — Freedom.
That's what Mike Peterson said it felt like to shoot a game of pool and have a beer Saturday at the Falls Club.
"I didn't spend six years in the Army to be locked down," he said between shots. "So this is amazing."
Friend and fellow pool player Zack Bosley works at the Falls Club, so he, too, was happy it reopened.
"It's going to be nice to be able to make some money again, and to sit with friends, talk, have a drink and not having to worry about getting in trouble for it," he said.
For the first time in eight weeks, the beer was flowing at the iconic bar and restaurant on Seltice Way. Country music blared from the jukebox, people sat at tables or bellied up to the bar, while more sat outside in the beer garden on a hot and muggy afternoon.
Bars across the state, closed for two months, were allowed to reopen under stage three of Gov. Brad Little's Idaho Rebounds economic recovery plan from the coronavirus shutdown.
For some, it was a welcome return to a favorite hangout.
"Hallelujah," said a smiling Fran Lewis, as she sat on a bar stool near the front door enjoying lunch.
"Hallelujah," repeated husband Dave.
The Post Falls couple used to visit the Falls Club several times a week before it was ordered to close, along with other businesses across the state, to try and prevent the spread of the coronavirus.
They love it there for the friendly faces, food and the warm atmosphere.
"They watch out for you," Fran Lewis said.
While they missed it and are delighted to be back, some good did come from the lockdown.
"We saved money," Fran said, laughing. "And I had to cook."
Falls Club Manager Margie Coe said it was great to open their doors at 10 a.m. and see loyal customers.
She's been the manager for eight years and also managed there 30 years ago.
Coe joined the crew answering the phone, pouring drinks and beers, and delivering food orders.
When a woman walked past on her way to leave, Coe said, "Are you guys out?"
Yes, came the answer.
"Love you," Coe said.
She said everything was going nice and smooth on their first day back, and sure enough, a glance around the bar found a relaxed, happy crowd.
"Kind of back almost to the way it was," Coe said.
Outside in the beer garden, six friends sat at table chatting and laughing over beers after having lunch.
Asked how it felt to be back at the Falls Club after its eight-week closure, Cathy Quinn and Susie Levingston both said, "amazing."
"Having a great time with friends, just being able to socialize," Quinn said.
"We missed being here," Levingston said.
The Falls Club has long been their preferred haunt, especially on those warm summer weekend afternoons when they take a break from their daily duties. It's nice to be outside, play cornhole and have fun, Quinn said.
Tom Angerman said he is not normally a "bar guy," — "Well, you are today," laughed a friend — but with the reopening of the Falls Club, it seemed like it was high time to get together with friends.
"I go to bars when I'm going to be with people," he said.
Levingston was a bit more emphatic about it.
"We love it," she said, smiling.
And she added this of the Falls Club being open again: "It's about time."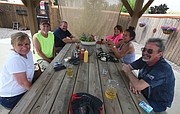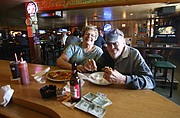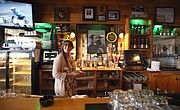 Recent Headlines
---