'The heartbeat of Coeur d'Alene'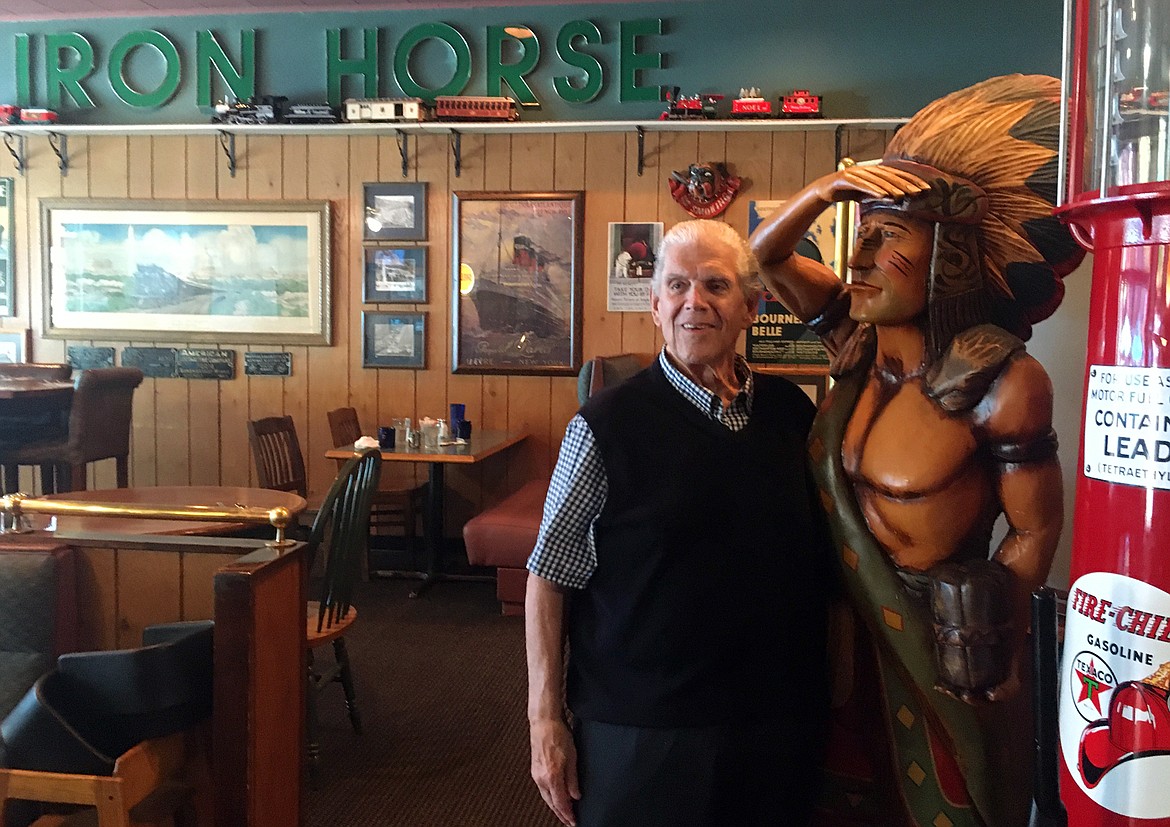 Tom Robb poses inside his Iron Horse Bar & Grill in downtown Coeur d'Alene on Friday.
BILL BULEY/Press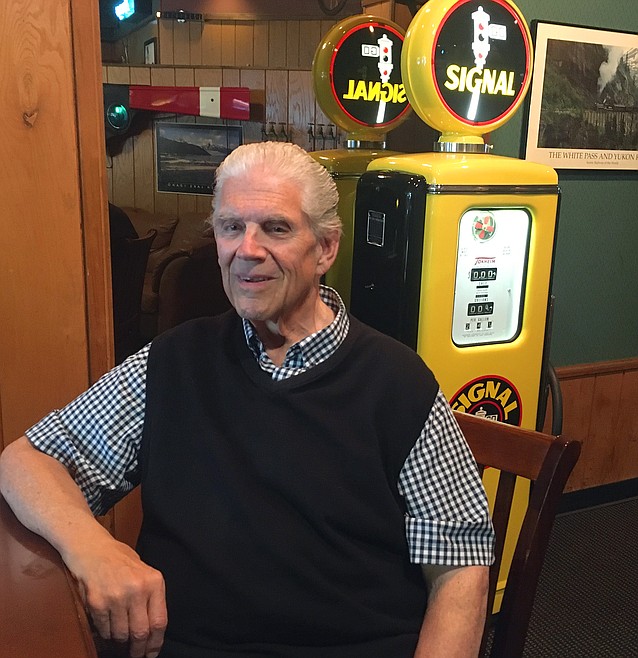 BILL BULEY/Press Tom Robb sits inside his Iron Horse Bar & Grill in downtown Coeur d'Alene on Friday.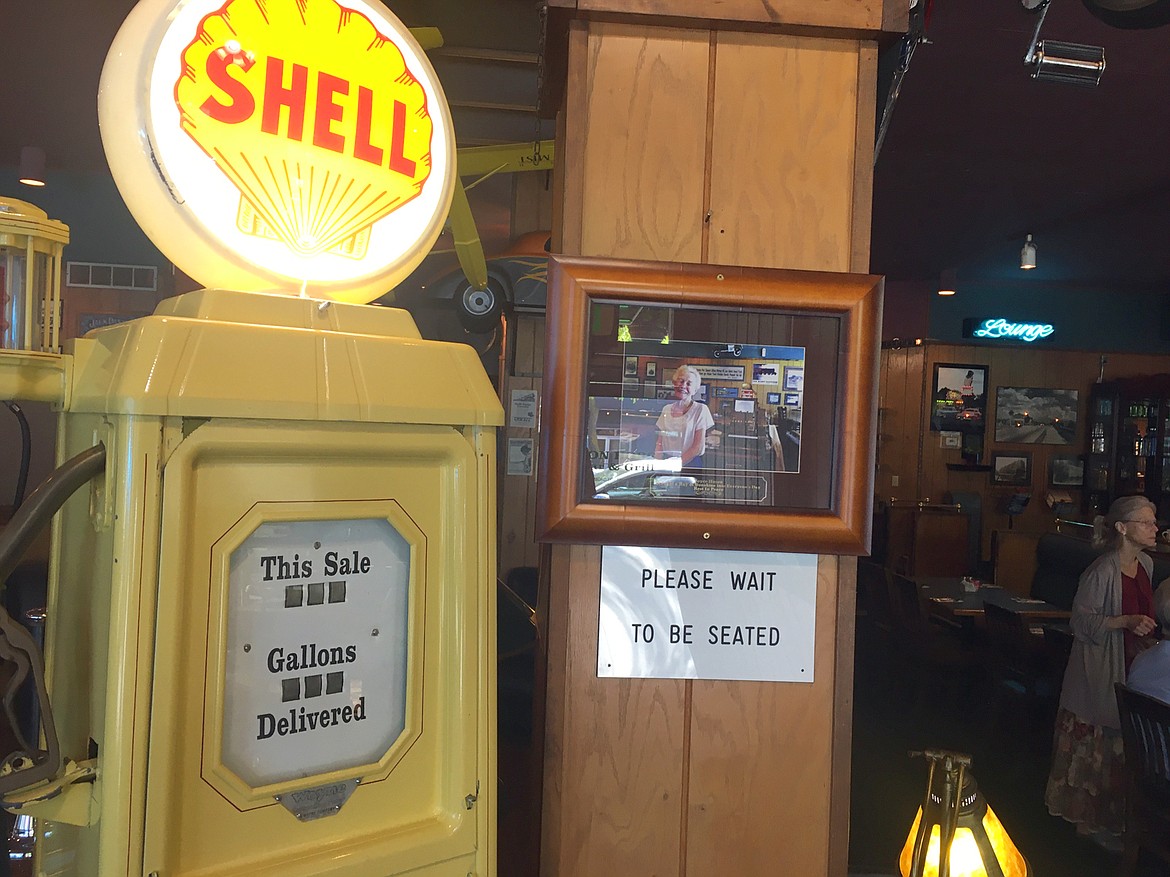 BILL BULEY/Press A decorative Shell gas pump greets guests inside the Iron Horse Bar & Grill.
Previous
Next
by
BILL BULEY
Staff Writer
|
May 30, 2020 1:07 AM
Tom Robb's Iron Horse restaurant marks 48 years at Fourth and Sherman
COEUR d'ALENE — On June 2, 1972, Tom Robb started the Iron Horse Bar & Grill in downtown Coeur d'Alene.
And at 79 years old, he still goes to work every day.
"I told my wife long ago, I'm getting up every morning and coming to work, and I'm not breaking that habit," he said. "And I didn't.
"I came down here, a lot of times I'm just sitting here daydreaming, but at least I was here. I thought that was important," he added.
As he sits in his restaurant at 407 E. Sherman Ave. on a sunny Friday morning, son Mike next to him and wife Mary across the table, Tom Robb says he still has no plans to retire — and never will.
"I'm like Doc Holliday," he continued. "He said, 'I'm going to die with my boots on' and by God, he did. That's the way I feel."
Tuesday marks the 48th anniversary of one of Coeur d'Alene's most iconic and most popular restaurants and bars.
Tom Robb, who speaks carefully, with measured words, downplays the significance of nearly five decades of owning and operating a business.
"I doubt that it's a world record, but it isn't bad for a restaurant," he said.
Mike, more animated than dad, doesn't quite agree.
"It's been my dad for 48 years on Sherman Avenue. I imagine that's a record for the city of Coeur d'Alene," he said.
It may be the longest-running restaurant under the same ownership and same management, he adds.
"I can't prove that, but it doesn't matter," Tom said.
What does matter is that the Iron Horse has a storied history at Fourth and Sherman and remains just as storied today.
Tom Robb recalled coming to Coeur d'Alene in the summer of 1963 to scout out homes. It was hydroplane week, so he couldn't get a room and ended up sleeping in the park.
"I didn't sleep at all," he said, smiling. "It was a party going on in the dark."
But what caught his attention even then was Fourth and Sherman.
"I said, 'That's the place, if you have something, you gotta be there,'" he said. "That seemed to be the heartbeat of Coeur d'Alene."
Nine years later, he opened the Iron Horse where the main dining room remains today.
"I figured out in a quick hurry if we didn't get a liquor license we weren't going to be around long," Tom said.
After some negotiating, he bought the Brunswick Cafe owned by Bill Webster two buildings over and got a liquor license.
The problem — there was a building between them that was home to a bakery, and they struck a deal for that, too.
"Now we've got the three buildings and can serve liquor in any of them," he said.
Which as Tom said, is one of the keys to their success.
The Iron Horse is consistently in the top five in the state for liquor sales and was No. 1 for 12 straight years.
But it's not about the booze.
It's about the people.
"The thing about the restaurant business, particularly the bar business, you build it one person at a time," Tom said.
Tom Robb said Barbara Renner was a business partner in the Iron Horse from 1972 to 1991. She was in charge of the menu, catering and the kitchen.
"She was an important part of the Iron Horse in the early days," he said.
While much has changed, with businesses coming and going and the city expanding and growing, one thing remained:
"The heart of the city is still downtown," Mike Robb said. "There's nowhere else we'd rather be than right here. Downtown Coeur d'Alene has a pretty strong heartbeat. People love to come down here."
And many end up at the Iron Horse for breakfast, lunch or dinner, a beer, or a drink or two.
"A lot of the downtown power brokers met here, at a round table right here," Mike said.
"Oh yeah," Tom added. "We spent a lot of time in here together."
Not that there haven't been challenges.
They recalled that in 1999 the Aryan Nations, a white supremacist group, held a parade in downtown Coeur d'Alene. Businesses were urged to close in a show of protest, and almost all did — but not the Iron Horse.
"We didn't agree with that at all. We're staying right here," Tom Robb said firmly. "We're not going to do that. We're going to go out there and face them."
Which they did.
"The thing that really irritated me the most and really broke my heart, they had little kids marching with them," Tom said, shaking his head.
In their 48 years, the Iron Horse had never closed — open Christmas, even — until the coronavirus.
But when restaurants were allowed to reopen May 16 after a six-week shutdown, the Iron Horse was crowded — much to the relief of the Robbs, who wondered if customers would return.
"The coronavirus is not scaring people off," Mike said. "No doubt about it. Seems like we're back to the norm."
Some said the Iron Horse looked to be a bit too packed, with people not exactly following social distancing.
Tom Robb didn't disagree.
"It's true we pushed the envelope a little bit at that," he said, adding, they are now working hard to adhere to state guidelines.
The worries of wondering if business will recover, if sales will be enough to cover bills, Tom Robb said, "sometimes it forces you to take a chance."
Aaron Robb has run the daily operations in Coeur d'Alene about 25 years, while Mike has operated the Spokane site for about 23 years — with their dad's guidance. Mom Mary manages the books.
Mike Robb got into a bit of hot water recently when he opened the Iron Horse in Spokane for two days — when restaurants and bars were supposed to be closed, per the state to prevent the spread of the virus.
"Another place had already opened a couple days and nothing happened," he said. "I don't want anybody getting the advantage on me."
But under pressure, Mike Robb relented and closed again.
He doesn't regret it.
"It was a two-day party that was phenomenal," he said. "People were so happy, it was so fun. In the end, they shut us down. There was no fine, no nothing. It's something I'll never forget."
Still, looking back, he laughed and said, "I can't believe I did it now."
It's those kind of decisions — perhaps risky, on the edge, but necessary — that Tom said has helped them survive not only the virus, but four recessions.
"We're pretty persistent here. Like in this pandemic thing, we told our employees, 'You don't have to worry about your job when this is all through, we'll be open,'" Tom said. "And we kept all of our employees."
"You've gotta be a tough son of a bitch to do this business," Mike added. "If you're thin-skinned, you're not going to make it." The Robbs are proud that many employees — about 30 year-round and 50 in the summer — have been with them for more than two decades.
To prove his point, he calls over a server.
"Hey, May, how long have you worked here?"
"In June, it will be 19 years," she said.
The Robbs have high praise for their servers, bartenders and kitchen crew, calling them among the very best. And Tom credits employees for coming up with a house drink, a signature drink, when he asked them to do just that years ago.
The Derailer — 48 ounces with three kinds of rum — has since become synonymous with the Iron Horse. It's actually trademarked.
"That thing took off like you won't believe," Tom said.
"I would venture to say that's the most iconic drink in Inland Empire history," Mike added.
They describe the Iron Horse, with a separate dining room and bar, as "old school." Signs, pictures, newspaper articles and even decorative gas pumps of decades past fill the walls and the dark interior. The booths are warm and cozy.
"I tell people we're not a brass-and-chrome place. We really like tradition," Tom said.
In a high-tech world of electronic ordering and point-of-sale systems, the Iron Horse still relies on old-fashioned basics — good food, drinks, service, prices and perhaps most important, friendships.
"In our business, the core things haven't changed," Tom said. "It's about people being comfortable, people liking to come to your place."
Mike nods in agreement.
"You cannot duplicate people coming together in a place, have some food, have a drink, socialize," he said. "You can't do it. That's why bars will always be around."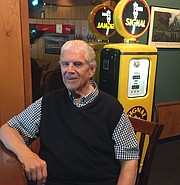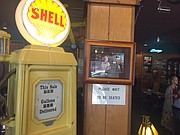 Recent Headlines
---