THE FRONT ROW WITH JASON ELLIOTT: Missed it, but worth the replays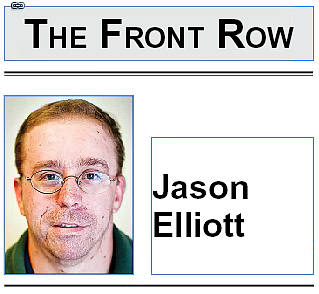 So, do I miss live sports yet?
Yes.
No doubt about that.
But if I've got to live with some of the memories that the re-air of classic games have brought back. I can handle that for a while longer.
IN THE week after the coronavirus pandemic wiped out the NCAA basketball tournaments in March, somebody had the genius idea of showing some of the classic championship games, as well as regional finals to fill time as fans were stuck in the house.
Some championship games had my attention a little more than others.
Thankfully, the powers that be seemed to forget about that UNLV-Duke semifinal game in 1991, when the Blue Devils took down the Runnin' Rebels before beating Kansas for a national title.
As a kid, I loved watching those UNLV teams with Larry Johnson, Greg Anthony, Anderson Hunt and Stacey Augmon fly around the court and dunk on everyone. That 1990 title game might have been the first one that I watched from start to finish to be honest.
Some 30 years later, I still haven't forgiven Duke for ruining my childhood.
While I'm thinking about it, did anyone catch that Gonzaga-North Carolina title game from 2017?
That might have been a good one to see again for some fans of both teams out west.
Since there is no Mariners baseball currently, Root Sports has deferred to showing classic games, with everything from the 1995 American League Division Series to the team's playoff runs in 2000 and 2001.
As a junior in high school in 1995, those games in Seattle were some of the best in franchise history. Watching Ken Griffey, Jr., score from first base on Edgar Martinez's double, I don't know how that ever will get old. The crowds seemed a lot more into games as well, with everyone on their feet the entire night.
Every once in a while, they'll throw in Felix Hernandez's perfect game, Hernandez's final start for the team, and other random highlights from the 2019 season.
The best part of those Mariner classic games are the guys calling the games — either Dave Niehaus, Ron Fairly, Dave Henderson or Rick Rizzs. Mariner games just seem a lot more important with the sound of their voices, don't they?
THE MEMORABLE games for the Seattle Seahawks have happened a lot more frequently in recent years, with a real buffet of games in recent days.
Wednesday night — on what NFL Network dubbed Rivalry Night — fans were treated to both games against San Francisco in 2019.
It was also great to see that 'Fail Mary' game once again a few weeks ago against the Green Bay Packers from 2012, although some friends might have mentioned that watching that game could be hazardous for my health.
That 2004 NFC Wild Card game, however, still gives me nightmares.
In that game, Seattle and Green Bay went to overtime tied 27-27.
What resulted, well, was pretty memorable.
When the Seahawks won the coin toss, a on-field microphone picked up Seattle quarterback Matt Hasselbeck telling the referee that "we want the ball, and we're going to score."
Well, the Packers did fairly quickly, on a 52-yard interception return by Al Harris.
Watching a playoff loss, that's one thing.
Having my desk at work decorated with the front page of a Wisconsin newspaper, well, that's a different story.
FOR SOME, the night of May 29, 1997 might be memorable for the 3-pointer that John Stockton hit to send the Utah Jazz to the NBA Finals for the first time in franchise history.
It took me a couple of days to see that shot, but for a good reason.
On that particular night, a Thursday, instead of seeing that game, I was participating in a graduation celebration — my class — in Wallace. Once the gathering ended, instead of going straight home, I met up with a few friends at a local restaurant for dinner, caps and gowns included.
Maybe I'll get around to watching that game sooner or later.
If not, it can wait another 23 years.
Jason Elliott is a sports writer for The Press. You can reach him by email at jelliott@cdapress.com. Follow him on Twitter @JECdAPress.
Recent Headlines
---