Commencement caravan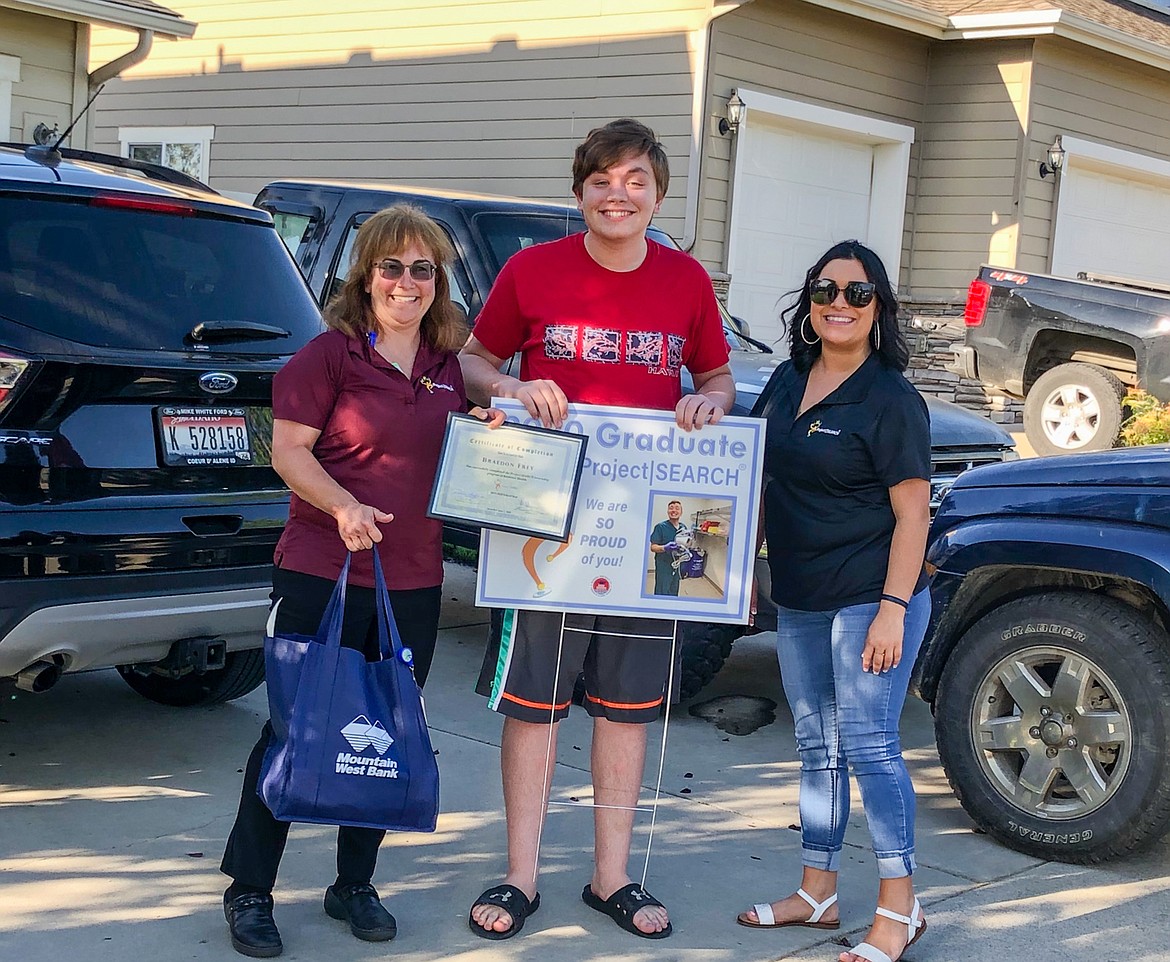 Project SEARCH graduate Braedon Frey beams a smile Wednesday evening as he receives his certificate and congratulations from instructor Theresa Moran, left, and job coach Veronica Biaggi.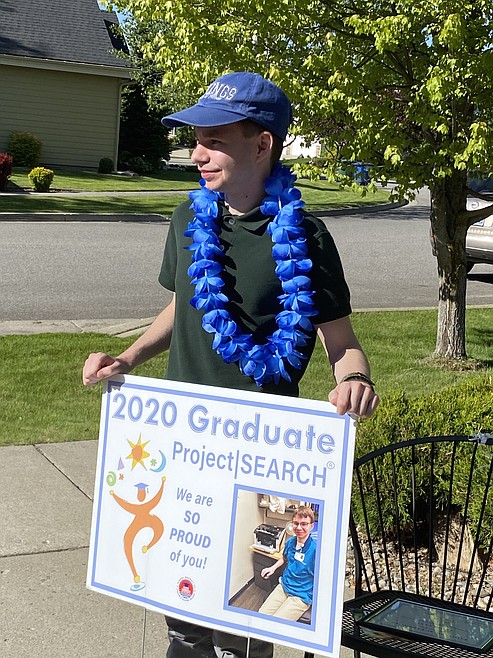 In a celebration lei, Project SEARCH graduate James Sane holds a sign sharing his accomplishments after completing the program during a surprise drive-by graduation celebration Wednesday evening.
Courtesy photos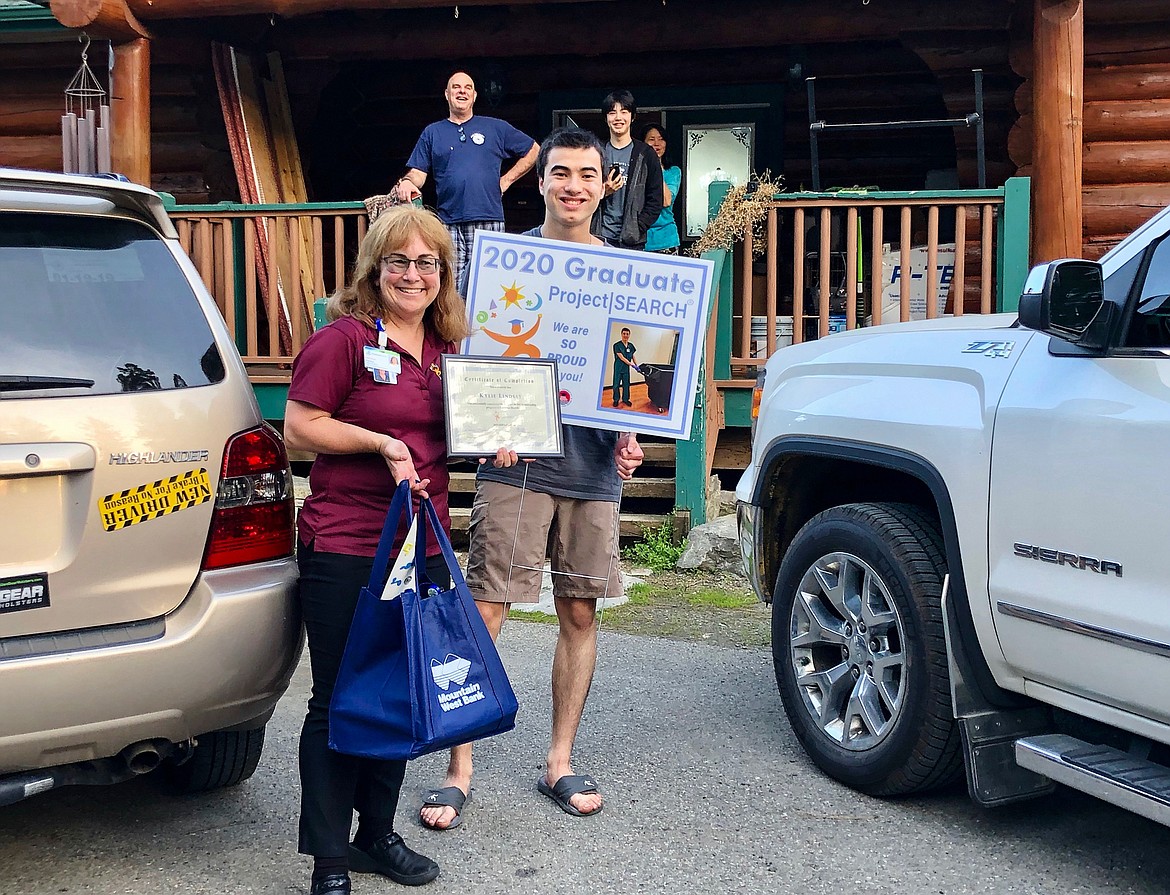 Graduate Kylie Lindsay receives his certificate of completion and a special yard sign from Project SEARCH instructor Theresa Moran on Wednesday evening. (Courtesy photo)
Previous
Next
by
DEVIN WEEKS
Staff Writer
|
May 30, 2020 1:00 AM
Interns graduate from Project SEARCH, celebrate during surprise parade
Their first and second rotations went just fine, then the COVID-19 pandemic tipped the world upside down for the interns of Project SEARCH.
Program intern James Sane calls it the "COVID rotation."
"It was a lot different than learning in the traditional environment," Sane said Friday via video chat. "We learned how to maintain a schedule and how to make our own schedule."
Adaptability and improvisation were mandatory for the nine Project SEARCH interns, who were just wrapping up the second rotation of their internships.
"It was totally a different situation," said Project SEARCH instructor Theresa Moran. "We, just like everybody else in the area, learned we were going to remote learning on Saturday the 14th and we had to figure out what we were doing on March 16. It felt a lot like the rug being pulled out from underneath us."
Project SEARCH, a program that provides hands-on training for young adults with intellectual and developmental disabilities, normally gives these interns opportunities to gain work experience in a number of areas at Kootenai Health, from information technology to patient transport. But during the "COVID rotation" they had to do their work online.
"There was so much that was missed," Moran said. "On the positive side, I feel like our students learned so much about how to communicate virtually. I feel like they might have adapted faster than I did."
A graduation celebration is usually held this time of year. However, because of the safety restrictions, Moran and her Project SEARCH support team decided to bring a surprise celebration to the graduates. On Wednesday, a parade of decorated vehicles stopped by each graduate's house to bring them a certificate and a yard sign.
"When we were told about it, it was a huge surprise," Sane said with a grin. "I enjoyed it."
"It was great to see the faces of our graduating interns as the parade approached their homes," Moran said.
Three of this year's interns are already employed in the community at Kootenai Health in housekeeping, the Kootenai Humane Society Thrift Store as a cashier and at Cosmic Cowboy Grill as a sign spinner/marketing position.
Sane worked in business services and information management at Kootenai Health during his internship, and he job shadowed at Mountain West Bank and Shabby Fabrics. He's not sure exactly where his work life will lead him, but he's ready for the next step now that he's gone through Project SEARCH.
"I'm going to remember most how Theresa and our job coaches and all the people that helped us, how they helped us learn job skills," he said. "It was also quite an experience with COVID-19, also making good friends, too."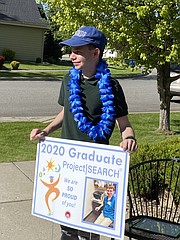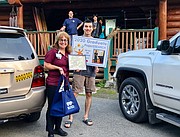 Recent Headlines
---