Ayiana Sapp Lakeland High co-valedictorian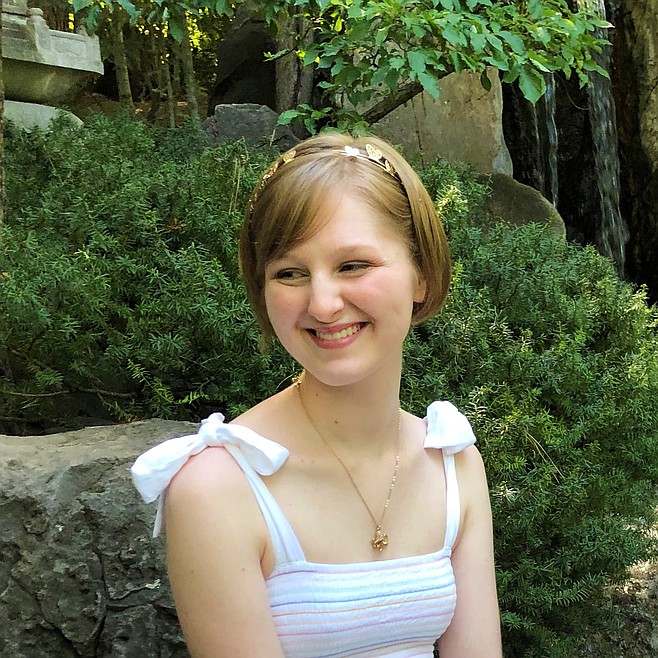 I'm 17 years old and I've lived in Rathdrum for many years, going from their elementary school (John Brown), to the middle school (LJHS), and, finally, to the high school. I'm short but strong-willed, and I am very organized and meticulous.
Activities/clubs/sports: I have participated in the Math Club and Book Club at my school for the past few years, and while I don't participate in any school sports, I've recently picked up archery and mountain biking outside of school.
Hobbies: My hobbies include knitting, embroidering, swimming, drawing/painting, reading and organizing.
Favorite books/movies/music: My favorite book is "And Then There Were None" by Agatha Christie. My favorite movie is "Alice in Wonderland" (2010) and my favorite band is Fall Out Boy.
Favorite school subject: My favorite subject in school is biology, specifically genetics.
Senior quote: "Intelligence is the ability to adapt to change," by Stephen Hawking.
What has been your proudest moment in your school career? Becoming valedictorian for my graduating class.
What has been the biggest challenge you overcame to become top of your class? The desire to give up and to stop persevering even though nobody would blame me if I did.
What is one of your favorite school memories, from K-12? One of my favorite school memories was working as a volunteer with my friends during my senior year for my elementary school's annual Dr. Seuss celebration.
What are your plans for after high school? I plan on going to Washington State University in Pullman and pursuing a masters or, hopefully, a doctorate degree in bioengineering.
Who has been your biggest influence or your biggest cheerleader through your academic journey? My parents, who have supported me and encouraged me since the beginning to think big.
What will you miss most about high school? I will miss my teachers and my friends the most after leaving high school.
What advice do you have for younger students that will help them excel in their studies? Learn how to manage your time effectively through agendas, monthly planners or other organizational tools because writing my schedule down has really helped me.
What is your legacy to your school? My legacy to my school will be my memory in the teachers I've made an impact on and the people I've touched.
Any lasting thoughts? Be kind and be open to new thoughts and new ideas because the world will change with or without you.
— Compiled by Devin Weeks
Recent Headlines
---