THE CHEAP SEATS with STEVE CAMERON: Sports are like salads — stick with what's good for you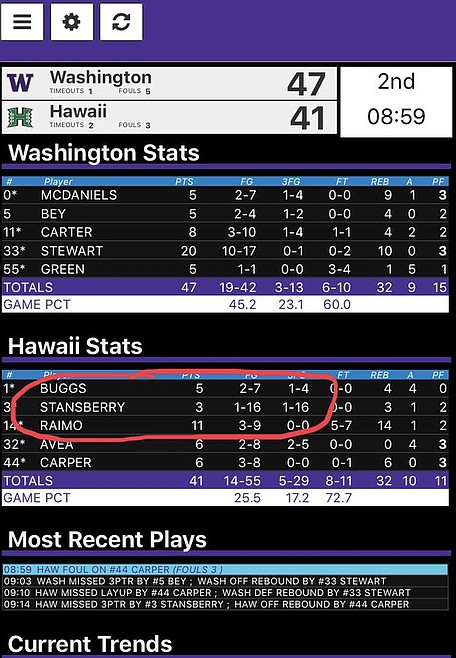 Salads.
And Eddie Stansberry's jump shot.
Now, you may be wondering where I'm going with that slightly odd start to today's discussion.
OK, the personal bit first…
I've been a thin guy all my life, even a marathon runner — but because I've had back problems recently and haven't been able to exercise, I've gained just a little bit of weight.
I seriously hate that, so until my back is repaired, I decided to eat salads for dinner every night.
Yeah, I've lost a couple of pounds, but not fast enough nor dramatic enough that I'd call this diet a success.
So, should I stop eating salads?
No.
I need to adjust and change what I'm putting ON the salads — like, no more drowning them in ranch dressing, and maybe go a little easier on all that bacon and beef on top.
See, the salads haven't been the issue. It's how I've doctored them to pretend I'm eating something else.
Thus, a simple adjustment will work.
NOW THAT brings us to Eddie Stansberry.
I'm not even sure where or how I found a partial box score from last season's basketball game between Washington and Hawaii.
At the time that box was sent, the Huskies were up 47-41 with 8:59 left in the second half.
Washington would go on to win 72-61, but that's not the point.
In that partial box, you would instantly spot that Stansberry had tossed up 16 shots from 3-point range, and made exactly one of them.
You look at that and think: Why is this guy jacking up useless 3-balls?
Well, it turns out Eddie has been a reliable 3-point shooter in his two years at Hawaii — 36 percent each season, and that's an honest stat because he took a school-record 249 attempts from behind the arc last year.
Most basketball coaches would look at that situation in the UW game, sigh, and then say: "A shooter's got to shoot."
My pal Jimmy Collins, who was head coach at Illinois-Chicago after a playing career at New Mexico State and then with the Chicago Bulls, was a shameless shooter.
It's how he earned a college scholarship, and then made a living for a time in the NBA.
"If I missed 10 in a row," Jimmy said, "that didn't mean I was in a slump.
"It meant that No. 11 HAD to go down. I was too good to miss again."
No doubt Stansberry thought exactly the same thing when he squared up to take his 17th 3-point try against Washington.
IN SPORTS, just like in life for ordinary folk, you don't quit on something that's been proven to work.
Yep, even salads.
But more crucially…
If Mariano Rivera's famous cutter just wasn't moving one night, the Hall of Fame closer darn sure wouldn't have started throwing all fastballs.
No, he'd adjust the feel or his tempo or SOMETHING to make that cutter behave.
Kansas City Chiefs boss Andy Reid didn't decide to start running the ball on every play in the Super Bowl, simply because all-world QB Patrick Mahomes was slightly off rhythm and had thrown two interceptions.
Hell, no.
You stick with your star, because he WILL get locked in.
Obviously, Mahomes was on target in the fourth quarter, when the Chiefs roared back to win 31-20 over San Francisco.
It was former Texas football coach Darrell Royal who once explained the mindset we're talking about here.
Royal stole one line from a song by Asleep at the Wheel, and famously said: "Dance with who brung ya."
And so…
If Eddie Stansberry had any eligibility left at Hawaii, you bet he'd still be firing up a bushel of 3-balls.
Me?
I'll have to adjust, and only eat salads that appeal to rabbits.
As sure a bet as Mahomes unloading on a deep post pattern…
All greens makes it a cinch.
Email: scameron@cdapress.com
Steve Cameron's "Cheap Seats" columns appear in The Press on Mondays, Wednesdays and Fridays. "Moments, Memories and Madness," his reminiscences from several decades as a sports journalist, runs each Sunday.
Steve also writes Zags Tracker, a commentary on Gonzaga basketball, once per month during the offseason.
Recent Headlines
---