Parting is such sweet sorrow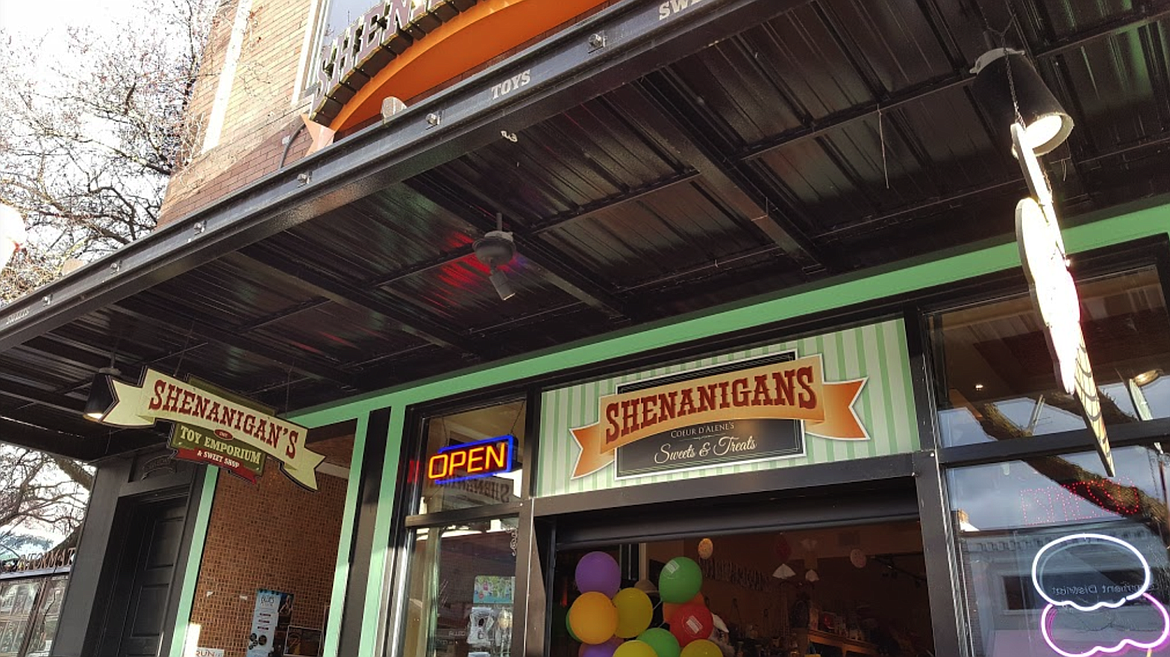 Shenanigans/Coeur d'Alenes Sweets and Treats announced Thursday that it will permanently close by June 15. The Sherman Avenue sweets shop has been downtown for nine years and has three times been voted best candy/chocolate store by voters in the Business Journal of North Idaho's "Best" of competition.
Image via Google
by
DEVIN WEEKS
Staff Writer
|
May 29, 2020 1:11 AM
Shenanigans closing in wake of pandemic, Bear Paw Cookies to move in starting mid-June
COEUR d'ALENE — The sweetest-smelling place on Sherman Avenue is shutting its doors.
Another casualty of the COVID-19 pandemic and economic collapse, Shenanigans/Coeur d'Alenes Sweets and Treats will permanently close by June 15.
"It's definitely a last-minute decision and with the circumstances we have to make the best business decision," owner Diane Cina said during a phone interview Thursday. "This is it."
The sweets shop, known for its ice cream window, friendly service and brilliant rainbow of decadent delights, has been a downtown staple for nine years. It was voted "best chocolate/candy store" three consecutive years in the Business Journal of North Idaho's "Best" of competition.
"The public, the people that came into the store, the people that supported us, the activities. It's definitely going to be missed," said Cina, who lives in Oregon.
Shenanigans will sell all of its inventory at extremely discounted prices, as well as most of its equipment and displays. With only a couple of weeks to liquidate everything, the hopes are to clear the store's shelves by the closing date.
Buy one, get one offers as well as 50% off most inventory will begin Monday, Cina said. All candy, puzzles, games, mugs, lunch boxes, plush toys — everything needs to be out of the shop by June 15.
"We know someone out there will be interested in our large iconic Shenanigans channel lite sign that hangs on the second floor of the building over Sherman Avenue," Cina included in the announcement. "Each letter is separate and also available for purchase. Our roll up window will continue to serve ice cream, crepes, lattes and more, while inventory is being sold."
The new tenant will be Bear Paw Cookies, which offers handmade, fresh-baked, gourmet cookies in a wide variety of flavors. Owned by Ed and Lois Phillips, Bear Paw will open a second location, in addition to its Riverstone location, in the old Shenanigans building immediately after Shenanigans closes. Ed Phillips said they hope to have a soft opening on the Fourth of July.
"We're very excited, absolutely," he said. "What we're bringing to the community is presently not available, so we're very much looking forward to opening the doors again."
Bear Paw will continue the tradition of ice cream as well as sweet and savory crepes and a full espresso bar, so that sweet ice cream aroma won't be going anywhere, it will just be enhanced with the scent of baking cookies.
"I know they're a well-known established business," Phillips said of Shenanigans. "I was just down there and there was a huge line of people getting ice cream from them.
"Gosh, we wish them the best of luck."
Recent Headlines
---