Movie theaters included in stage three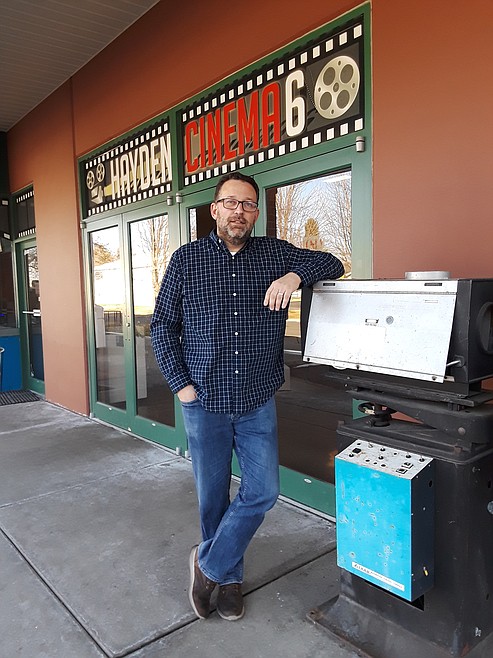 Mike Lehosit, manager of the Hayden Discount Cinema, said he felt immense gratitude toward the community that supported the discount theater during Gov. Brad Little's stay-home orders that kept his indoor screens closed for two months. Lehosit said he would open Hayden Discount Cinema Saturday, when Little's stage three begins.
CRAIG NORTHRUP/PRESS file photo
by
CRAIG NORTHRUP
Staff Writer
|
May 29, 2020 1:13 AM
Gov. Brad Little announced Thursday that Idaho will move forward with its phased re-opening amid the coronavirus pandemic, continuing with a stage three that begins Saturday.
"Today, I am pleased to announce we have met the criteria to enter stage three of our Idaho Rebounds plan to safely and responsibly open our economy," he said.
Saturday's stage three will open bars and tourism while expanding gatherings to up to 50 people. The move will also no longer discourage vulnerable Idahoans — the elderly and residents with pre-existing health conditions — from venturing out into the world. Little urged, however, that the danger to vulnerable Idahoans is still high.
"Unlike the flu and related illnesses, there are still no therapeutics or vaccines for coronavirus, and we are far from achieving herd immunity," he said. "The highly contagious coronavirus could cause serious complications in one third of Idahoans considered at-risk if they contract it."
Once bars open, they will operate under different state-driven and CDC-inspired protocols. Live entertainment that generates congregations around stages that violate social distancing will be prohibited. Recorded music will often be played at lower decibel levels in an effort to discourage leaning in and shouting. Bars — as well as breweries, wineries and distilleries — will see a cut in capacity, and ordering drinks from the bar counter will often be prohibited.
Stage three eliminates two key restrictions: Out-of-state visitors self-quarantining for two weeks immediately upon entering Idaho, and non-essential travel. These liftings essentially allow for the normal-ish return of tourism.
In a surprise move, Little also expedited the opening of movie theaters under certain protocols. Regal Riverstone did not reply to a request for comment, but Mike Lehosit of Hayden Discount Cinema said his theater would open come Saturday.
"We are excited to get back to somewhat normality," Lehosit said. "However, there will be some changes with 50 percent capacity [in our theaters] and maintaining social distancing. We're going to have fewer shows, too: four per day per theater, as opposed to five. But we're also going to keep going with the drive-in theater."
Lehosit said he has no plans of raising rates to compensate for the financial losses his theater has incurred.
"I think the community has been so supportive of us through the drive-in and drive-up popcorn," he said. "I'm not going to raise our rates anytime soon."
Little said the decision to open movie theaters had as much to do with industry collaboration to create workable protocols as the positive trend of coronavirus cases he's seen.
"We wanted to give everybody some predictability, so people could plan on calling their employees, they could plan on purchasing supplies," Little said. "... The industry came together and said, 'We would work under these protocols.' We looked at those protocols, and they met all the gaining criteria for minimizing those transmissible moments. It was really an issue of, we had some [flexibility] in what we could do."
Dr. Christine Hahn, state epidemiologist, said that despite a recent outbreak in a Jerome food plant, she's encouraged by the state's low rate of new coronavirus cases, particularly the decline among Idaho's health care workers, a sign that indicates the state of the health care system's relationship with COVID-19.
"What we're trying to get a picture here is, How are the hospitals doing?" she said. "Are they under stress and strain? Are they full of patients? If that was happening, we would not want to progress with opening up more and more, because we would worry about hospitals getting overwhelmed."
Hahn said the state's health care capacity is comfortably under the maximum abilities, the line of demarcation that has driven the movement to "flatten the curve."
Another telling number is the patients who arrive at Idaho's emergency departments presenting with COVID-like symptoms: Only five arrived in the state's emergency rooms on Tuesday with symptoms like fevers and respiratory distress, and only two of those were admitted.
Little said he and his staff will continue to monitor Idaho's infection rate, and if he has to consider future changes, he'll do so regionally, rather than statewide.
"We're going to go through stage four, but then if we start having some of those [numbers]...change, I anticipate, in consultation with our coronavirus working group and other people, that our reaction will be more regional."
Recent Headlines
---