THE FRONT ROW with MARK NELKE: Re-energized, Cronnelly back as AD at Timberlake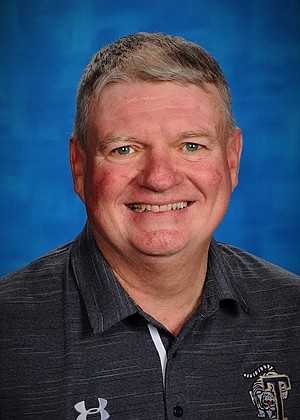 Apparently, Tim Cronnelly caught his breath.
And, he still kept some of his old Timberlake High gear.
Good thing.
Cronnelly was athletic director at Timberlake for 12 years (2005-16) before serving as Lakeland's AD for two years. He returned to Timberlake two years ago as a full-time teacher.
And this fall, he'll be back in his old role as Tigers AD.
"For 27 years, I was either an athletic director or coaching three sports, and I just had to catch my breath a little bit," said Cronnelly, 56. "And I really had no intention of going back and doing it again. But I kinda caught my breath, and kinda got re-energized again."
CRONNELLY WAS a three-sport athlete at Butte Central High, then went on to study at Montana State.
His first teaching job out of college was at Baker, in eastern Montana.
Then he got married, and he and Julie moved to Portland, where he worked in retail and also substitute taught — trying to figure out where his career was headed.
His career headed to Horseshoe Bend, some 27 miles north of Boise, where he coached three sports for eight years.
Then it was up to Cascade, for five years as a three-sport coach.
He was an assistant football coach his first year at Timberlake, then took over as AD.
"I got that job outside Boise, and been working my way up the Panhandle ever since," Cronnelly said.
Cronnelly said he enjoyed his two years at Lakeland, where he was full-time AD. But he missed teaching, and a job opened up at Timberlake.
As it turned out, it was because the man who replaced Cronnelly in the classroom at Timberlake chose to leave the teaching profession.
"So I just went back and picked up his classroom teaching slot," Cronnelly said.
He was only teaching two periods a day at Timberlake before, when he was also AD, but the man who replaced him had a full teaching schedule — mainly, economics and government.
"So I just filled in his slot. Same classroom; a lot of my stuff was still there when I came back," Cronnelly said with a laugh.
FOR A couple years, Cronnelly enjoyed being "just" a teacher.
"It was weird to get out of school at 3:05, and get home by 3:30," he said.
If he wanted to go catch another team's game, wherever it was, he could.
Last year, Cronnelly went to his first Montana-Montana State football game since 1984, when he was a student in Bozeman.
He enjoyed being able to do that — especially because his Bobcats beat the Grizzlies, capturing the "Brawl of the Wild" for the fourth straight year.
As AD again, Cronnelly will take over for his good friend, Jim Simpson, who replaced him as AD four years ago, and is retiring at the end of the school year.
Cronnelly coached against Simpson in southern Idaho, then coached with him at Cascade, then was part of Simpson coming to Timberlake in 2007, for what would be a four-year stint as boys basketball coach.
In turning the AD job back over to his friend, Simpson, of course, couldn't resist one last twist of the needle on the way out.
"I got everything fixed, put back together, and felt he could probably handle it again," Simpson said, tongue firmly planted in cheek.
ALL THREE of Tim and Julie Cronnelly's kids were athletes at Timberlake.
Brian went on to play football at Dickinson State, and is now an accountant in Spokane.
Bob competed in track and field at Lewis-Clark State, and just landed a teaching job in Oregon.
Colleen, a three-sport athlete at Timberlake, is a senior at Seattle U.
Having his own children be athletes at the school where he is AD, he said, gave him a little different view of things.
"That's a good perspective, as an athletic director, to have your kids play sports, and be done with it and look back on those times, and appreciate them," he said. "And I think parents sometimes forget that — what a good time it is, and it's about the kids, and sometimes parents certainly miss it when it's done. It's a good time for families when you're fortunate to have kids that can do all that stuff."
Not much has changed on the coaching staff at Timberlake since Cronnelly left four years ago.
He has had to replenish much of his school-logoed clothing supply, after giving away much of it before leaving for Lakeland.
"I don't have quite as much as I did before, but I have enough to make it through the week," Cronnelly said with a laugh.
Mark Nelke is sports editor of The Press. He can be reached via email at mnelke@cdapress.com. Follow him on Twitter@CdAPressSports.
Recent Headlines
---