Silverwood Theme Park gears up for season opener Saturday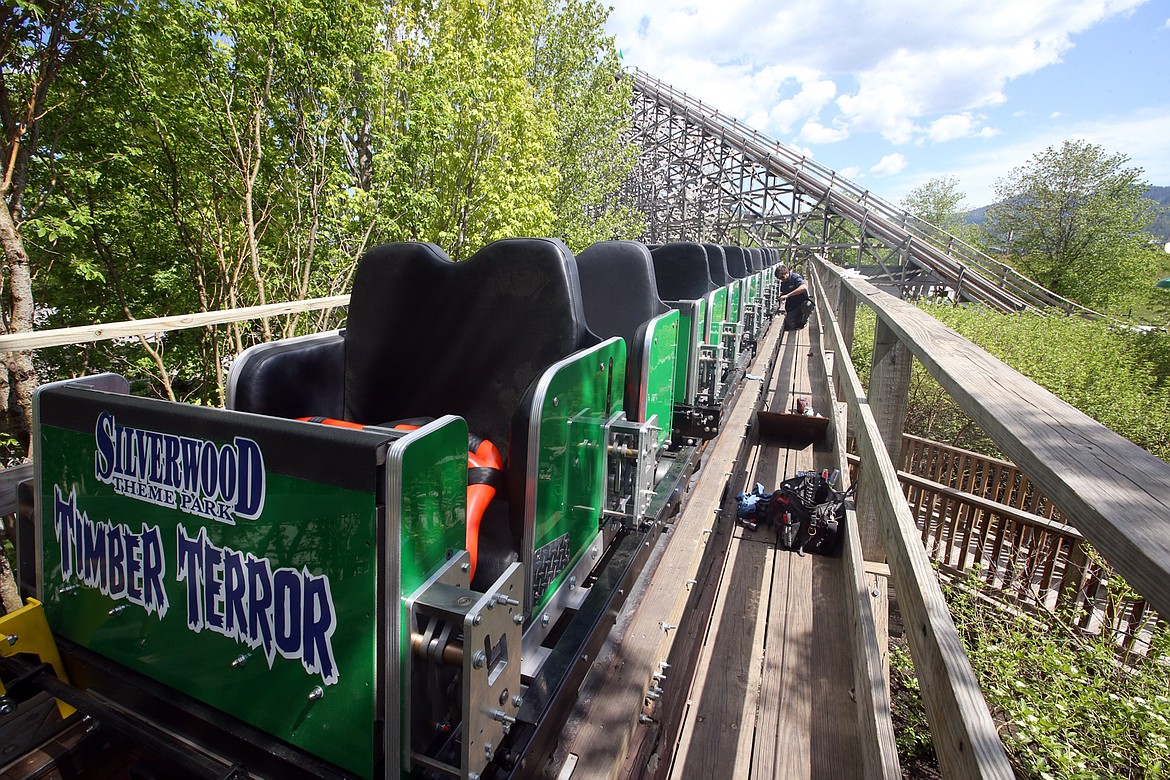 Slader Gray works on the Timber Terror roller coaster at Silverwood Theme Park on Wednesday.
BILL BULEY/Press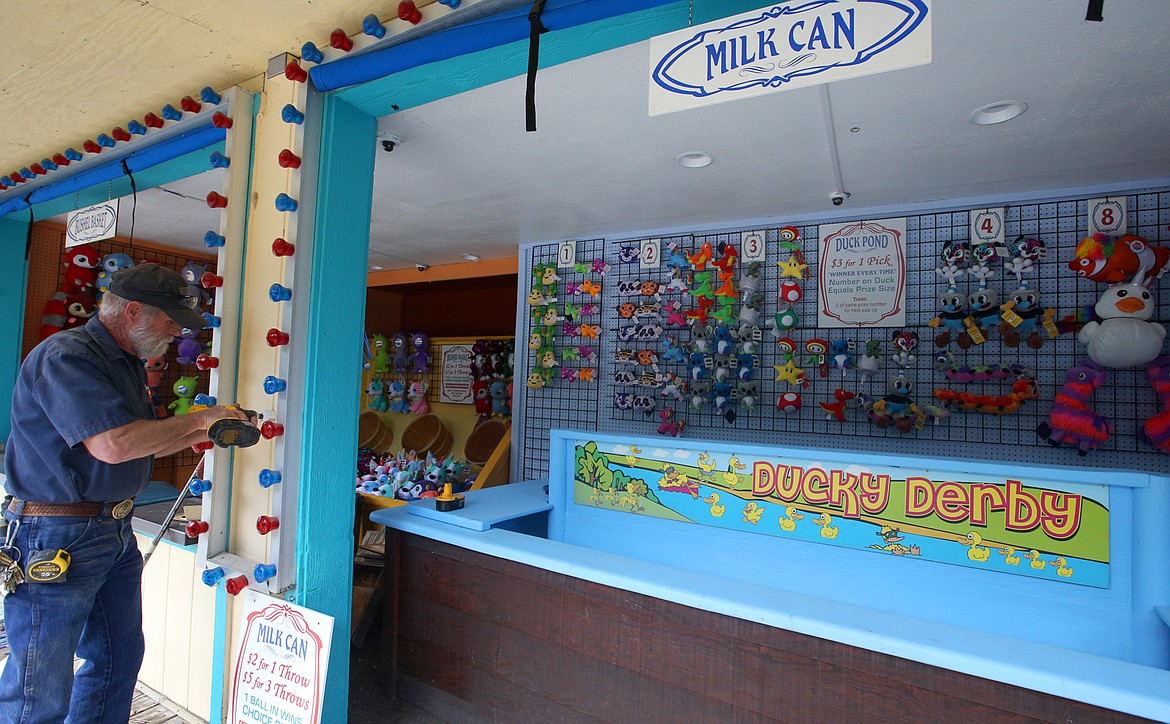 BILL BULEY/Press Mike Stuart works on one of the games at Silverwood Theme Park on Wednesday.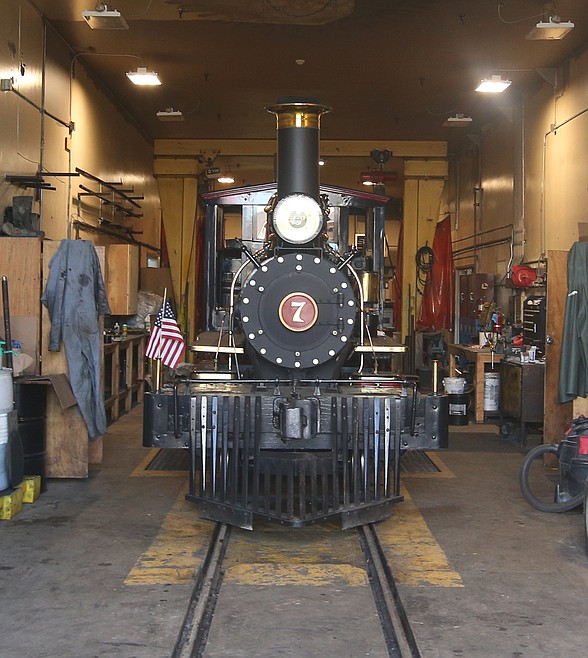 BILL BULEY/Press Historic Engine No. 7 stands ready to ride at Silverwood Theme Park on Wednesday.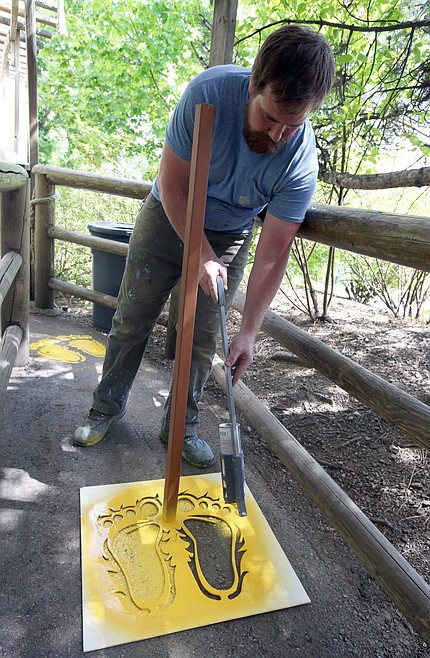 BILL BULEY/Press Douglas Doyle spray paints sasquatch tracks for social distancing guides at Silverwood Theme Park on Wednesday.
Previous
Next
by
BILL BULEY
Staff Writer
|
May 28, 2020 1:12 AM
Silverwood Theme Park gears up for season opener Saturday
ATHOL — For 14 years, Zane Sturgill has helped prepare Silverwood Theme Park for its opening day.
Wednesday, he was working on new restraints for the roller coaster, Timber Terror.
"It's a hefty upgrade, but once we get them all dialed in, these are the way to go," he said.
Sturgill said gearing up for the first day of the season is "always a little stressful.
"But it's always worth it when the people start coming in and you see their smiles," he said as he stood next to the coaster cars on the track. "Seeing people having a good time, having fun with their family, that's why we do what we do."
Silverwood Theme Park and Boulder Beach will both open Saturday when sunny skies and temperatures in the high-80s are expected to attract a big crowd.
Crews were busy Wednesday painting, gardening, repairing, adjusting and making final preparations for the season expected to draw hundreds of thousands, particularly from this region.
"We're already into it," said Jordan Carter, Silverwood marketing director, as he walked through the park. "Usually we get a little more of a warm-up, but we're excited."
While there will be the usual rides, games, food booths and entertainment, visitors will see some changes due to safeguarding against the coronavirus.
"Safety is our No. 1 priority, and that is why we have developed extensive social distancing and cleaning protocols to reduce the risks to guests and employees as much as possible during their time at the park," wrote Gary Norton, Silverwood owner.
Norton wrote that determining whether or not to open the park was a difficult task.
"We're continually monitoring the balance between public safety with the desire to keep our economy alive," he wrote. "This balance needs to be re-evaluated on an ongoing basis."
The park is expecting big sales today in advance of Saturday's 11 a.m. opening.
Carter said one of the biggest differences will be the restrictive capacity, as the park has moved to an online reservation system to better control the number of people allowed inside.
Silverwood has also gone cashless, meaning debit and credit cards will be necessary, and it will also offer a reloadable cash card.
There will be plexiglass dividers in some lines and food venues, while yellow sasquatch feet are marked 6 feet part to help with social distancing.
Queue lines have been reconfigured to make sure people aren't standing right next to each other, Carter said, and Silverwood staff will direct the loading of rides to ensure spacing.
Rides will be wiped down between cycles, too, and hand sanitizer stations will be installed throughout the park.
Complimentary masks will be offered to guests. They are not required for visitors, but employees will be wearing them.
Some rides, like Thunder Canyon where visitors ride a raft, will be limited to single families, rather than mixing groups.
Silverwood is not a mass gathering, Carter said, but many family groups enjoying the park.
"We took a thoughtful approach to make sure we're doing everything we can," he said.
He added that "It's up to the guests to follow the guidelines and standards we set in place."
Boulder Beach, the water park, was scheduled to be open Saturday and Sunday.
Water park chlorine and ph levels will be constantly inspected to ensure guest safety.
Starting June 6, Silverwood will be open daily. At its peak, it employs about 1,300 and in years past, has attracted more than 650,000 annual visitors.
Sturgill said when they do their final inspections around the park, he knows his family could be using the rides and attractions.
"So that's the way all of our mindsets are, our friends, our families, our guests, we all want them to be safe and have fun," he said.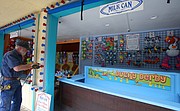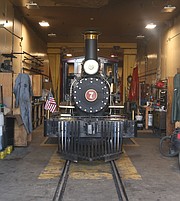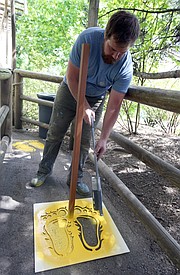 Recent Headlines
---