LEGION BASEBALL: Changes continue, but first pitch coming ... Coeur d'Alene, Prairie moving on with AA season in midst of pandemic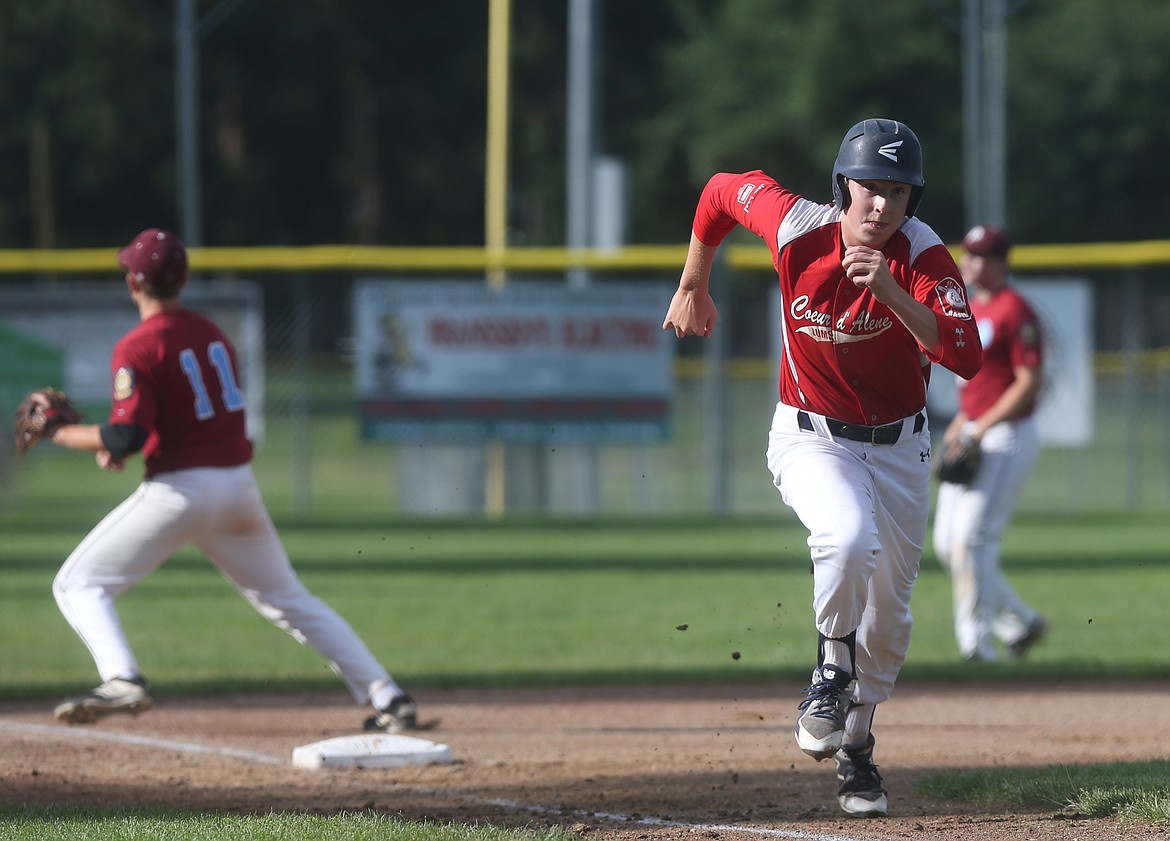 Coeur d'Alene Lumberman Breyson Coppess tags from third base and races home in a 2019 American Legion game against the Prairie Cardinals at Thorco Field in Coeur d'Alene.
LOREN BENOIT/Press file
by
JASON ELLIOTT
Sports Writer
|
May 28, 2020 1:15 AM
The changes continue to come rolling in for area American Legion baseball programs.
Yes, a season will be played at some point this summer, with games scheduled to begin this Sunday afternoon at Thorco Field in Coeur d'Alene.
Gone — for this year at least — are the Area (district) tournaments at the Class AA and Single-A level.
The AA tournament, previously scheduled for Harris Field in Lewiston, was canceled after Lewis-Clark opted May 20 to end its season. Northern Lakes, which advanced to the district championship game after upsetting Lewis-Clark in a loser-out game, will not field a AA team this year and will instead play at the Single-A level.
Coeur d'Alene is scheduled to open the season on Sunday at noon with a single game against the Spokane Crew at Thorco Field. The Lumbermen will then play Northwest Premier at 5 in a single game.
The state is expected to move into Phase 3 of Governor Brad Little's plan for reopening on Saturday, which allows for gatherings for up to 50 people. Though the national American Legion baseball association canceled its support of all Legion baseball this summer, Idaho American Legion Baseball will support a Legion season again this year. Legion baseball will be able to continue under the name of Department of Idaho American Legion baseball for insurance purposes. Teams can still wear their uniforms with the Legion patch on them for this year.
Lumbermen coach Erik Karns said Sunday's game will be played with some restrictions.
"With two teams, two umpires and four coaches, it puts us close," Karns said. "Each player is allowed to have one family member attend and sit, socially-distanced, around the field."
No masks will be required for anyone.
Coeur d'Alene is looking into other options for those that want to see the games.
"I'm hoping that families will abide by the rules," Karns said. "We're looking into doing a live stream for everyone who can't attend."
Mick Zeller, who has coached the Post Falls High baseball team for 15 seasons, including the last four in his second stint, will be the coach for the Prairie AA team. The Cardinals are still in the process of finalizing a schedule for the upcoming season.
Due to the coronavirus pandemic, teams from the Treasure Valley will play a local schedule only, according to the Idaho Statesman newspaper, and will not compete at state. Those programs use school district facilities, leaving them unable to begin play until June 27 at the earliest, leaving teams from the north and east to compete at state.
State tournaments in both the Class AA and A divisions are scheduled July 28 to Aug. 1 at sites to be determined. Capital High of Boise had planned to host the AA state tournament, and Vallivue High of Caldwell was going to be the host site for the Single-A state tourney.
State tourneys will be the end of the line for the Legion season, as the national American Legion association already canceled the American Legion World Series and the qualifying regional tournaments.
In AA, both Prairie and Coeur d'Alene will advance to state from Area A, with the top seed being the team with the better record in their head-to-head meetings.
The top two teams in Area A in Single-A between Prairie, Northern Lakes, Sandpoint, Moscow, Silver Valley, Orofino, Camas Prairie (Grangeville) and Coeur d'Alene will advance to state.
A state Class B tournament — players in eighth or ninth grade — is scheduled for July 21-25 at a site to be determined. Sandpoint is expected to field two teams in the B division, according to Karns. Moscow, Prairie, Northern Lakes and Coeur d'Alene will field one team each.
Recent Headlines
---