Ground-breaking pediatrician retires today after 35 years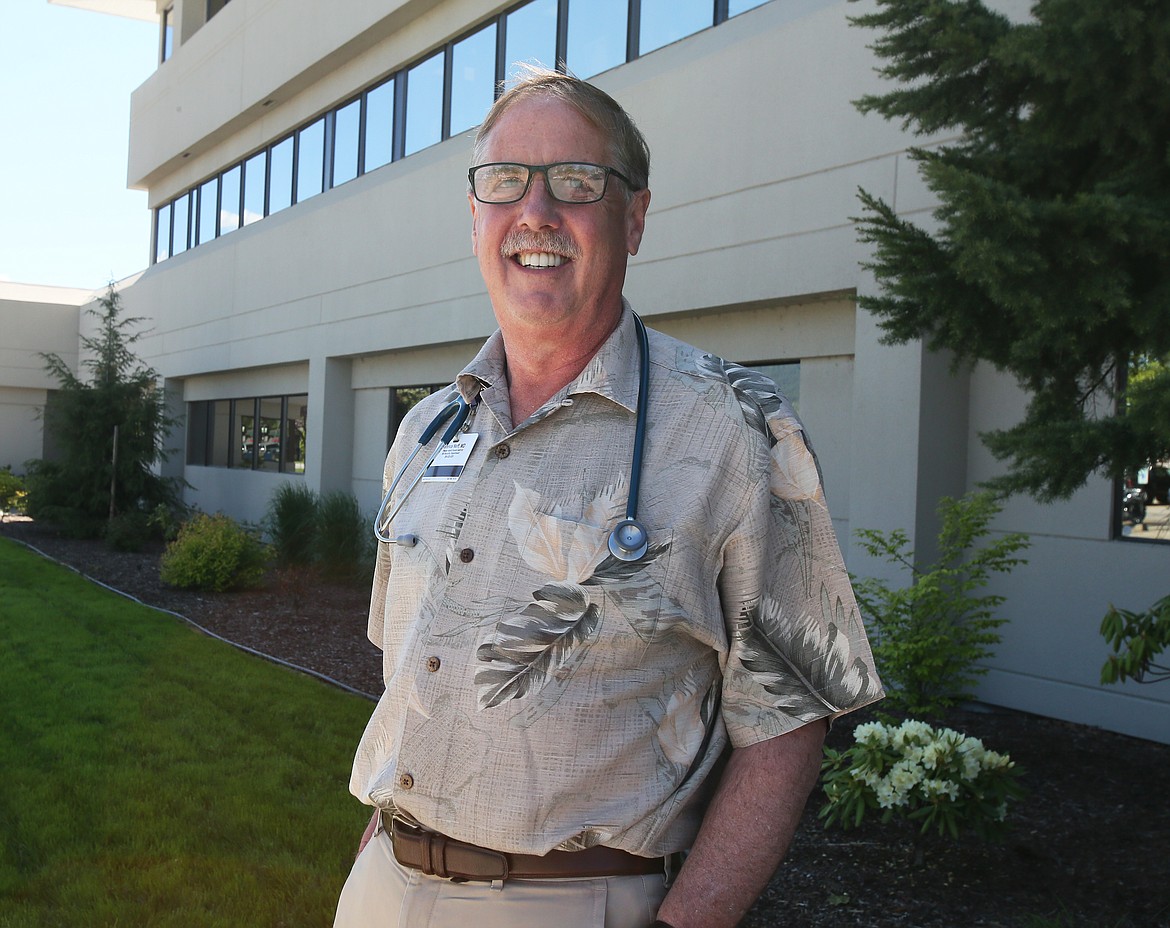 Dr. Terence Neff, seen here outside his Coeur d'Alene Pediatrics office on Ironwood Drive on Wednesday morning, is retiring today after 35 years.
DEVIN WEEKS/Press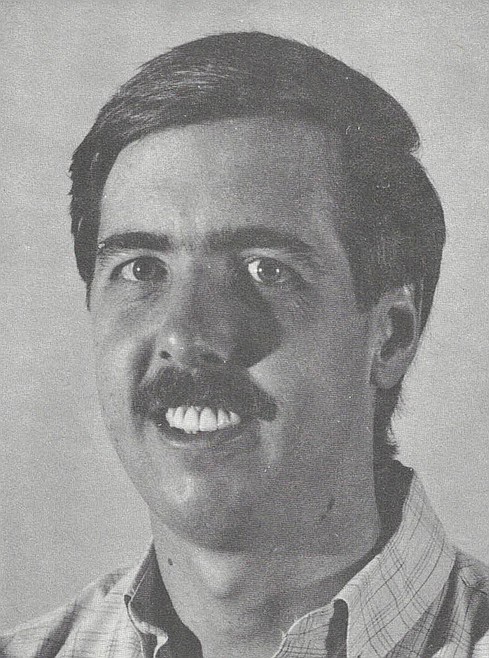 This photo of Dr. Terence Neff was taken early in his career as a pediatrician in North Idaho. Neff is retiring today after 35 years. (Courtesy photo)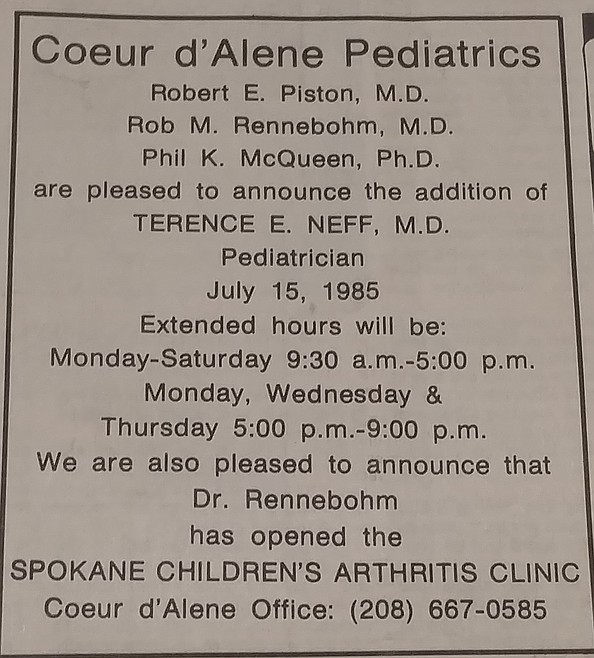 This July 5, 1985 Coeur d'Alene Press ad announces the addition of Dr. Terence Neff to Coeur d'Alene Pediatrics. After treating tens of thousands of children, Neff is retiring from the practice today.
Previous
Next
by
DEVIN WEEKS
Staff Writer
|
May 28, 2020 1:13 AM
Ground-breaking pediatrician retires today after 35 years
COEUR d'ALENE — With his warmth and personality, it's no wonder Dr. Terence Neff has treated three generations of grateful families in his 35 years with Coeur d'Alene Pediatrics.
"Dr. Neff is an absolutely fantastic physician, was my doctor when I was a kid and has been my children's primary care doctor as well," said Danny Moering of Hayden, who remembers seeing Neff countless times as a youngster for ankle sprains and allergies.
"The thing that I appreciated most about him was that he always spoke directly to me, not just my parents," Moering said. "When my wife and I had our kids, he was our first and only choice for their pediatrician. My kids actually look forward to seeing him because he treats them like he knows them, and I really think he does."
But today, Neff, 66, is hanging up his stethoscope and entering the next phase in his busy life — retirement.
Looking back at the past three decades, Neff said it was a different world when he joined the field of pediatrics in 1985 North Idaho.
"I entered at a very interesting time here," he said. "We had just built the new hospital in '84."
Neff and wife Debbie wanted to live somewhere that had potential to be what they imagined for the world of health care.
"It was an interesting opportunity to build pediatric care into what we felt it should be for our population," he said. "Pediatrics was relatively new at that time. It was mainly a family practice in town."
Neff received a B.S. from Montana State University, graduated from University of Washington Medical School and completed pediatric training at the University of Utah.
When he was completing a rotation in oncology during medical school, he realized the fountains of resilience, optimism and joy that reside in each little human. His second day, a girl with leukemia was admitted, accompanied by parents already overwhelmed with grief.
"Back then the death rate was high. (Cancer) was basically a death sentence for kids," Neff said. "Well, at the same time, all the kids on the floor, they came out and they showed this little girl the wheelchairs and toys and wigs and told her what was going to happen."
They let the little girl know that this was her life now, but their optimism for her was boundless.
"I said, 'That's who I want to work with,'" Neff said. "I love the attitude that children have."
Neff has offered his talent and knowledge in a multitude of aspects. He is the chair of the Kootenai Hospital District Board of Trustees, he was an early adopter of electronic health records and named to the Meaningful Use Vanguard by the Washington and Idaho Regional Extension Center in 2011, and he is one of the main partners in Coeur d'Alene Pediatrics, which, under his tenure, grew from a small basement practice to three state-of-the-art facilities in Coeur d'Alene, Hayden and Post Falls.
Longtime colleague Dr. Mary Jo Shaw said Neff was the only pediatrician in Coeur d'Alene when she joined him in 1988.
"He envisioned creating a thriving pediatric practice that would provide inclusive care for the children of North Idaho ... and then he did just that," she said. "Dr. Neff has been the 'Complete Pediatrician' — great mentor to new providers in the practice, thoughtful small business owner and skilled clinician."
Coeur d'Alene Pediatrics administrator Connie Moering, who is also Danny's mom, said she met Neff in 1985 when she relocated to Coeur d'Alene and needed a pediatrician.
"I ended up calling him on a Sunday morning with a sick child and he said he would see us in a half hour at the office. This was unheard of from where I had come from," Connie shared. "Not long after that I came to work with him at Coeur d'Alene Pediatrics."
She said she feels blessed to have worked alongside Neff for more than three decades.
"Dr. Neff has been a wonderful mentor and friend and has taken great care of my children and grandchildren," she said. "He will be missed by many."
In retirement, Neff said he'll stay active and connected with the hospital and hospital board.
And he knows where to go when he needs a little light of youth in his life.
"If I get totally bored, I will be a full-time grandfather," he said, chuckling. "That's my fallback."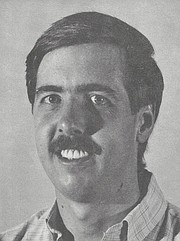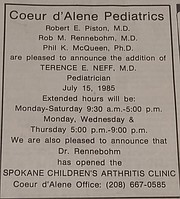 Recent Headlines
---