THE CHEAP SEATS with STEVE CAMERON: Returning to the 'new normal' is not easy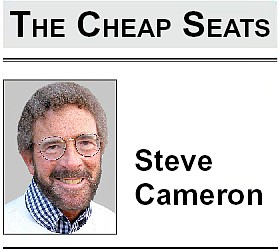 It's a nightmare.
Trying to get pro sports back in action across North America — and the rest of the world, for that matter — is proving somewhere between difficult and…
"This is nuts!"
But it was bound to be that way, when you think about it.
Everything else about this coronavirus has been confusing, frustrating and all the rest.
So getting pro athletes back on the field, court or rink is just the same.
Screwy and difficult.
Major League Baseball is in a dispute with its players over pay for an 82-game season beginning July 4 — although the players themselves (who want a direct proportion of their salaries) would like to see 100 or 110 games prior to playoffs in November.
Owners want to split television revenue with the athletes.
Tampa Bay pitcher Blake Snell gave the players a worse public relations problem than necessary when he tweeted that it was a matter of cash for him and concluded: "I want mine."
Snell was referring to his full salary, and noted that players would be risking their lives, and those of their families, by taking the field this season.
TO BE honest, Snell could have phrased things better, but…
He has a point.
Players in all sports who begin competing before there is either a vaccine or herd immunity as protection against COVID-19 actually are putting themselves and their loved ones at increased risk.
At the same time, you can see how team owners across all sports are looking at this.
There will be no fans present anywhere in the foreseeable future, cutting revenue to TV deals alone — a significant slash that, billionaires or not, owners see as unworkable without some help.
If MLB is going to have a season, and most fans hope it happens, there almost surely needs to be a deal struck by the end of this week.
There would have to be at least a few weeks of "spring training."
Besides losing a good deal of money, clubs also will have to accept that some players may choose to stay away altogether, deciding that the risk is not worth the reward of smaller paychecks.
It's a mess, sure, but that just rolls along with everything else that's happened because of this virus.
Yes, I'd like to see some baseball that isn't played in Korea — although I'm kind of falling for those young NC Dinos, the pride of Changwon, who lead the KBO at 14-3.
I have to be honest, though, and admit I see both sides of the MLB dispute that's been holding things up.
BASEBALL isn't the only sport to endure fits and starts in an attempt to get players in action again.
The NBA and NHL are trying to finish seasons that were halted when Rudy Gobert of the Utah Jazz tested positive for the coronavirus, shutting everything down on March 12.
Both leagues are talking about resuming either regular seasons — or more likely, just playoffs — sometime in July.
The NBA is negotiating a deal to play all games at a single site, most likely on the Disney World property outside Orlando.
Hockey bosses always manage to make things complicated and sometimes unacceptable, and they've done it again by suggesting a 24-team playoff format in which the top four teams in each conference get byes in the competition.
A couple of teams, including the Tampa Bay Lightning, have fiercely objected to that idea — noting that they would be at a disadvantage just sitting around while lower-seeded teams get sharp in playoff games.
And hey, having a serious battle for the Stanley Cup that involves 24 of 31 teams seems absurd, anyway.
Might as well let the whole gang join the party.
Meanwhile, EVERY league has a logistical headache, not just lining up some training and game venues, but getting dozens of international players back into the U.S. and Canada.
The bottom line is that we may see pro sports — something besides golf and auto racing — in July.
How everyone gets there, however, remains a staggering problem.
Email: scameron@cdapress.com
Steve Cameron's "Cheap Seats" columns appear in The Press on Mondays, Wednesdays and Fridays. "Moments, Memories and Madness," his reminiscences from several decades as a sports journalist, runs each Sunday.
Steve also writes Zags Tracker, a commentary on Gonzaga basketball, once per month during the offseason.
Recent Headlines
---