July 4 bang — or whimper?
by
CRAIG NORTHRUP
Staff Writer
|
May 27, 2020 1:15 AM
Parade and fireworks decision coming up
When Derrell Hartwick assumed the position as president and chief executive officer of the Coeur d'Alene Chamber of Commerce last fall, he never envisioned his first summer in the City by the Lake would come with such a weighty decision.
"'Do we have a parade?'" he asked out loud. "'Do we not have a parade?' It's a unique decision to have my first year as the CEO. 'Can we actually have this terrific event?' 'Can we be safe?'"
Hartwick said he has been talking with executive board members and reaching out to Chamber members for the past few months, not long after the coronavirus pandemic became a worldwide emergency. Hartwick said he will announce his decision Thursday.
"Me and the executive committee, we're obviously listening to our members to hear all perspectives on this," he said.
Business owners are not the only voices Hartwick is hearing. The Arkansas native is also in contact with the Coeur d'Alene Police Department, the Coeur d'Alene Fire Department, Panhandle Health District and first responders to determine if the Chamber can safely hold a parade and fireworks show.
"Obviously, public health is our No. 1 priority," Hartwick said. "One thing we're trying to look at is: What will be the [capacity] of our police department, our fire department and the EMS teams who are going to be working it?"
Thursday's announcement will have myriad possibilities, Hartwick added, which includes holding only a parade, holding only a fireworks show, holding both or holding neither.
On top of that, every option holds its own variations.
"We're looking at every possible angle on this," he said. "We're asking, 'What if we extend the route to maintain social distancing?' 'What if we delay the fireworks until later?' 'If we postpone the fireworks, what does that do to our contract?' All options are on the table right now."
While public safety is paramount, Hartwick said it isn't the only factor weighing on the decision.
"From the Chamber's point of view, we also need to be helping our businesses and helping our members," he said.
He said a parade and fireworks display would be an economic boon, and is one of the few shows in the area.
Hartwick admitted the decision is a delicate one, but one with a clear, overriding factor.
"At the end of the day, public safety is No. 1. We're going to listen to the needs of the fire chief, of the police chief, of Panhandle Health, and at the same time, we're also trying to be a chamber of commerce. We're also looking out for the needs of our members."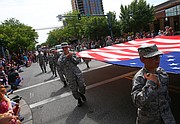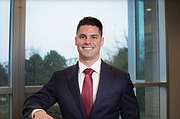 Recent Headlines
---