Joseph K. Harvey, 80
Joe Harvey passed peacefully from this life on May 8, 2020, at his home in Coeur d'Alene. We are thankful he lived a fulfilling life for 80 years, and left many wonderful stories and memories behind.
He was born Oct. 21, 1939, in Spokane, Wash., to Pat and Ella Harvey, and grew up in the Silver Valley of northern Idaho. His parents owned a small cafe in the heart of some of the largest silver and lead mines in the world, where they fed the miners morning, noon and night.
Joe attended Our Lady of Lourdes Catholic Academy in Wallace, Idaho, from preschool through his elementary and junior high years. He left the academy in Wallace and entered Kellogg High School to play basketball, football and track, from his freshman year through graduation. He spent many hours at the local YMCA, where he won trophies for boxing, swimming and made the Junior Olympics team for diving (at the age of 70 he could still execute a perfect backflip off the side of a boat!) And even more so, at 5'8", he mastered a way to dunk a basketball and he held the record for the 100-yard-dash for many, many years.
Upon graduation he joined the Army and while in the military, his family relocated to Hobbs, N.M., so his parents could be closer to his sister, who had married a young man whose work transferred him to Hobbs. After an honorable discharge from the U.S. Army, Joe also moved to Hobbs. In hopes of landing a job driving a garbage truck, he was instead hired as a 911 dispatcher at the Hobbs Police Station. He was then quickly promoted to patrol officer, city building inspector, city engineer, and ultimately, city manager, at the age of 28. At the time, he was the youngest city manager in the history of New Mexico.
He worked for the city of Hobbs for 23 years and served on many boards and organizations throughout his tenure. One that he favored, in particular, was his time spent in the Hobbs Jaycees at the start of his career. That time always seemed to hold some of his best and most cherished memories.
He was awarded Citizen of the Year by both the Hobbs Jaycees as well as the Board of Realtors, and received numerous awards and recognitions by the city, the city commission, Good Samaritan Center, Head Start, Consulting Engineers, the Democratic Party and countless others.
Upon retirement from the city, he established a consulting firm, Cambridge, Inc., where he worked in an entrepreneurial position with several municipalities and large engineering firms. He was elected to the New Mexico State Senate, and served as a senator from 1985 to 1992. He was a member of the Conservation Committee, Finance Committee and Judiciary Committee, and was chairman of the Public Affairs Committee and the Rules Committee, as well as a member and advisor on countless interim committees. He also served on the New Mexico Economic Development Council, the Southwest Energy Council, the State Crime Commission and was appointed by the Governor to the state Parole Board. He also obtained his Master's Degree in public administration at the age of 52.
He loved Hobbs Eagle basketball, Lady Eagle softball, the Dallas Cowboys, Notre Dame football, Gonzaga basketball and jitterbugging! He was a key player in the improvements made in the sports complex in Hobbs, as well as being very instrumental in bringing Lady Eagles softball into the local high school, in 1981, for the very first time. He loved the "Hobbs America" community more than anything, and one of the last things he said was that he hoped to "just be remembered as a humble public servant."
Joe and Gayle dated the last month of his senior year before going into the Army. Fifty years later, he found his high school love on Classmates.com and they married on the 50th anniversary of their last date in high school.
Joe Harvey is survived by his wife, Gayle (Miller) Harvey of Coeur d'Alene; his two daughters: Lana Cichon of Forreston, Ill. (Ray) and Neisa Lynch (Mike) of Denver, Colo.; three grandchildren: David Wood of Oconomowoc, Wis., Elizabeth Kale of East Dubuque, Ill. and Taylor Lusby of Denver; seven great-grandchildren; two sisters: Patricia Trotter of Denton, Texas, and Mable Lane of Terre Haute, Ind.; numerous nieces and nephews; two step-children: Rob Baila and Kahney Long; and of course, all the good people of Hobbs and the Silver Valley in Idaho who loved him.
He is preceded in death by his parents, Pat and Ella (Sims) Harvey and his first wife of 47-years, Sue (Howell) Harvey.
A Mass and reception are being planned for later this summer at St. Thomas the Apostle Catholic Church in Coeur d'Alene (notice will appear in the Coeur d'Alene Press).
Ashes will be interred at St. Pius X Columbarium. In lieu of flowers, please perform an act of kindness for someone in need in the community and think of Joe.
To see Joe's online memorial and to leave a message for the family, please visit www.englishfuneralchapel.com.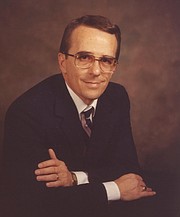 Recent Headlines
---