HOW THEY WERE BUILT: Gym rats, bench helped fuel Coeur d'Alene's 1998 state boys basketball champions
by
MARK NELKE
Sports Editor
|
May 27, 2020 1:18 AM
You never forget your first.
Larry Bieber won six state titles as head coach of two different sports at Coeur d'Alene High — including five as the Vikings' softball coach.
But he'll always have a special spot for the one state title he won in boys basketball, in 1998.
"Because all of those kids had been with me, since I got the head coaching job, as freshmen," recalled Bieber, who took over as Coeur d'Alene's head basketball coach in 1994.
"I can remember sitting down with those kids and saying, 'By the time you guys are seniors, we're going to be in the hunt for a tournament to go to, and a championship to win,'" Bieber said.
In 1997-98, his fourth season as head coach, Bieber guided the Vikings to a 22-4 record, capped by a victory over Borah of Boise in the state title game at the Idaho Center in Nampa. It was Coeur d'Alene's first state boys hoops title since 1973, and sixth overall, a span that stretches back to the first state title team in 1928, coached by Harold Telford.
Bieber was an assistant basketball coach for 17 seasons before being named head coach at Coeur d'Alene.
Prior to his first season as head coach, at open gyms in the summer, he remembered seeing freshmen like Jim Rupp, David Wood, Luke O'Dowd and others there all the time.
"They were just gym rats, and they just got better and better and better," Bieber recalled. "At that time, you can't really tell if they're going to be championship quality, but they sure had the heart."
The Vikings went 3-18 in Bieber's first season as head coach, then 8-13, then 15-10 in 1996-97, losing to Eagle in a state play-in game.
When the 1997-98 season started, both of Coeur d'Alene's starting posts were injured — O'Dowd with a hernia, and senior Casey Hoorelbeke with a stress fracture in his foot.
Both missed roughly the first half of the season.
But the Vikings barely missed a beat, thanks to the two backup posts, seniors Kevin DeArmond and Kurt Sigler, who stepped into the starting lineup. Buddy Fetzer was a key role player at guard.
"I used that time to build my bench," Bieber said.
Coeur d'Alene won the Border League with a 14-2 record, losing only to Post Falls and Lewiston, and sweeping Sandpoint, West Valley, East Valley, Clarkston, Cheney and Lake City.
The Vikings beat Lewiston to win the A-1 Region 1 title, and headed to state for the first time since 1994, when Jim Winger was in his second season as head coach at his alma mater. Winger went to Lake City the next year to start the Timberwolves' program, and is in his second stint as head coach at Lake City.
Bieber had a "two-foul rule," and he stuck with it — even at state.
Hoorelbeke picked up two fouls in the first half of the quarterfinal game against Capital, and sat most of the half. He scored 17 of his game-high 26 points in the second half in a 75-60 victory over the Eagles.
Coeur d'Alene then clamped down on Skyline in a 55-35 victory in the semifinals.
In the title game, vs. Borah, Hoorelbeke picked up two first-half fouls.
So did Wood.
So did Rupp.
All three watched from the bench as the Lions, trailing 18-2 after one quarter, pulled to within 30-23 at halftime.
The players weren't crazy about having to sit in the first half with two fouls. Neither were the parents, Bieber recalled.
"You and that damn two-foul rule," one of them said to him after a game — and that was after a win.
Coeur d'Alene's lead shrunk to three points after three quarters. Late in the game, with the Vikings up just one, Wood's hustle kept Coeur d'Alene in possession with 4.5 seconds left, then Rupp fed Hoorelbeke for the game-clinching layup.
Bieber noted that, due to injuries to the posts earlier in the season, and also because of his controversial "two-foul rule," his bench came through when it mattered. He said Sigler stepped up in the title game and played well, "and that was from having been there before,' Bieber said.
"One of the things people didn't understand about that team was, we were big, but we could run," Bieber recalled. "Both Casey and Luke could run the floor.
"We were man-to-man (defense), and ran, and could press when we needed to. Kevin DeArmond guarded their '3'. I had kids that came off the bench, and had played in big games."
In his postgame speech to the fans at the Idaho Center, Bieber was happy to note the presence in the crowd of Dean Lundblad, who had coached the Vikings to their last state title, in 1973. It was Lundblad who hired Bieber in 1981 as sophomore coach at Coeur d'Alene High. Prior to that, Bieber was coaching the eighth-grade boys team at what was then called Lakes Junior High. At Lakes, one of the players on his most talented team there was Kurt Lundblad, son of Dean. Kurt would later coach the Viking boys basketball team, for three seasons (2013-16).
Bieber, who attended West Valley High when Jud Heathcote was the head boys basketball coach there, and considers him one of his influences as a coach, was 50 when he coached the Viks to what remains its most recent state title. He guided Coeur d'Alene back to state in 2001, and resigned in 2003 after nine years at the helm. At that time, he was also head coach of Coeur d'Alene's softball team, and when he retired from teaching in 2003 he was told to choose between the two head coaching jobs.
Now 72, Bieber is still teaching part-time at North Idaho College.
He coached the Viking softball team from 1994 to 2015, winning five state titles.
But it was that one state basketball title, in 1998, that jumps out.
"Because it was the only one," Bieber said.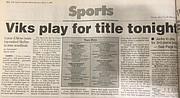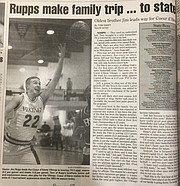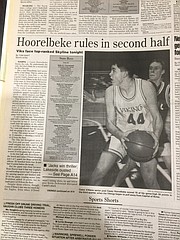 Recent Headlines
---