Traditional Match Day bash takes untraditional twist
by
Cindy Hval
|
May 26, 2020 11:05 AM
Scholar headed to Kootenai Health
Match Day is one of the most anticipated times in a medical school student's journey. It's the day they find out where they'll spend the next several years of training.
The National Resident Matching Program is a U.S.-based private nonprofit non-governmental organization created in 1952 to place U.S. medical school students into residency training programs.
Students apply to residency programs at the beginning of their last year of medical school. In turn, program directors for the residency programs rank applicants. A match occurs when a program accepts a student's application.
Traditionally, students across the nation gather in ballrooms or meeting rooms filled with faculty, family and friends, and when the clock strikes 9 a.m. on Match Day, they open sealed envelopes to discover where they've matched.
This year, celebrations were canceled because of the COVID-19 pandemic and social-distancing protocol.
But the class of 2016 from The University of Washington School of Medicine in Spokane still found a way to connect and commemorate the day.
"It's such a culmination of the past four years — they didn't want to see that fade into the sunset without fanfare," said Deborah Greene, program coordinator WWAMI Spokane Foundations, UWSOM. "It's important to know how the next chapter unfolds."
It can be a tense time with more graduating medical seniors than residency slots. Fortunately, UWSOM has a high match rate.
Greene said when class president Justin Thompson — who realized an in-person celebration was out — he got the ball rolling for a virtual gathering.
His initiative didn't surprise faculty or fellow students. Each year, the Husky 100 honors 100 UW undergraduate and graduate students who are recognized as future leaders and exceptional students. In 2018, Thompson was one of those honorees.
"We're becoming doctors in the middle of a pandemic, but we can still be there for each other and celebrate this milestone," Thompson said.
This year, the NRMP permitted schools to email their students match results to them on March 20 at 9 a.m. in lieu of the physical ceremony. Thompson scheduled a Zoom meeting for 9:30 a.m., so participants would have some time to let the news of their placements settle.
Approximately 50 students, plus 27 faculty and staff attended the virtual celebration.
Thompson, who was matched to the family medicine residency program at Kootenai Health in Coeur d'Alene, was thrilled with the attendance.
"It was so wonderful to just see each other," he said.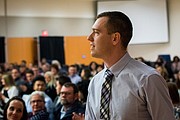 Recent Headlines
---