TOURISM PREVIEW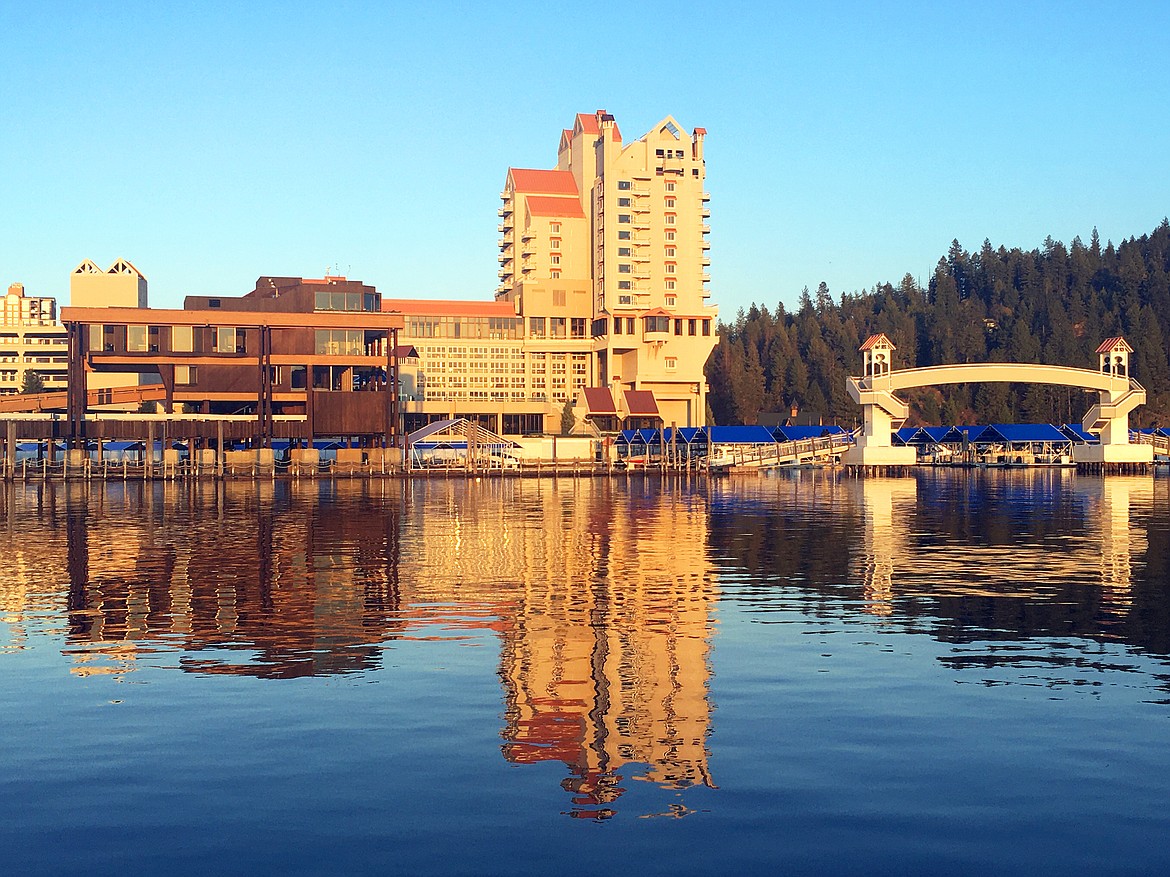 A reflection of The Coeur d'Alene Resort adds color to Lake Coeur d'Alene. Nominations are now open for outstanding lifetime achievement in the fields of Idaho recreation and tourism.
BILL BULEY/Press File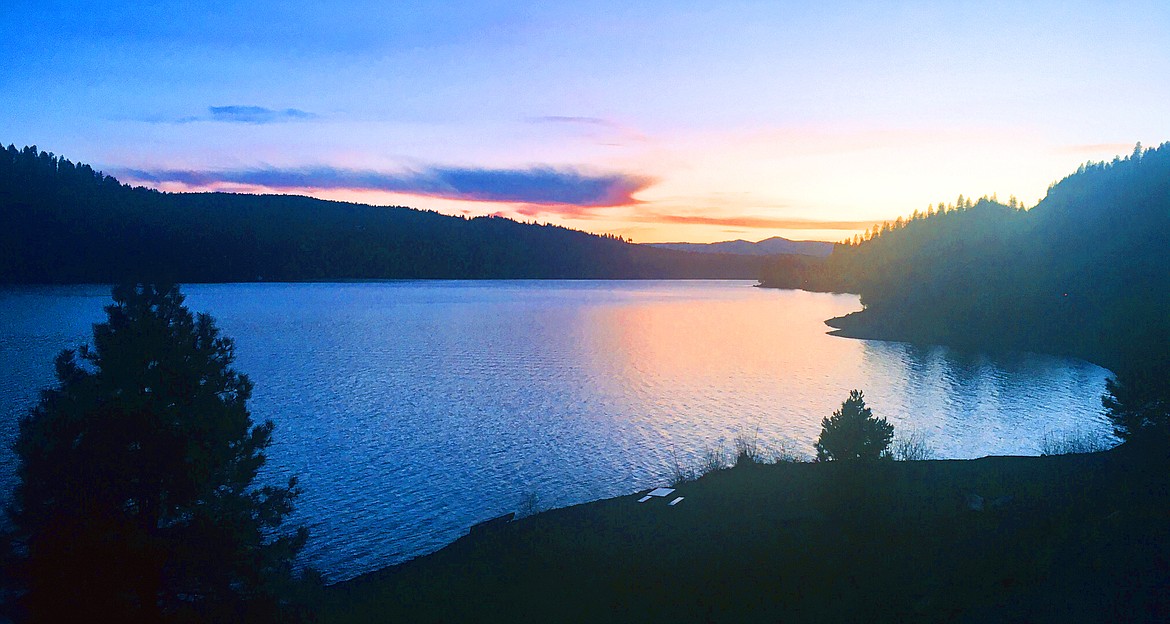 The setting sun casts its glow over Lake Coeur d'Alene in this view from Higgens Point.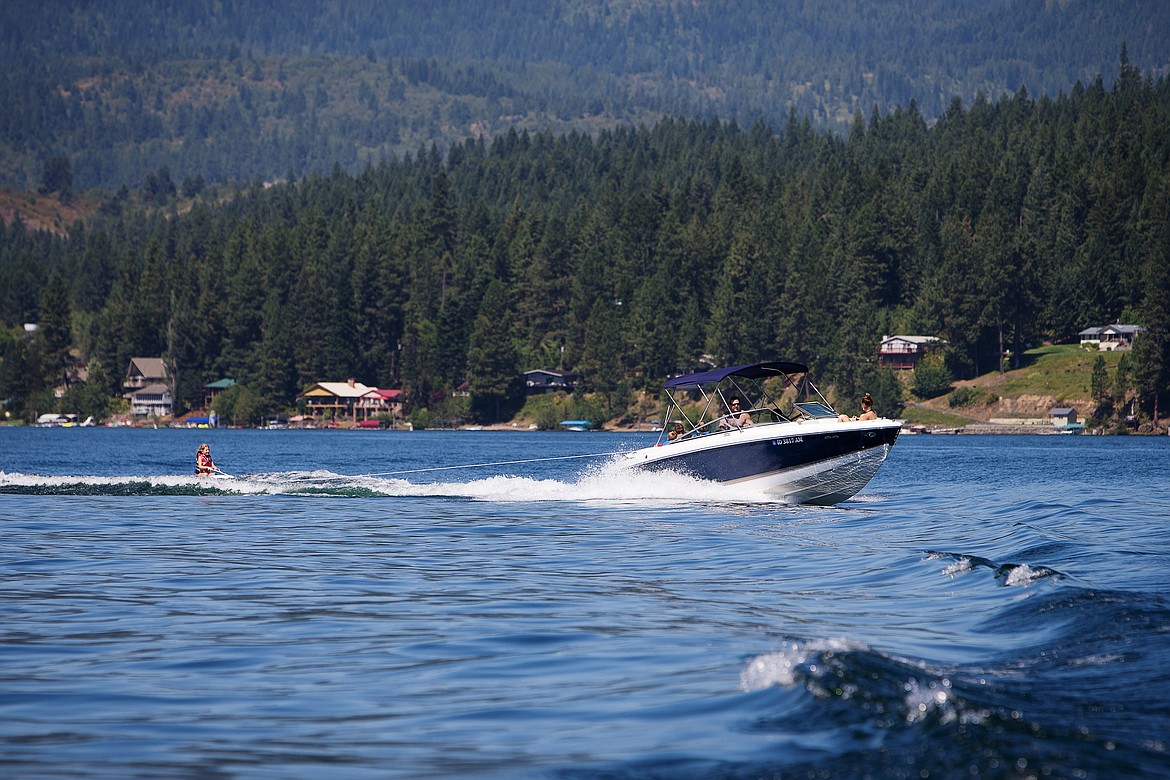 Boating on Lake Coeur d'Alene is a popular summer activity and vital to the local economy of small communities such as Harrison.
SHAWN GUST/BJNI File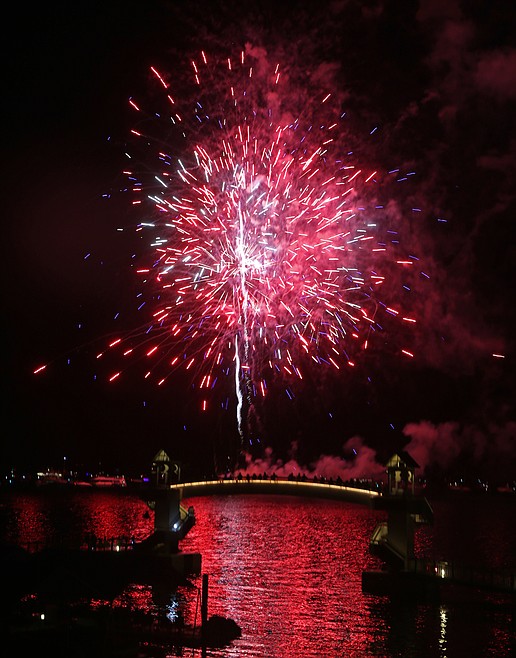 Red and blue fireworks explode over Lake Coeur d'Alene during the Fourth of July celebration.
LOREN BENOIT/BJNI File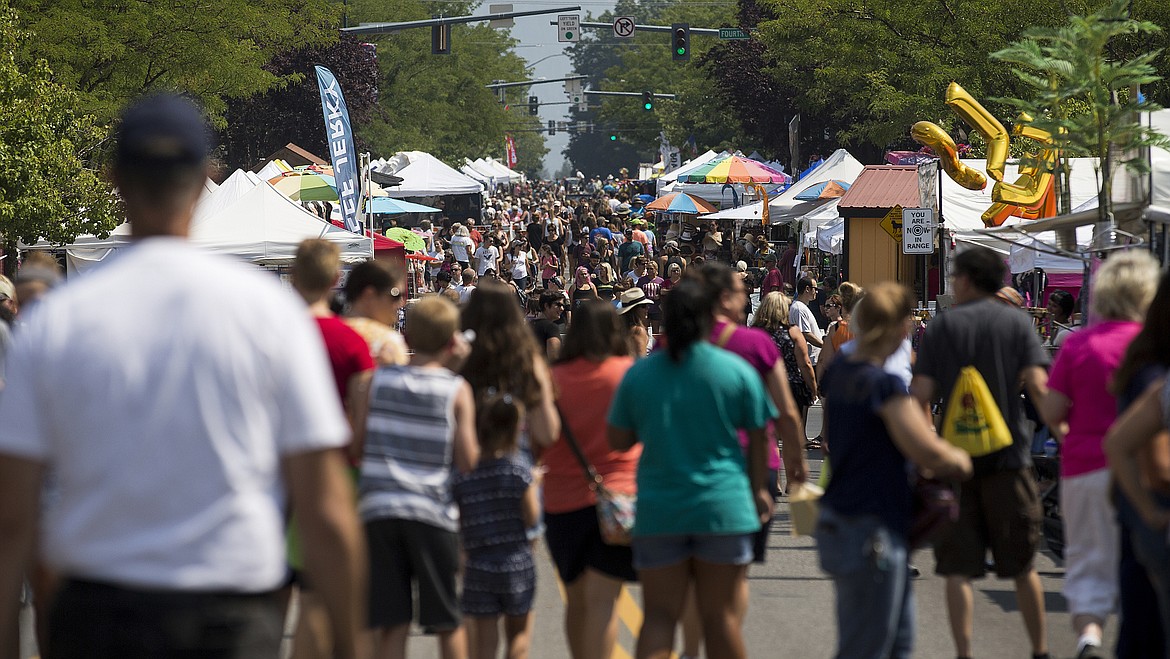 Thousands of people walk on Sherman Avenue during the Downtown Street Fair.
LOREN BENOIT/BJNI File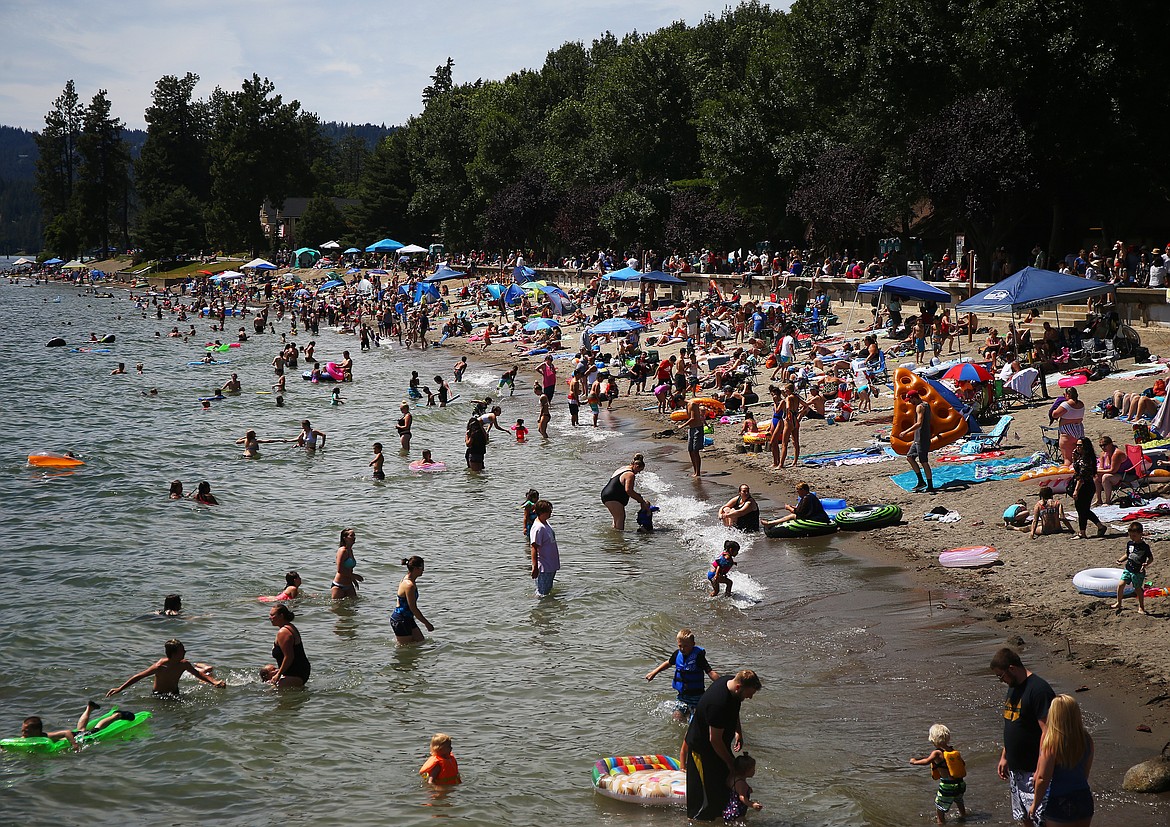 LOREN BENOIT/BJNI File Locals and tourists relax on the beach and wade in the water at City Beach in downtown Coeur d'Alene during Fourth of July.
Previous
Next
by
BILL BULEY
Staff Writer
|
May 26, 2020 11:06 AM
Strong summer season in Coeur d'Alene still expected
If you're wondering, with so many fearing the coronavirus, if tourism will take a big hit this summer, you are not alone.
The answer: Yes, it could.
But there's another message locals want to be sure is delivered around the state and beyond about Coeur d'Alene:
"Yes We're Open."
That promotion is being pushed by several organizations including the Coeur d'Alene Chamber of Commerce, the Coeur d'Alene Downtown Association, the Coeur d'Alene Convention & Visitors Bureau, and The Press.
They want to make it clear that businesses are more than ready for guests, and those guests will not leave disappointed.
"Everybody is wanting to get back going," said Derrell Hartwick, CEO of the Coeur d'Alene Chamber of Commerce, during a recent Zoom call.
The tourism outlook for summer is solid, but one can't be sure what will happen. It's expected people will come. Lots of people who will spend lots of money.
According to the U.S. Travel Association, Idaho's $3.7 billion tourism industry employs more than 45,800 Idahoans and generates $475 million in local, state and federal tax revenues. This is equivalent to saving every Idaho household $740 in taxes annually.
"As far as visitors go, we're not going to stop people from coming in," Hartwick said.
They will be welcome and they are wanted, he added, but will be asked to be safe and maintain social distancing guidelines.
"We understand the level of how extreme this is," he said.
A new website, www.coeurdalene.org/we-are-open, is being promoted to help get out the message that North Idaho wants people to "Come, Play & Stay."
"As we transition from the shutdown we want you to know Coeur d'Alene is now open for visitors. The governor has enacted a tiered opening of certain businesses and area attractions. This page will let you know what fun you can now have in beautiful Coeur d'Alene while still maintaining safe, social distancing. So, please come and enjoy the shopping, dining, entertainment and of course our wide open spaces," it says.
Mark Robitaille, executive director of the Coeur d'Alene Convention & Visitors Bureau, said in recent years, they expanded marketing efforts to reach a greater audience.
This summer, with the coronavirus fears expected to greatly reduce air travel, they are focusing on what is considered the 350-mile drive market — a distance people can get in their cars and cover fairly easily in a day. That includes Seattle, Missoula and Spokane.
"Surveys are showing people are less likely to travel by air and more likely to travel by vehicle with their family," he said.
Robitaille said that has been their "bread and butter" for years, but even more so this year. The plan is to have a "localized approach to advertising."
The CVB is involved in the new website to let people know all that is good about the greater Coeur d'Alene area.
"We're going to keep it local," he said. "We hope to give a boost to our economy on a more local level."
As Gov. Brad Little's "Idaho Rebounds" plan advances through its stages, advertising efforts will be pushed out farther to the Interstate 5 corridor.
The general thought is, Coeur d'Alene has endless outdoor recreation opportunities, unique shops and restaurants and a world-class hotel in The Coeur d'Alene Resort, and that people will come. They might delay a bit due to the coronavirus — but as things settle down and customers regain confidence, they will come.
"We're in a prime spot," Robitaille said.
As the sun shines more often, people are venturing out. Bike shops, businesses that focus on recreation, are seeing stronger sales.
"We're already seeing it, an increase here," Robitaille said.
This might not be the usual sizzling summer, but it should be OK.
"I anticipate we'll be a little slower, but the drive market will be solid," Robitaille said.
The CVB and area chambers have been receiving inquiries about what's open and what to expect in the coming months.
Word will spread quickly as Idaho is among the first states to return to operating a normal economy of letting people live, work and play.
"I think getting the restaurants open is really going to help," he said.
Deb Wheeler, Post Falls Chamber tourism grant manager, said projections are that Kootenai County should be down just slightly in tourism this summer.
"We're in a really good position," she said.
Robitaille, who has been leading the CVB three years, noted that in North Idaho, summers fly by. June quickly melts into July and then, July into August. Before everyone has taken a swim in Lake Coeur d'Alene, they're back to gathering firewood for winter.
That's why time is of the essence.
He noted that many events key to tourism — Ironman CDA, the Coeur d'Alene Marathon, were pushed back to September. So he's expecting a big boost to tourism come fall.
"We'll be open before we know it," he said. "When we open up, there's still a good amount of summer with us."
Jame´Davis, CEO of the Post Falls Chamber of Commerce, has high hopes for the summer season — and so do shop owners.
"All are itching to get back in business," she said.
The chamber is focusing on the rubber tire market. She said visitors generally don't come for one specific reason, but for activities year-round, like rock climbing, golfing, rafting and hiking.
Like Robitaille, Davis is expecting a strong shoulder season in the fall. She expects people will stretch out their summer vacations well into September.
"All the numbers are looking good," Davis said.
There is strong collaboration between local agencies in marketing. Ad dollars will go more to the digital realm so messages can be quickly adapted due to the coronavirus.
"We all have the same tourists coming through," she said.
Recent Headlines
---