Restaurants hungry for post-COVID tourists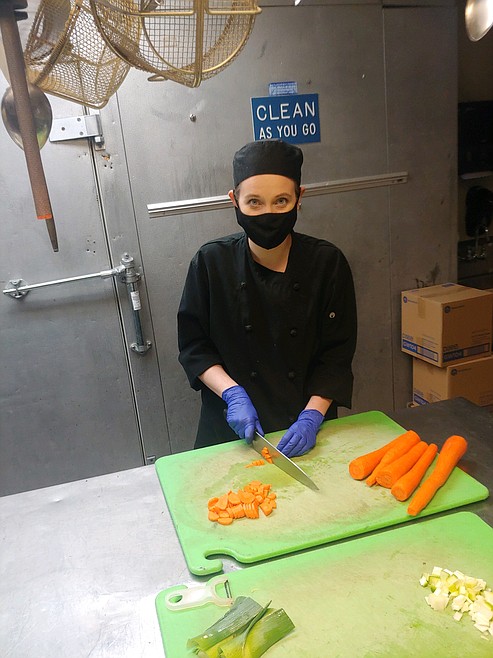 Shelby Stipek of Cedars Floating Restaurant in Coeur d'Alene slices carrots leading up to a long-awaited re-opening. Restaurants are once again able to open their dining areas to patrons after COVID-19 wreaked havoc on the restaurant industry. Now, they hope tourists are willing to return to the table.
Photos courtesy of LYNETTE BASKINS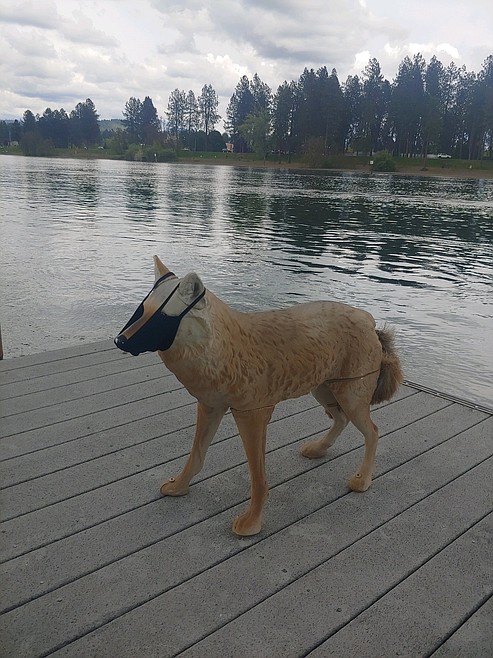 The famous coyotes along the dock at Cedars stand ready to accept visitors, particularly with their newly equipped protective masks. Cedars will implement a dockside service for boaters, a way to generate new revenue in a time of uncertainty.
Previous
Next
by
CRAIG NORTHRUP
Staff Writer
|
May 26, 2020 11:06 AM
The sun is out. The lakes are glistening blue. The highways are wide-open. The trifecta of great weather, outdoor recreation and summer vacations blend together in North Idaho to make a unique concoction for the perfect family trip, complete with meals at some of the best restaurants in driving distance.
The only thing missing this year is the family.
With Americans trapped in a coronavirus pandemic and clutching their purse strings in an economy cratering closer and closer toward recession, the annual road trip, summer vacation and family getaway is trending toward scarcity. Couple that with restaurants who spent their Aprils shuttered by the state's stay-home order, and the tourist dollar becomes something restaurants can't afford to lose.
Soulshine is one of those restaurants. The eclectic bistro has become a draw for tourists stepping off their U.S. 95 and U.S. 2 travels to explore the quiet heart of Bonners Ferry's downtown. Laken Rice of Soulshine said tourism was the restaurant's biggest source of income, something she didn't expect to change anytime soon.
"Tourism's huge for us," she said the week before restaurants were once again allowed to open out of Idaho's stay-home shadow. "It represents about 65 percent of our customers. Without tourists, we wouldn't be in business."
Soulshine has a solid local following, but it maintains a constant social media presence to expand its reach beyond Bonners Ferry. It's a strategy that so far, Rice says, has paid dividends.
"We're very unique," Rice said. "We have vegan options and vegetarian options. Tourists come here watching out for those choices. We're the only restaurant downtown like this. We're different, and everyone wants something different and exotic."
Trying something different might be the saving grace for restaurants this year. Cedars Floating Restaurant, one of the most popular eateries in Coeur d'Alene, is trying something to reach a new clientele this summer: boaters.
"Everybody's heard of curbside service," said Lynette Baskins, general manager of the iconic local establishment. "We're doing dockside. People can enjoy their day on the water, order from us and come right up to the dock to pick it up."
It's a way to attract tourists who might not be ready to enjoy restaurants in the wake of the pandemic — and a way to recoup staggering losses from a tourist industry filled to capacity with question marks.
"About 60 to 70 percent of our business is from tourists in the summer months," Baskins said. "It's so important for us to stay connected with those customers."
Baskins noted the loss of revenue at RV parks and since-canceled conventions, but she added she's still hopeful for a busy summer because of one key asset in Coeur d'Alene's corner.
"I think the lake is going to be as busy as it's ever been," she predicted. "When you think about it: Out there in the water, away from everyone, it's one of the safest places you can be, one of the best ways to practice social distancing. I think we'll still have that going for us."
The area's natural splendor isn't the only tool in local restaurants' toolboxes to help bring in tourist revenue. Mark Robitaille, manager of the Coeur d'Alene Convention & Visitor Bureau, said the circumstances of the pandemic itself will, for better or for worse, create a push to the area.
"I anticipate, especially at the onset, a lot of Spokane people coming over fairly immediately," Robitaille said. "Because they don't have that option of going out [in Spokane]."
Erin Betts of Bardenay's said that regardless of marketing and pandemics and tourist trends, she doesn't know what to expect.
"At this point, it's so hard to tell," she said. "We know people are anxious to get out and take trips. But we also know people might be hesitant to travel. What we have going for us is, we're so close to the [Coeur d'Alene] Resort, and we're so close to the Centennial Trail. We're a restaurant and a distillery, so we're able to craft our own spirits. That's always been a big draw for us. We're a place people want to visit, and we don't take that for granted."
Ultimately, Betts said, the popular Riverstone eatery and distillery is relying on its strong reputation, a healthy social media presence on Facebook, Instagram and Twitter, its food and its natural surroundings. Despite that, she said restaurants around the area are doing what every American — tourist or otherwise — has been forced to fall into for the past four months.
"We're just taking it day by day," she said. "We're just taking it one day at a time."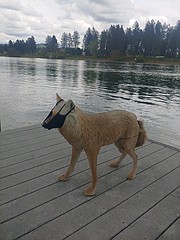 Recent Headlines
---