Despite restrictions, Memorial Day ceremonies go on at Evergreen Cemetery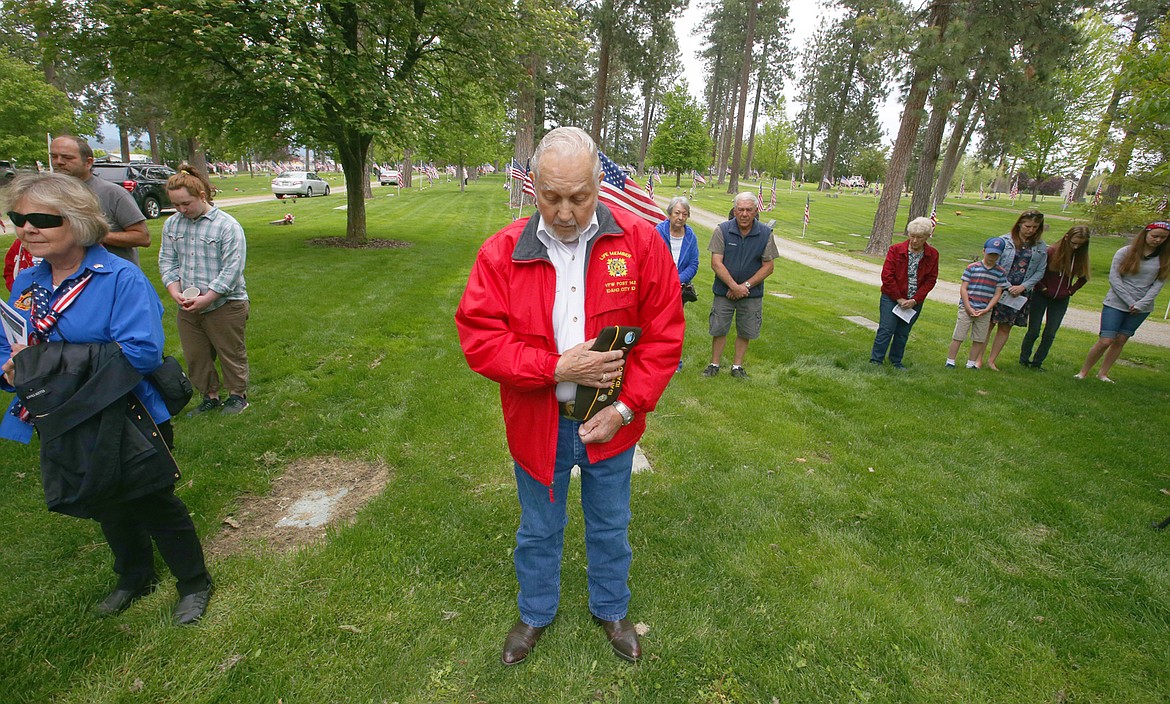 Veteran John Beaubien bows his head during the opening prayer at Evergreen Cemetery on Memorial Day.
BILL BULEY/Press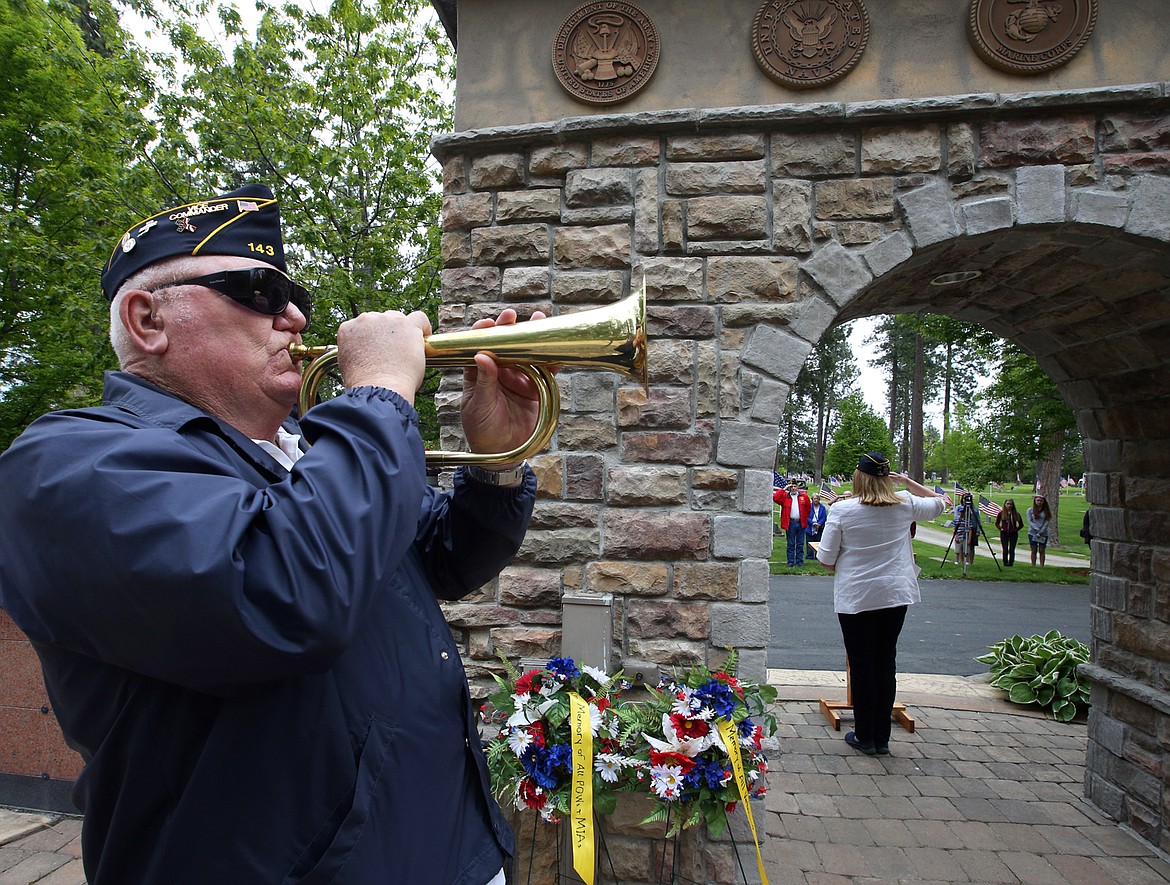 James Culpepper plays "taps" during Monday's Memorial Day ceremony at Evergreen Cemetery.
BILL BULEY/Press
BILL BULEY/Press A family gathers at a gravesite at Evergreen Cemetery on Monday.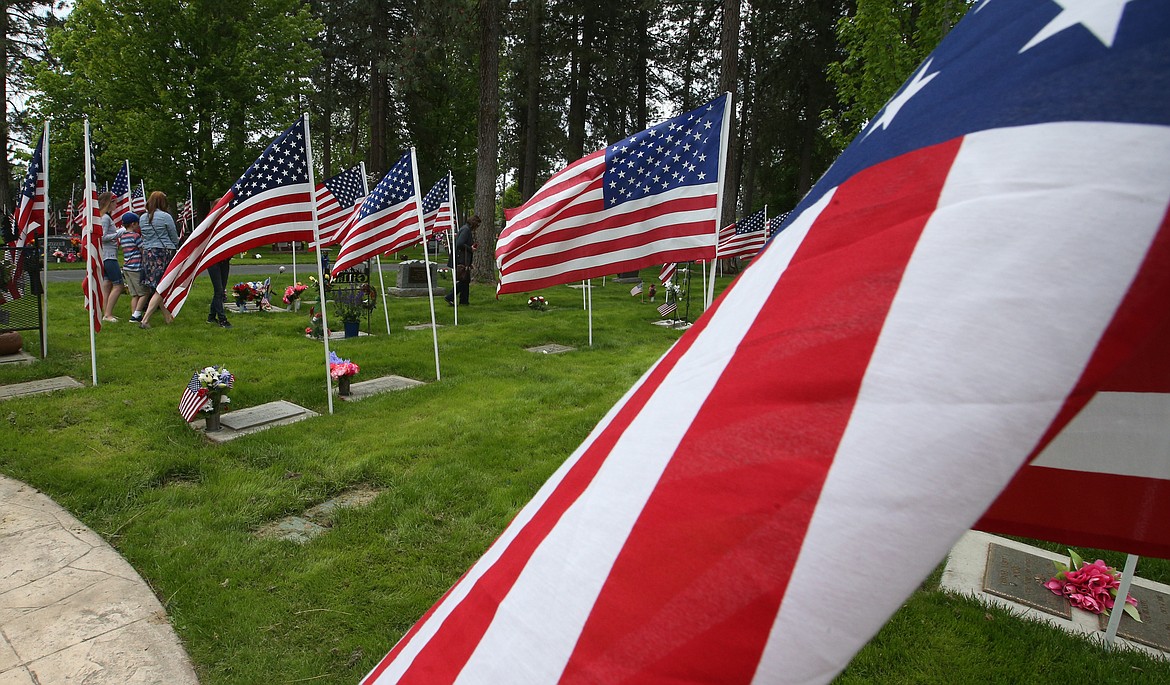 BILL BULEY/Press People walk through Evergreen Cemetery following Monday's Memorial Day ceremony.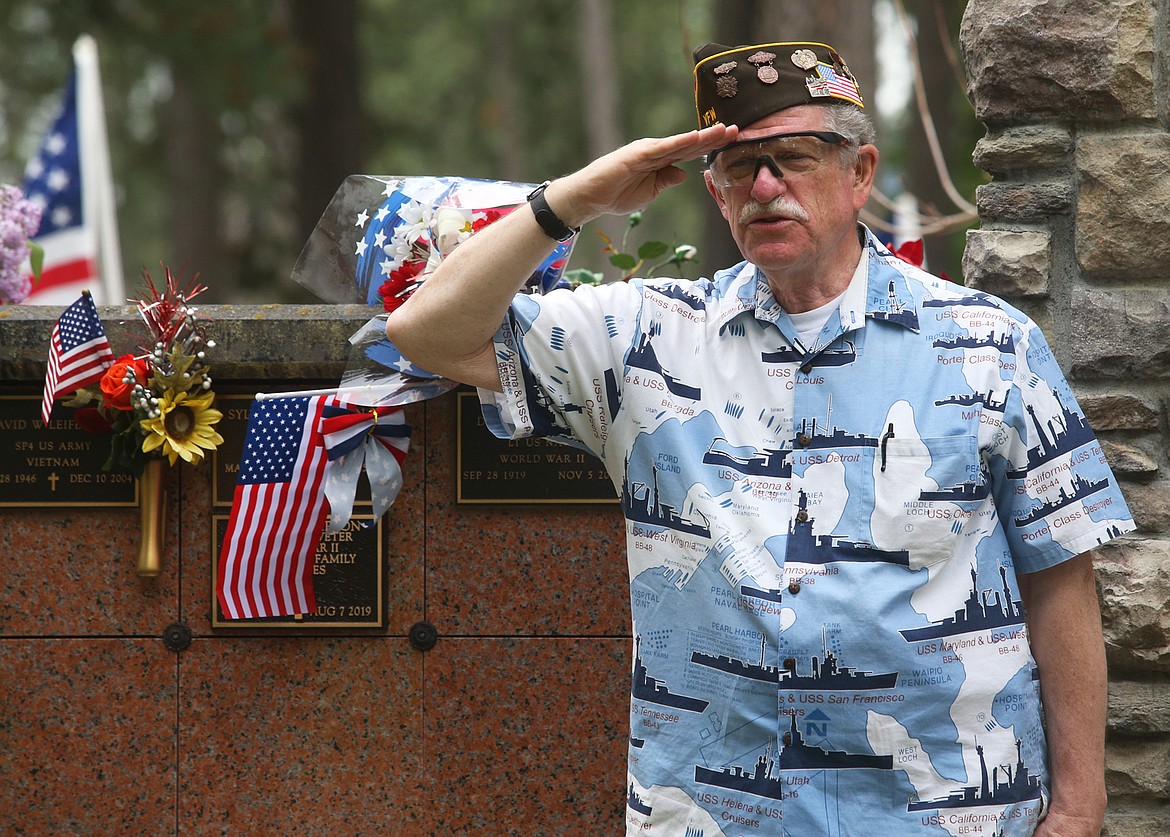 BILL BULEY/Press Robert Shay salutes during Monday's Memorial Day ceremony at Evergreen Cemetery.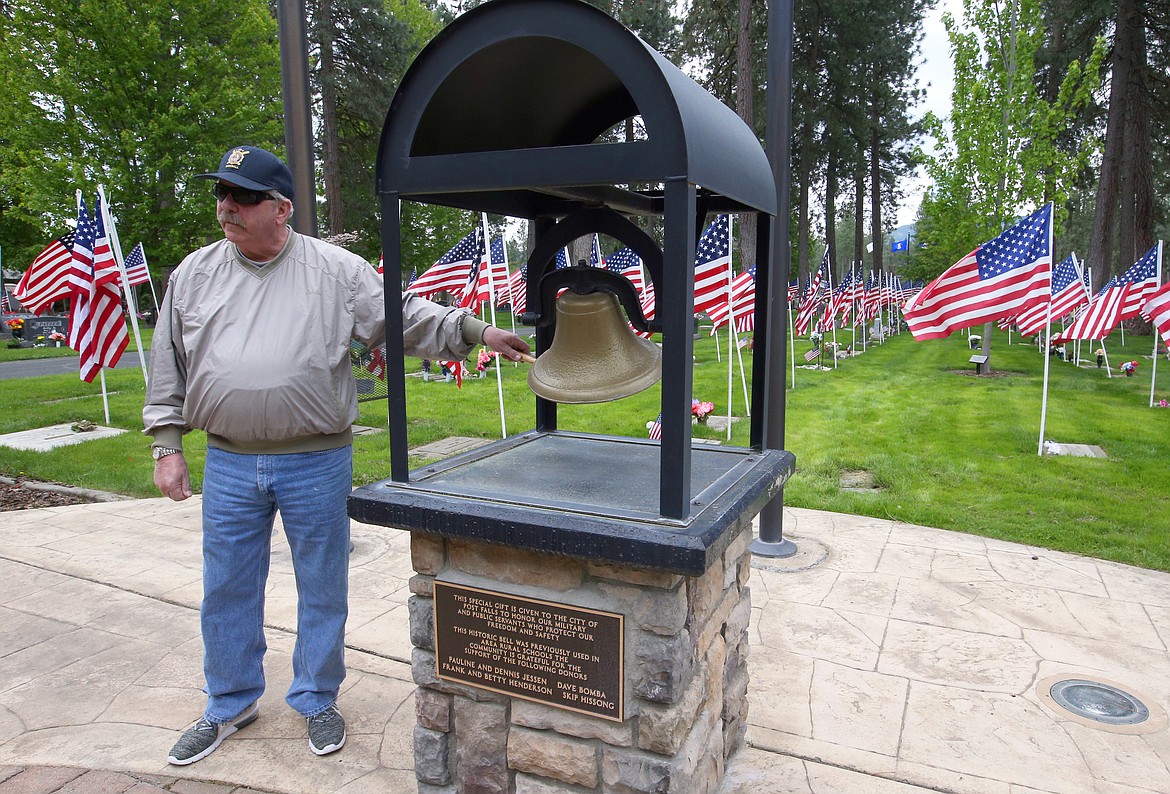 BILL BULEY/Press Bill Carlson rings the bell as the names of veterans who have fallen since Memorial Day 2019 are called on Monday at Evergreen Cemetery.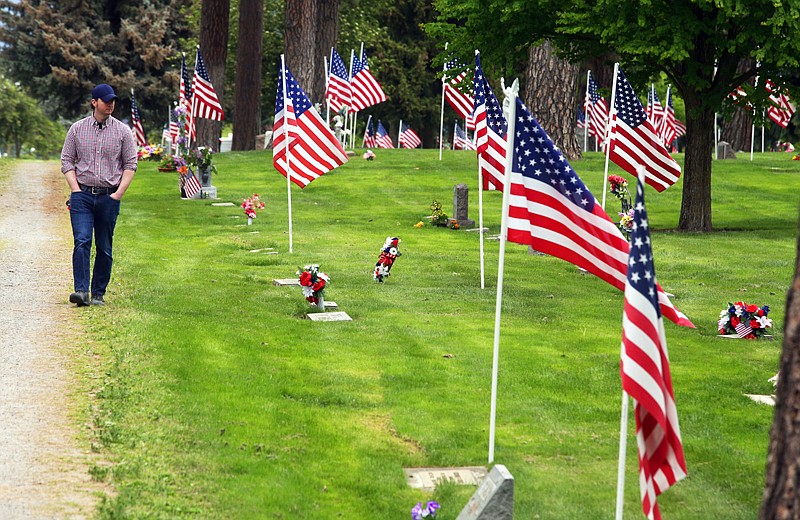 BILL BULEY/Press Chris Matthews of Post Falls walks along the path at Evergreen Cemetery shortly before Monday's Memorial Day ceremony.
Previous
Next
by
BILL BULEY
Staff Writer
|
May 26, 2020 1:15 AM
Despite restrictions, Memorial Day ceremonies go on at Evergreen Cemetery
POST FALLS — While many Memorial Day ceremonies were canceled due to coronavirus restrictions, the Steven H. Nipp American Legion Post 143 dug in.
"It was very important to me that we not cave to political correctness," said Kris Phillips, post commander.
She said they didn't want to do a virtual ceremony because some have trouble finding it online. So, they had to figure out a way to maintain Gov. Brad Little's social distancing guidelines while honoring veterans at an in-person gathering at Evergreen Cemetery.
They settled on three shorter ceremonies that included a prayer, the playing of taps, a roll call of veterans who died in the past year, and the ringing of the bell. Each attracted about 40 to 50 people.
"It took a little bit of haggling back and fourth with the city, but it was important to me to do more than just get the flags up," Phillips said. "What's important to me is to honor those who have fallen in the past year."
Early in her address, she asked the crowd at the noon gathering to "keep the distance.
"We're got people taking pictures and I don't need the evidence," she said, smiling.
With about 750 flags fluttering in the wind on a cool, cloudy day, many came to honor veterans and those who have "paid the ultimate price, made the ultimate sacrifice for our freedoms. We'll never forget," said veteran Bill Carlson.
Veteran Robert Shay, with VFW Post 3603, gave the opening prayer.
"We veterans know the true meaning of Memorial Day," he said. "This is about the fallen."
"It is for that reason we meet here today," he added.
Shay, who served six years in the Navy, said when he first got involved with veterans organizations 24 years ago, a World War II veteran urged him to carry it on each year.
That veteran was told the same by a World War I veteran, who was told it by a Spanish-American War veteran.
"It's our responsibility as veterans who return home. We have a job," Shay said. "The fallen who don't return home, it's our job to remember them."
Veteran John Beaubien of VFW Post 142 in Idaho City now lives in Post Falls and attended Monday's ceremony at Evergreen Cemetery.
He joined the Air Force at age 17 and served from 1956 to 1976, including a tour in Vietnam from 1965 to 1966.
"A lot of men died," he said.
And nearly 2,000 are still missing in action, he said.
"I had a buddy that was shot down. I was stationed with him in England, I was stationed with him in Vietnam," the 80-year-old Beaubien said. "He wasn't recovered until 1991."
"I have a soft sport for every one of those guys that are still missing," he said. "And, of course, the men that were killed."
Sheila and Mike Teall of Post Falls came to Evergreen Cemetery on Monday to honor the lives of Sheila Teall's son, Donnie Goecke, who served in the Marines in the Persian Gulf and died in 2014, and friend Larry Barrick, who served in the Navy, and died in 2019. The names of both men are on plaques at Evergreen.
They also were friends with veteran and former Post Falls Mayor Clay Larkin, who died Feb. 1 of this year. Larkin's name was one of those called Monday.
Mike Teall served two tours of duty in Vietnam.
"I lost a lot of friends," he said. "There was a lot of closeness. I thought Veterans Day was going to be the hardest, but it's this one here."
The couple walked away arm in arm.
Phillips said she was glad they held the Memorial Day tributes.
"So many came out, so many positive thanks, so many thank yous," she said.
She said when she looked around and saw so many flags flying at the small cemetery, the patriotism on full, colorful display made her proud.
"This community believes in their veterans," Phillips said. "They support their veterans and I'm never disappointed how our community supports us."
Recent Headlines
---