Cd'A considers summer solution on Sherman for COVID relief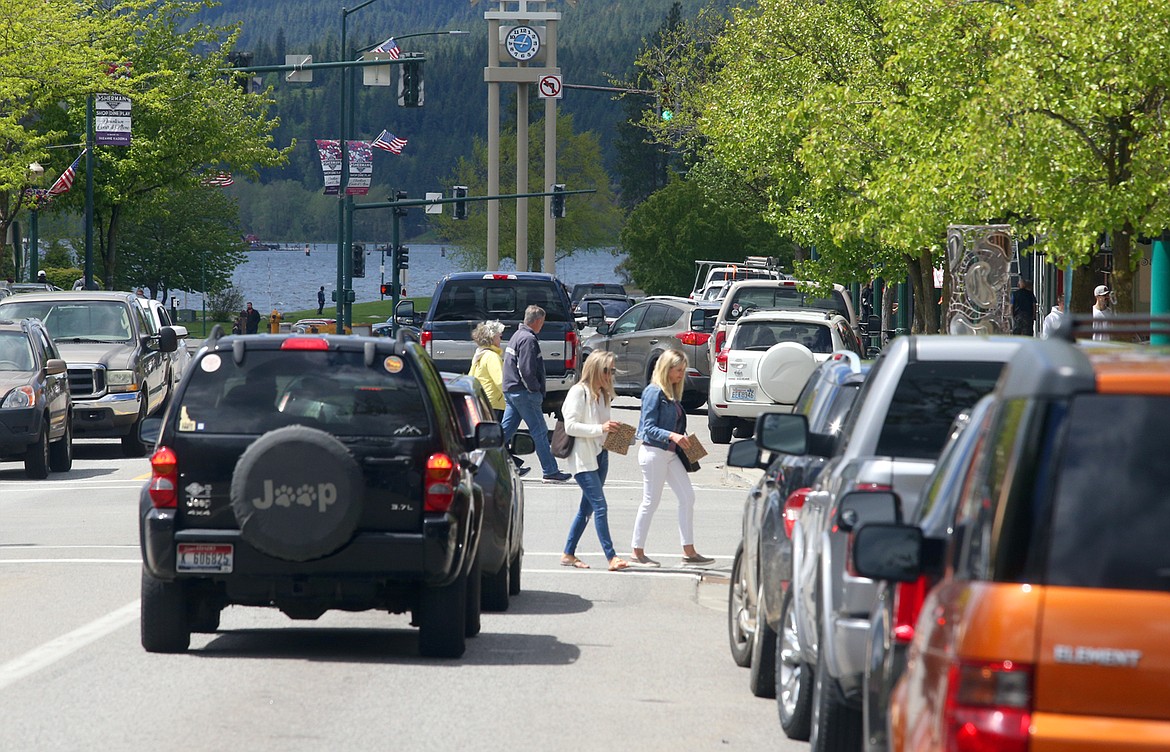 Pedestrians cross Sherman Avenue while traffic flows all around them on Thursday. The Coeur d'Alene Downtown Association is working with city officials to survey its membership about closing Sherman Avenue to motor vehicles between Second and Sixth streets. The idea is an attempt to help downtown businesses — particularly restaurants — deal with indoor seating restrictions brought on by the COVID-19 pandemic.
BILL BULEY/Press
by
CRAIG NORTHRUP
Staff Writer
|
May 26, 2020 11:54 AM
An idea that would temporarily but drastically change the culture of Sherman Avenue is being floated by city leaders, and the notion is quickly gaining steam.
The Coeur d'Alene Downtown Association, in conjunction with staff from City Hall, is surveying its members about the hypothetical closing of Sherman Avenue — from Second Street to Sixth Street — to motorized vehicles throughout the summer. That would create a pedestrian-only thoroughfare that would enable shops to expand out onto the street.
"Several different groups and individuals contacted us suggesting more sidewalk seating," said Hilary Anderson, community planning director for the city of Coeur d'Alene. "Then we started receiving emails. Then [someone] suggested an idea — a proposal, really — to close down Sherman Avenue to open up seating for the restaurants downtown."
Many community leaders forwarded different versions of that idea to both the Downtown Association and City Hall, including one resident who linked a New York Daily News article dated May 18 that highlighted similar proposals to New York Mayor Bill de Blasio. That story detailed how restaurants and retailers are unable to justify their leased and rented space while limiting seating and shopping, a result of social distancing curtailing capacity.
From there, Anderson and the Downtown Association agreed to take the next step.
"Right now, we just wanted to do something to see if it's even something people would support," Anderson said.
The Coeur d'Alene Downtown Association declined to comment for this story.
The emailed survey begins with a preface explaining three different concepts: making Sherman Avenue pedestrian-only, creating a parklet — a space in front of a business that would serve as an outdoor extension — and expanding sidewalks, which would allow businesses to use the entire width of the sidewalk on north-south streets perpendicular to Sherman, as well as Lakeside Avenue.
The survey asks respondents if they support such ideas, what types of business should be able to expand onto Sherman, whether or not alcohol should be permitted in parklets, whether the ideas should be seasonal this year or permanent, and costs related to making the expanded spaces ADA-compliant.
One hospitality business owner was in vocal favor of the idea.
Danelle Reagan, owner of Vault Coffee on Sherman, said she was happy to lend her support in the survey.
"I think it's a great idea," she said. "We've had to really cut back our indoor and outdoor seating. To allow more customers to sit at any of these establishments is great."
Reagan said Vault has had to remove bar stools and chairs to allow customers to maintain social distancing, adding that she knows of many businesses that could use the extra space to make it through these lean times.
COVID-19 has not hit Vault too hard because a lot of its business is grab-and-go, she said.
"But if we just had the ability to expand, that would be a huge help to a lot of struggling businesses," Reagan said. "And I know a lot of other business [owners] who feel the same way."
Not all downtown owners agree.
Mark Rogers, owner of The Leather Works on Sherman Avenue, said the measure would only hurt his retail business.
"I am 100 percent opposed to all efforts to close access to public streets or public sidewalks," Rogers said. "It hurts customers' abilities to park and their ability to get to us. I fail to see any wisdom at all; the only wisdom would be toward hospitality industry and restaurants, who would utilize public property to help private business."
Rogers said repeated closings — such as the hypothetical scenario spelled out in the survey, Ironman, the Fourth of July parade and other events — end up hurting retail businesses by creating complicated parking situations, giving Coeur d'Alene the moniker "City Of Barricades By The Lake."
"I'm not trying to come across as just a naysayer," he said. "I'm not. But to direct traffic away from our stores to have people sit on the street? How does that help me? I don't get it. I seriously don't get it. I believe this has no value to retailers."
Anderson said closing Sherman Avenue would require gauging downtown business support, determining the cost of signage and Council approval before it could become a reality.
Recent Headlines
---